Transportation Asset Management Case Studies
HERS-ST: The Oregon Experience
How did Oregon get There?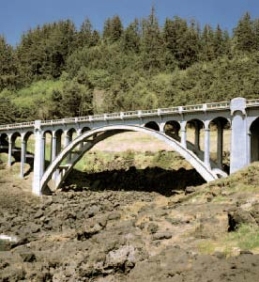 ODOT decided to use a HERS-like approach to assist in developing their Oregon Highway Plan. The consultant brought in to help with the Highway Plan was familiar with HERS and agreed to tailor the national version of HERS for use by Oregon's Planning staff.
To facilitate the analysis required for the Highway Plan, Oregon directed the contractor to make a number of enhancements to HERS. Two were significant and are presented here: First, a feature was added to allow the analyst to modify HERS-simulated improvements. Because of this revision, the analyst using HERS-OR (Oregon's version of the national HERS model) may revise the model's output so that improvements selected for implementation will reflect "real world" conditions (i.e., anticipated changes in traffic volumes based on known land use changes). Therefore, HERS-OR results can include a combination of model-identified improvements as well as ODOT-identified improvements. ODOT can also simply delete a HERS-OR recommended improvement, without including a substitute.
In addition, Oregon requested that output files be developed that would contain, for each highway section in the input database, the recommended HERS-OR improvement or the analyst-specified improvement, the costs and benefits of those improvements, and the expected condition before and after any improvement. This feature was helpful in allowing Oregon staff to review and understand the analysis recommendations for each section.