Transportation Asset Management Case Studies
Data Integration: The Pennsylvania Experience
High-Level System Architecture Concept: description
Back to "High-Level System Architecture Concept"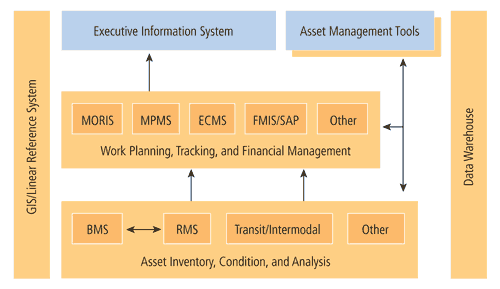 The illustration shows the layout of the High-Level System Architecture. Two modules flank either side of the main modules: GIS/Linear Reference System on the left; and Data Warehouse on the right.
Between them are four modules. The two modules at the top, side by side and highlighted, are Executive Information System and Asset Management Tools. The center module is called Work Planning, Tracking, and Financial Management. Within this module are five sub-modules: Maintenance Operations Reporting Information System (MORIS); Multimodal Project Management System (MPMS); Engineering Construction Management System (ECMS); Financial Management Information System (FMIS)/SAP (a fiscal management system); and Other. The bottom module is called Asset Inventory, Condition, and Analysis. Within this module are four sub-modules: Bridge Management System (BMS); Road Management System (RMS); Transit/Intermodal; and Other.
Arrows link the modules and sub-modules to each other: Within the Asset Inventory module an arrow pointing in both directions connects the BMS and RMS submodules; arrows point from the Asset Inventory module to the Work Planning module; An arrow points from the Work Planning module to the Executive Information System module; and a set of arrows connect the Asset Managemt Tools, Work Planning, and Asset Inventory modules, pointing in both directions.