Transportation Asset Management Case Studies
Comprehensive Transportation Asset Management
The North Carolina Experience, Part One
What's Next?
NCDOT is in the process of rolling out its highway performance based measures. The agency has begun an update of the Long Range Statewide Transportation Plan and is continuing the development of its management systems. The next major undertaking will be seeking stakeholder support on the State's commitment to performance based measures and LOS. The bottom line, says Love, is providing the biggest return for each dollar spent on transportation assets, a goal that is becoming reality as NCDOT expands its TAM program.
Figure 6: MLK Parkway.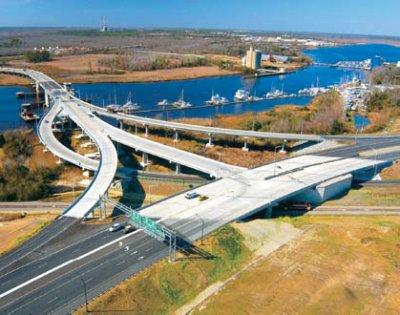 Additional information is available from the following:
Lacy D. Love
Director, Asset Management
NC DOT
919-733-2330
llove@dot.state.nc.us
Francine Shaw-Whitson
Transportation Manager and Leader,
Evaluation & Economic Investment Team
FHWA, Office of Asset Management
202-366-8028
fshaw-whitson@dot.gov
Photography Credit
All photos courtesy of the North Carolina Department of Transportation.