An Imaginary Tour of Pennsylvania Avenue
Pennsylvania Avenue Marquis de Lafayette
As you walk up 15th Street, you pass more vendors. You are definitely not hungry! But you decide to have your picture taken by a photo vendor. He takes pictures of people standing next to lifesize photographs of President and Mrs. Bush or ex-President Ronald Reagan and his wife, Nancy. You decide to have your picture taken with President Bush. The picture looks real, as if you had your picture taken with the real President, not just photograph of him.
At the front of the Treasury Building, you find Pennsylvania Avenue again. Walking up Pennsylvania Avenue, you can't even see the White House until you reach it because of the trees that block the view. A statue of another Secretary of the Treasury, Albert Gallatin, is in front of the Treasury Building. He served under President Thomas Jefferson, our third President.
Just beyond the Treasury Building, you come to the White House. It is surrounded by a high fence, with concrete posts surrounding the sidewalk to stop terrorists. The White House looks smaller than you expected. You ask one of your friends to take a picture of you standing in front of the White House.
Across the street is Lafayette Square, a small park. Although the park is named after the Revolutionary War hero, Marquis de Lafayette, who was once honored with a parade on Pennsylvania Avenue, a statue of war hero and President Andrew Jackson is in the center of the park. A statue of Lafayette is in the southeast corner, where it seems like an afterthought.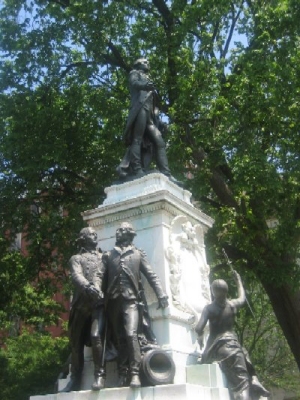 Lafayette Square across Pennsylvania from the White House is named after the Marquis de Lafayette, depicted atop this statue, who joined with George Washington during the Revolutionary War. When Lafayette returned from his native France in 1825, he was greeted as a returning hero and honored with a parade along Pennsylvania Avenue.
Previous | Photo Gallery | Full Text | Next