An Imaginary Tour of Pennsylvania Avenue
Pennsylvania Avenue Closed 2
Sometimes, Lafayette Square is called Washington's "village green." Early in the city's history, though, livestock wandered from nearby farms to graze on the grass in the square. The nearest farm today is miles away and any livestock heading toward this park would probably be hit by a car or truck before getting anywhere near it.
You're tired from the walk, so you stretch out on the grass by one of the two fountains and watch the families taking pictures of each other in front of the White House. Other people sit on the benches and throw popcorn to the pigeons and squirrels.
Lafayette Square is more than just a park. Because it is across the street from the White House, it is an ideal place for protesters. Some days, protesters are lined up all along the Pennsylvania Avenue side of the park with huge signs.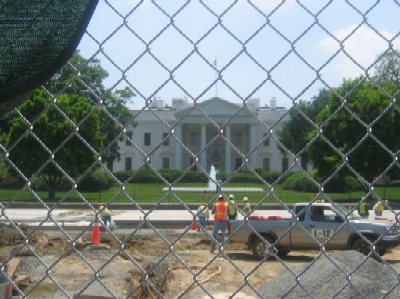 In 1995, following the bombing of the Alfred P. Murrah Federal Office Building in Oklahoma City, Oklahoma, President Bill Clinton closed Pennsylvania Avenue to traffic in front of the White House as a security precaution. After years of debate about the future of this portion of Pennsylvania Avenue, the Federal Highway Administration is administering contracts for its reconstruction, as shown here.
Previous | Photo Gallery | Full Text | Next