April 3, 2015
Innovation Implementation: 3D Engineered Models: Schedule, Cost and Post-Production
April's innovation of the month is 3D Engineered Models, a basic building block of today's digital highway that allows for faster, more accurate and more efficient planning and construction.
After encouraging the adoption of 3D Engineered Models in the second round of Every Day Counts, the Federal Highway Administration is continuing to promote the technology in EDC-3 to help the transportation community reap even more benefits.
In EDC-3, the focus is on three practices:
Using the as-found survey data from which 3D models are created for roadway inventory and asset management purposes
Incorporating schedule (4D) and cost (5D) information into models to enhance stakeholder communication, enable contractors to streamline construction schedules and improve cost estimates
Using post-construction survey data to correct design models and create accurate as-built drawings that include useful details such as subsurface utilities
FHWA offers technical support and tools to help transportation professionals use 3D technology: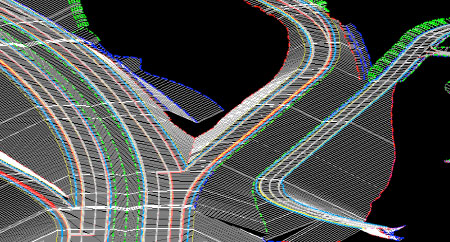 3D image of highway interchange shows gore area, ramps and drainage ditches in detail. Credit: HNTB
AID Demonstration Grants Awarded
U.S. Transportation Secretary Anthony Foxx has announced $4.4 million in grants from FHWA's Accelerated Innovation Deployment Demonstration program. The grants will be used to fund innovative road and bridge work in Kansas, Minnesota, North Carolina, South Carolina, Vermont and Virginia. "Innovation in our transportation infrastructure will change the way America moves," said Foxx. "These grants encourage communities to use new technology and new ways to envision solutions to our transportation problems." Since its February 2014 launch, the AID Demonstration program has provided more than $20 million to help federal, state, local and tribal government agencies use innovations on 29 projects.
Arkansas Collaborates on Innovation Training
The Arkansas State Highway and Transportation Department and FHWA are collaborating to bring training on innovative technologies and practices to the state. A March 25 workshop on intelligent compaction covered best practices and the latest technology available. An e-Construction workshop on March 26 focused on implementation plans for using a paperless approach to construction documentation management.
Idaho Bridge Project Uses 4D Modeling
Firms working on the design of the Manning Crevice Bridge replacement in Idaho are using 3D engineered models to facilitate project delivery. The architecture and engineering firm designing the project developed a 3D model of the bridge, then worked with the construction manager/general contractor to develop a time-lapse 3D, or 4D, model that shows the construction sequencing. Replacing the1930s-era suspension bridge over the Salmon River is a cooperative effort of Federal Lands Highway, Idaho County and the U.S. Forest Service.
Texas Offers Planning and Environmental Linkages Training
Twenty-seven people from metropolitan planning organizations, private firms and the Texas Department of Transportation attended an FHWA workshop on planning and environmental linkages in San Antonio. Participants in the March 17 and 18 event learned how to meet National Environmental Policy Act requirements on highway projects using input from the metropolitan and statewide planning process, which can lead to less duplication of effort and more informed decision making.
Virginia Awards Major Contracts
Virginia's Commonwealth Transportation Board has awarded 16 contracts worth approximately $174 million for major infrastructure work. The projects include building a diverging diamond interchange in Blacksburg, improving traffic flow around exit 150 on I-81 in Botetourt County, widening Turnpike Road to four lanes in Portsmouth, replacing the bridge on Lewistown Road over I-95 in Hanover and widening sections of U.S. 360 in Hanover County. The projects will improve mobility, enhance safety and extend the life of the state's transportation network.
FHWA to Host Systemic Safety Peer Exchanges
FHWA is seeking states to participate in two 2015 peer exchanges on using systemic safety approaches to reduce crashes. The exchanges will provide a forum for participants to discuss the application of systemic safety analysis, as well as the benefits and challenges of incorporating a systemic approach to safety in their roadway safety management programs.
FHWA will sponsor travel scholarships for up to four representatives from six states to participate in each event. Each state must have participants from the state transportation department and at least two representatives of local agencies, metropolitan planning organizations or the Local Technical Assistance Program. Applications, due April 10, should be coordinated through the local FHWA division office. Contact Rosemarie Anderson at (202) 366-5007 for more information.