August 6, 2015
Innovation of the Month: Smarter Work Zones
The Every Day Counts innovation of the month for August is smarter work zones. The Federal Highway Administration is encouraging adoption of two approaches–project coordination and technology applications–to minimize traffic delays and maximize safety and mobility in work zones.
Project coordination involves smarter construction planning to reduce work zone impacts and generate time and cost savings. Cities and regions are combining multiple projects in a corridor, correlating right-of way acquisition and utility work, and synchronizing work among transportation agencies.
Technology applications such as queue and speed management involve using intelligent transportation systems to manage work zone traffic. Queue management systems alert drivers to work zone backups so they can slow down safely. Speed management solutions such as variable speed limit signs manage work zone traffic in real time.
To learn more, view the EDC Smarter Work Zones presentation on project coordination and technology application strategies and case studies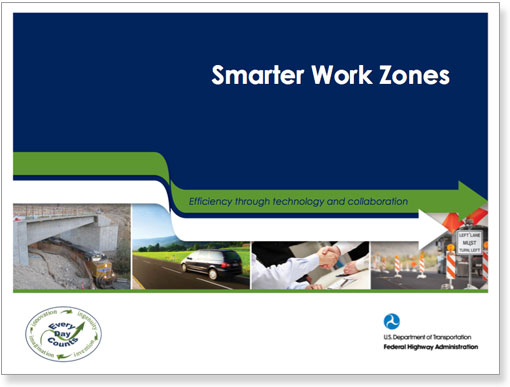 Alaska Charters the 47th STIC
Alaska is the 47th state to charter a State Transportation Innovation Council to serve as a forum for overseeing the rapid deployment of innovations. According to the charter, signed on July 15, the Alaska STIC will act as a catalyst for implementing proven technologies and techniques "to ensure smart, efficient investment in Alaska's highway infrastructure." The group includes members from the Alaska Department of Transportation and Public Facilities, Local Technical Assistance Program and FHWA. In the future, it plans to add representatives of industry, university transportation centers and other stakeholder groups.
Colorado Looks at Traffic Incident Management Capabilities
The Colorado Department of Transportation and FHWA conducted a workshop on traffic incident management capability maturity. The July 29 event in Golden focused on current and future traffic incident management capabilities in the Denver metropolitan area. Workshop participants used FHWA's 2015 Traffic Incident Management Self-Assessment to guide their discussion and develop a prioritized action list. Participants included representatives of the Colorado State Patrol, other first responder agencies, the city of Denver and Denver County.
Illinois Applies High-Friction Surface Treatments
The Illinois Department of Transportation completed three high-friction surface treatment projects and has three more underway. Finished projects include interstate interchange ramps, an interstate mainline section and various curve locations identified through crash analysis. On July 30, Illinois DOT and FHWA staff observed application of a high-friction surface treatment on a project on Illinois Route 71 near Starved Rock State Park. The project involved applying the treatment on multiple curves totaling 2.16 miles.
Watch Progress on Tennessee Fast Fix 8 Project
Over the July 24 weekend, the Tennessee Department of Transportation completed the first of 13 I-40 closures as part of its Fast Fix 8 bridge project in Nashville. Watch the time-lapse video, which shows project progress during the first weekend closure.
While part of I-40 was shut down, crews demolished and replaced the bridge over Jo Johnston Avenue in under 58 hours. The project is Tennessee's first using the construction manager/general contractor delivery method. It's also using accelerated bridge construction techniques such as prefabricated bridge elements and slide-in bridge replacement to minimize impacts on travelers and improve safety.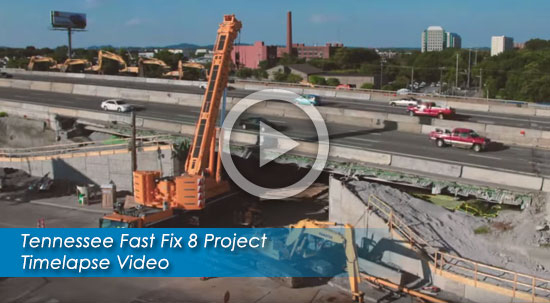 First weekend closure on Tennessee Fast Fix 8 project. Credit: Tennessee DOT
View Construction Steps on Iowa Bridge Project
The Iowa Department of Transportation's Little Silver Creek Bridge website includes a video gallery that shows the accelerated bridge construction techniques planned for the bridge replacement project on Iowa 92 in Pottawattamie County. The project received a grant from the Accelerated Innovation Deployment Demonstration program to use accelerated bridge construction, including prefabricated elements and systems, and ultra-high performance concrete connections. Construction is scheduled to start this fall.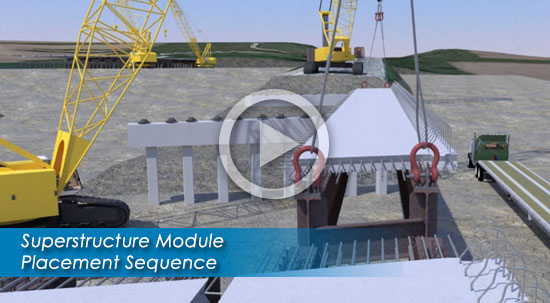 Superstructure module placement sequence for Iowa's Little Silver Creek Bridge Credit: Iowa DOT
Rhode Island to Deploy Several Technologies
An Accelerated Innovation Deployment Demonstration award will support Rhode Island's first adaptive signal control technology project. The Rhode Island Department of Transportation and Rhode Island Airport Corporation are partnering to install seven adaptive signal control devices on a 1.5 mile section of Airport Road near T.F. Green Airport in Warwick to improve safety and traffic management. Another AID Demonstration award will enable the Rhode Island DOT to use warm-mix asphalt and intelligent compaction on a 4.2-mile highway improvement project in Coventry and Foster, encouraging greater acceptance of these innovations in the Rhode Island highway construction community.
Washington Looks to Adaptive Roadway Lighting for Cost Savings
The Washington State Department of Transportation will use an Accelerated Innovation Deployment Demonstration award to install a light-emitting diode adaptive roadway lighting system on a 7-mile section of I-5 through Olympia. The project, part of a statewide LED conversion effort, will significantly decrease operating and maintenance costs for the roadway section while providing adequate lighting during changing traffic conditions. After the system is installed in 2016, the Washington State DOT plans to monitor its impact on factors such as utility bill savings, crashes, traffic flow and public acceptance.