August 25, 2016
Innovation of the Month: Road Diets
Communities across the country are integrating road diets into their planning processes and reconfiguring roads to improve safety and mobility.
Road diets are part of the Indiana Department of Transportation's Common Paths approach to roadway planning and design that balances the needs of various travel modes to ensure safe, efficient and accessible transportation for all users.
The Maine Department of Transportation routinely considers road diets to enhance safety and mobility. The agency temporarily reconfigured a section of Route 202 in Manchester using road diet concepts. If the trial run is successful, the reconfiguration will become permanent.
The New Jersey Department of Transportation promotes road diets to address high pedestrian crash rates. In addition to installing road diets on state roads, the New Jersey DOT works with metropolitan planning organizations to identify projects on local and county roads.
View a video featuring case studies on road diets installed in New Jersey counties and towns.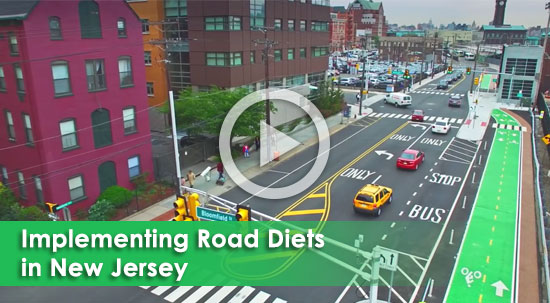 Read Road Diet Case Studies for examples and advice on implementing road diets.
See the Federal Highway Administration Road Diets webpage for resources, including the Maine DOT road diet guidelines, Michigan Department of Transportation road diet checklist and Oakland, California, complete streets/pavement project coordination checklist.
Learn About EDC-4 Innovations
FHWA is offering a series of introductory webinars in September on the 11 innovations in the fourth round of EDC, starting in 2017. First in the series are Safe Transportation for Every Pedestrian (STEP) from 10:30 a.m. to noon ET on September 7 and 3 to 4:30 p.m. ET on September 8 and Community Connections from 1 to 2:30 p.m. ET on September 8. See the webinar schedule and register on the CAI website.
Colorado Project Uses Planning and Environmental Linkages
FHWA signed a finding of no significant impact document on August 17 for the U.S. 50 West project in Pueblo, Colorado. The project is the third in a sequence of capacity and safety improvements the Colorado Department of Transportation is making on U.S. 50 under the framework of the U.S. 50 West Planning and Environmental Linkages Study. The Colorado DOT used the planning and environmental linkages process, an EDC innovation to shorten project delivery time, to establish project purpose and need, evaluate alternatives and develop an implementation plan.
Iowa Hosts Innovations in Transportation Conference
Transportation professionals discussed new and emerging technologies at the Innovations in Transportation Conference on August 16 in Ames, Iowa. Speakers from private industry, universities and state and federal agencies made presentations on topics such as autonomous and connected vehicles, 3D printing, robotics, artificial intelligence and challenges of leading a transportation agency. The Iowa Department of Transportation and Iowa State University's Institute for Transportation sponsored the conference.
Agencies Sign Traffic Incident Management Pledge
The Omaha-Council Bluffs Traffic Incident Management Committee celebrated the signing of a memorandum of understanding by 35 member agencies at its August 18 meeting. In the memorandum, the agencies pledge to work cooperatively on the traffic incident management program in the Omaha-Council Bluffs metropolitan area, with a goal of clearing traffic incidents as quickly and safely as possible. Committee members include the Iowa Department of Transportation, Nebraska Department of Roads, Omaha-Council Bluffs Metropolitan Area Planning Agency and city and county agencies.
View FHWA Webinar on Community Connections
An FHWA webinar on Community Connections: Redesigning Highways to Improve Neighborhood Access and Livability explored strategies for collaborative efforts to reconnect communities, create economic development opportunities and promote multimodal accessibility in areas with major highways. The August 17 webinar was part of a webinar series on using context-sensitive solutions in transportation. Community connections is an EDC-4 innovation.