September 1, 2016
Innovation of the Month: Data-Driven Safety Analysis
The Every Day Counts innovation of the month for September is data-driven safety analysis, the application of the latest generation of tools to analyze crash and roadway data and better target highway safety investments.
The Federal Highway Administration is promoting two approaches to safety analysis: predictive to identify sites with the most potential for safety improvement and systemic to scan an entire road network for high-risk features associated with crashes. These strategies can be used individually or in combination to integrate safety performance into all transportation investment decisions.
Eight states have made DDSA a standard practice in their project development processes, while 13 have institutionalized DDSA in their safety management processes. Another 28 states and Washington, D.C., are applying DDSA in project development and safety management.
Watch a video that explains DDSA approaches and highlights state success stories.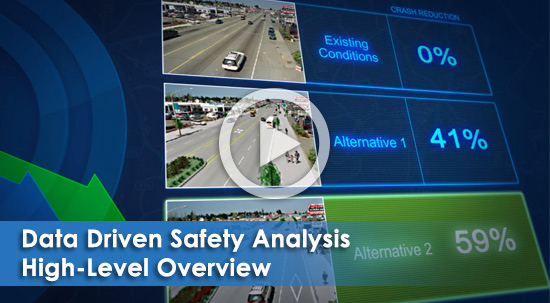 Contact Jerry Roche of the FHWA Office of Safety and John McFadden of the FHWA Resource Center for information and technical assistance.
Learn About EDC-4 Innovations
Sign up for introductory webinars on the 11 innovations in the fourth round of EDC. First in the series are Safe Transportation for Every Pedestrian (STEP) from 10:30 a.m. to noon ET on September 7 and 3 to 4:30 p.m. ET on September 8 and Community Connections from 1 to 2:30 p.m. ET on September 8.
Concrete Innovations Focus of Arkansas Conference
The Arkansas Concrete Pavement Conference featured presentations by FHWA staff on concrete pavement innovations and two programs that offer incentives for innovation deployment, Accelerated Innovation Deployment Demonstration and State Transportation Innovation Council Incentive. The more than 200 people who attended the August 16 conference in Little Rock also had an opportunity to tour the FHWA Mobile Concrete Laboratory.
Traffic Flows on Colorado's Third Diverging Diamond Interchange
Colorado's third diverging diamond interchange is open to traffic. The new interchange, part of the I-25 and Fillmore Street project in Colorado Springs, is designed to enhance safety and traffic flow and increase traffic capacity. The project included installation of a pedestrian walkway and bike paths. The Colorado Department of Transportation changed the original single-point urban interchange design proposed for the project when it recognized that a diverging diamond interchange could provide similar operational benefits and be built for about $35 million less.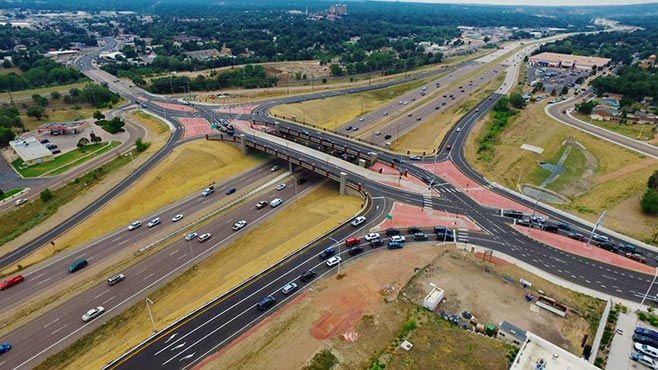 Iowa First to Require Electronic Signatures on Contracts
The Iowa Department of Transportation is the first state highway agency to require electronic signatures on all construction contracts. After conducting a successful pilot project using digital signature technology, the department began requiring electronic signatures on contracts in August. Contractors also submit insurance, bond and other required documents electronically. Adopting digital signatures on contracts is a major step in the Iowa DOT's effort to implement e-Construction for project administration.
Montana Project Uses e-Construction to Enhance Efficiency
FHWA Administrator Gregory Nadeau viewed the use of e-Construction technology on the Federal Lands Highway Pleasant Valley Road relocation project near Kalispell, Montana. Nadeau used a tablet to review project plans and observed a motor grader with dual global navigation satellite system antennas at the job site. Global navigation satellite system technology allows grading operations to be completed quickly and accurately.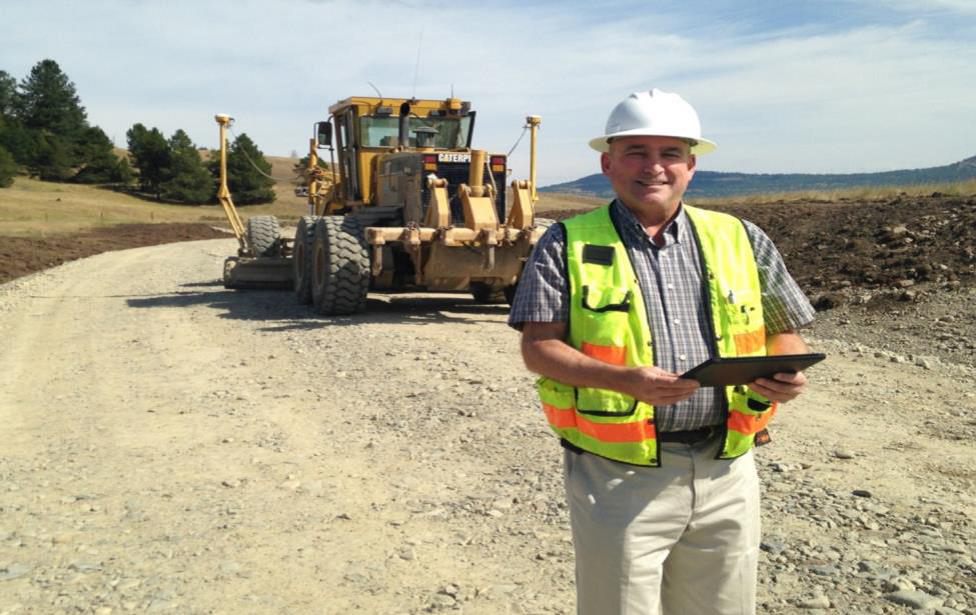 Tennessee Holds Road Diet Peer Exchange
Transportation professionals from Alabama, Arkansas, Indiana, Iowa, Mississippi, Missouri, Tennessee and Wisconsin met in Nashville, Tennessee, on August 24 to 25 for a road diet peer exchange. The event provided participants with an opportunity to discuss best practices and exchange ideas on implementing road diets to improve safety and relieve congestion on mixed-use streets. FHWA hosted the peer exchange.