March 23, 2017
Get Help With Innovation Deployment
The Federal Highway Administration offers resources to help States and their partners deploy the innovations in Every Day Counts round four (EDC-4).
FHWA formed deployment teams for each EDC-4 innovation to provide the transportation community with information, technical assistance, and training, including workshops and peer exchanges. See the EDC-4 contacts for experts to call for assistance.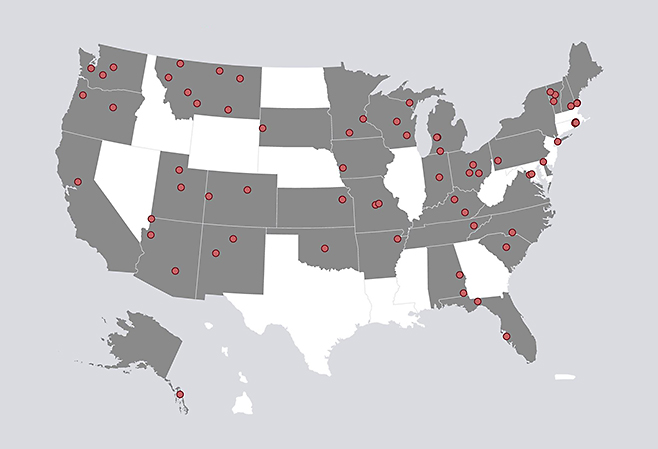 The
Accelerated Innovation Deployment (AID) Demonstration
program awards funding of up to $1 million for highway projects that use proven innovations in any project phase. See an
overview
of 62 projects that received more than $44 million in AID Demonstration grants. Contact
Ewa Flom
of the FHWA Center for Accelerating Innovation for details on the AID Demonstration program.
The State Transportation Innovation Council (STIC) Incentive program provides up to $100,000 a year per State to help STICs make innovations standard practices. See examples of how STICs are using incentive funds. Contact Sara Lowry of the Center for Accelerating Innovation for information on the STIC Incentive program.
Arizona Showcase Demonstrates Innovative Bridge Construction
A demonstration showcase on March 14 and 15 enabled 75 transportation professionals to observe the use of prefabricated bridge elements and systems on a project in Topock, AZ. The Arizona Department of Transportation and Mohave County are building a bridge on Oatman Highway over the Sacramento Wash to eliminate the need for road closures caused by flooding during storms. Mohave County received AID Demonstration funds to use innovation on the project, the first in Arizona to use prefabricated bridge elements to accelerate construction. The bridge elements were constructed offsite and transported to the project site for assembly during a 96-hour road closure. The showcase included a workshop on accelerated bridge construction.
Every Day Counts Innovations Topic of California Construction Summit
Civil Integrated Management (CIM) and related EDC innovations were among the topics FHWA speakers discussed at the American Society of Civil Engineers Construction Institute Summit in Anaheim, CA. Intelligent compaction, 3D engineered models, e-Construction and partnering, and pavement preservation are EDC innovations that support CIM, the technology-enabled collection, organization, and use of data throughout the life cycle of a transportation asset. The annual summit enables construction industry professionals to learn about new developments and innovative practices.
Read Pennsylvania Report on Innovation Accomplishments
Innovation Through Collaboration: Accomplishments 2016 details the progress Pennsylvania's State Transportation Innovation Council (STIC) made last year. According to the report, the STIC introduced four new innovation initiatives and supported the deployment of 72 ongoing initiatives. The STIC trained nearly 2,000 transportation professionals, partnered with industry organizations and the Pennsylvania Turnpike Commission to host Innovation Day workshops, and launched a local government outreach program.
High-Friction Surface Treatments Slated for Washington
Snohomish County, WA, plans to apply high-friction surface treatments on 14 roadway curves where wet weather conditions have caused problems for drivers. The treatments involve applying high-quality, durable aggregates with a binder to provide motorists with better traction at high-crash locations. Snohomish County Public Works identified the locations through an in-depth review of crashes on county roads. The $1.3 million project is scheduled to start in June.