June 8, 2017
Read Every Day Counts Success Stories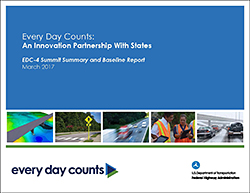 Two new reports highlight the progress of the Federal Highway Administration's Every Day Counts (EDC) program in building a culture of innovation in the transportation community.
Read Every Day Counts: An Innovation Partnership With States for an overview of the 11 technologies and practices FHWA is promoting in EDC round four and the benefits deploying these proven innovations offers transportation agencies and their customers. The report summarizes the deployment status of the innovations at the beginning of 2017 and the goals States set to broaden their adoption by the end of 2018.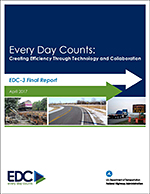 See
Every Day Counts: Creating Efficiency Through Technology and Cooperation
for details on the results of EDC round three, which involved implementation of 11 innovations in 2015 and 2016. The report reviews the progress made in accelerating deployment of the innovations and features numerous success stories from transportation agencies across the Nation.
Innovation of the Month: Data-Driven Safety Analysis
FHWA offers a variety of resources to help the transportation community use data-driven safety analysis (DDSA) to make informed decisions, better target investments, and reduce severe crashes on roads.
See FHWA's DDSA library for case studies, a DDSA toolbox, webinars, and videos.
Contact Jerry Roche of the FHWA Office of Safety or John McFadden of the FHWA Resource Center for information and technical assistance.
Learn About the Innovation Experience
In addition to providing grants, the Accelerated Innovation Deployment (AID) Demonstration program offers award recipients an opportunity to share their experiences applying proven innovations in reports available to the transportation community. "Sharing the Innovation Experience" in the latest issue of Public Roads magazine highlights four AID Demonstration projects and insights from the agencies involved: