October 19, 2017
Innovation of the Month:
Community Connections
Transportation practitioners use a range of planning and design techniques to advance community connections and ensure people have access to safe, reliable, and affordable transportation networks.
Agencies are modifying traditional project planning and design with approaches such as scenario planning to test alternatives and develop a shared vision for the future among stakeholders. They're also using context-sensitive solutions that involve all stakeholders in planning transportation facilities that fit their setting.
Performance-based practical design helps agencies better manage transportation investments with limited resources. It emphasizes thinking beyond cost-based choices on projects and using performance data to make informed decisions in balance with community needs.
See the Federal Highway Administration scenario planning web page and watch webinars on scenario planning techniques.
See a list of resources, research, and design guidance on context-sensitive solutions.
Read case studies on transportation agencies that have used aspects of performance-based practical design to develop projects.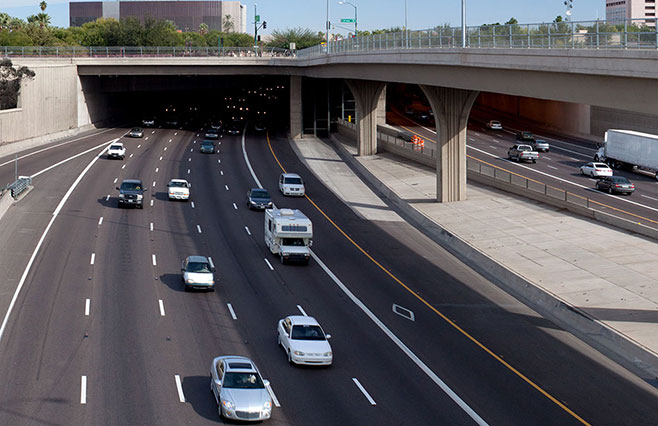 Innovations Enhance Hawaii Bridge Project
The Hawaii Department of Transportation and Central Federal Lands Highway Division (CFL) collaborated to complete the Halona Street Bridge replacement project in Honolulu on time and within budget 9 months after construction began. The project included replacing the bridge foundation, pavement, and railings to improve the safety and reliability of the structure. Innovations that contributed to timely project completion included prefabricated bridge elements, geosynthetic reinforced soil foundations, and allowing industry to compete on both price and contract time. For information, contact Mike Will of CFL.
Take Your STIC to the Next Level
Effective State Transportation Innovation Councils (STICs) are well organized with defined processes for identifying innovations to deploy to enhance the Nation's transportation infrastructure. Successful STICs also have broad stakeholder involvement, shared performance metrics, and engaged leadership.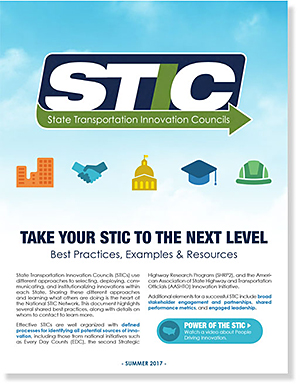 An FHWA
publication
highlights STIC best practices, including the following:
Appointing an innovation engineer—A dedicated champion who oversees innovation deployment can serve as a central contact and shepherd innovations from the idea stage through implementation.
Organizing innovation events—Public events designed to share information about innovations can help build relationships among stakeholders, increasing collaboration and support.
Including your communication team—Your agency's communication professionals can use tools and resources already in place to tell the compelling story of your innovative efforts and share results with key audiences.
See the STIC network web page for State STIC contacts. If you have STIC success stories to share, contact Sara Lowry of the FHWA Center for Accelerating Innovation.