November 16, 2017
Innovation of the Month:
e-Construction and Partnering: A Vision for the Future
Through Every Day Counts (EDC), the Federal Highway Administration is encouraging transportation agencies to use e-Construction and partnering to improve efficiency in project management and delivery and create collaborative environments.
The Florida Department of Transportation (FDOT) has institutionalized the use of a customized software platform for project collaboration, tablets for field data collection, and formal partnering on some contracts. FDOT, which estimates that e-Construction saves $22 million a year in reduced administrative processing time, developed an e-Construction How-To Guide to help other agencies implement construction management technologies.
The Ohio Department of Transportation (ODOT), which has a Construction Partnering program, requires a partnering session on every project. ODOT is implementing the use of mobile technology for reporting, inspecting, and documenting project progress. ODOT converted inspection forms to electronic format, distributed an app to replace daily work report entry, and adopted digital signatures for change order documents.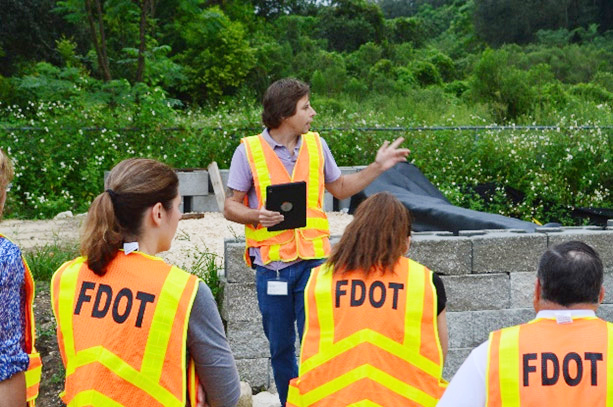 See FHWA's
e-Construction
web page for a resource library, videos, webinar recordings, and peer exchange reports.
Read Addressing Challenges and Return on Investment for Paperless Project Delivery (e-Construction) for e-Construction implementation guidelines and a framework for calculating return on investment.
FHWA Awards Support Demonstration Projects
See the November/December issue of the Innovator newsletter for details on innovations seven State and local agencies are deploying on transportation projects with the help of Accelerated Innovation Deployment Demonstration awards. They include an Alabama Department of Transportation demonstration program to use e-Construction technology for mobile project inspections and a Delaware Department of Transportation project to replace a bridge using accelerated bridge construction and ultra-high performance concrete.
Watch On-Demand Webinars on EDC Innovations
The Every Day Counts webinar series is a new library that allows you to learn more about EDC innovations at any time. Current topics available for on-demand viewing include stakeholder partnering, data-driven safety analysis, and collaborative hydraulics: advancing to the next generation of engineering. More topics will be added to the library soon.