July 12, 2018
Innovation of the Month:
Ultra-High Performance Concrete Connections
The Every Day Counts round four (EDC-4) innovation of the month for July is ultra-high performance concrete (UHPC), which can be used to make prefabricated bridge element (PBE) connections simpler, stronger, and more durable.
UHPC is a steel fiber-reinforced, portland cement-based composite material that delivers performance far exceeding that of conventional concrete. PBEs—structural components built offsite and moved to the project location for installation—shorten onsite construction time, enhance safety, and offer superior durability.
Field-cast UHPC creates connections between PBEs that use less concrete and provide better long-term performance than typical connection designs. UHPC's mechanical properties allow for redesign of common connection details in ways that promote ease and speed of construction.
With the assistance of the EDC-4 UHPC team, 14 States and the U.S. Virgin Islands are learning more about UHPC and its applications on bridge projects. Nineteen States, Federal Lands Highway, and Washington, DC, are demonstrating and assessing the use of UHPC connections in bridge building. Four additional States—Georgia, New Jersey, Pennsylvania, and Rhode Island—have made UHPC connections a standard practice on bridge projects with PBEs.
In May, FHWA published an example checklist for the construction of UHPC connections for PBEs. This resource provides items for bridge owners to consider when developing their agency's inspection procedures for the construction of UHPC connections.
See the "Design and Construction of Field-Cast UHPC Connections" technical brief for details on constructing UHPC connections.
Plan to attend the Second International Interactive Symposium on UHPC on June 2 to 5, 2019, in Albany, NY.
View an EDC-4 Innovation Spotlight video on UHPC connections for PBEs.
Contact Ben Graybeal of the FHWA Turner-Fairbank Highway Research Center or Mark Leonard of the FHWA Resource Center for information, technical assistance, and workshops.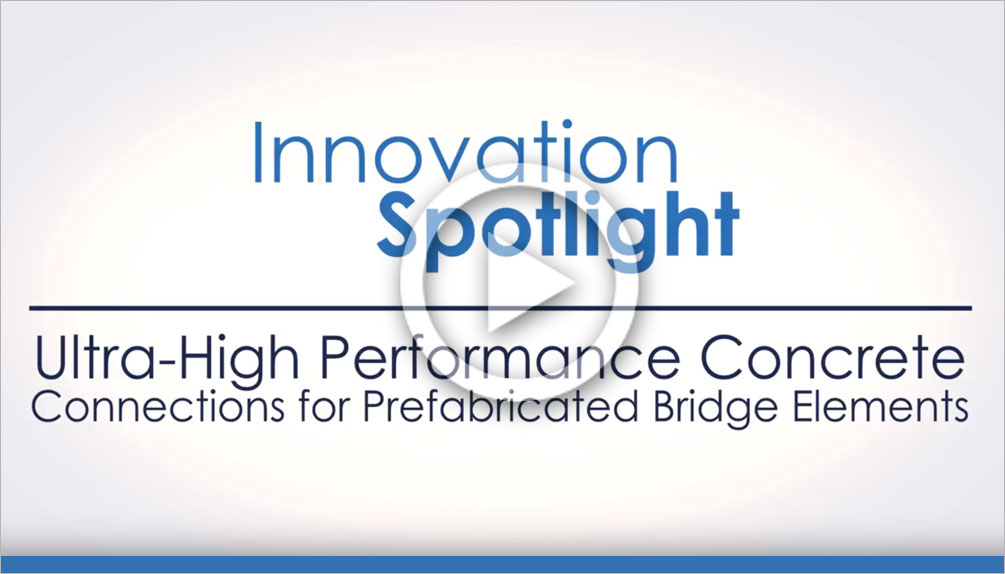 New Jersey Advances Electronic Administration of Local Programs
The New Jersey Department of Transportation (NJDOT) used State Transportation Innovation Council Incentive funds to advance the use of mobile devices in the administration and oversight of its grant programs for local public agencies. In the past, NJDOT staff documented field inspections manually in 19-page paper reports. After undergoing hands-on training, staff now use mobile devices to record field inspection findings, take photographs for reference, and complete electronic reports. NJDOT reports that eliminating manual data collection improves efficiency, enabling staff to redirect time and effort to provide better oversight of local projects. NJDOT's use of tablets for field reviews and ratings of local grant program applications is saving an estimated 50 percent on the time needed for paper reviews. For information, contact Helene Roberts of the FHWA New Jersey Division.
See the Latest Issue of Innovator
Read the July/August issue of the Innovator newsletter to learn how the use of ultra-high performance concrete to make better connections between prefabricated bridge elements is advancing across the United States. Also, read how investing in pavement preservation programs helps agencies extend the service life of pavements, and how integrating National Environmental Policy Act and permitting processes on projects can save time and money resulting from more efficient regulatory reviews.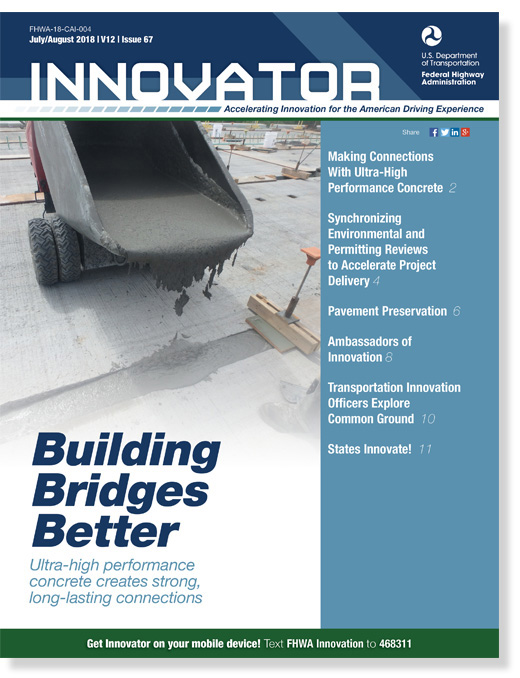 Sign Up for Pavement Management Webinar
FHWA, the American Association of State Highway and Transportation Officials (AASHTO), and the Transportation Research Board are cohosting a series of quarterly webinars on pavement management to provide a forum for education and communication for pavement management practitioners. The next webinar will be on July 19 from 2 to 3:30 p.m. ET and cover Chapter 6, Part 1, Pavement Preservation Strategies and Identifying Treatment Needs of the AASHTO Pavement Management Guide. Register for the webinar. Watch previous webinars at FHWA's Pavement Management and Performance website.
About EDC
Every Day Counts, a State-based program of the Federal Highway Administration's Center for Accelerating Innovation, works with State, local, and private sector partners to encourage the adoption of proven technologies and innovations to shorten and enhance project delivery.