August 2, 2018
Innovation of the Month:
Pavement Preservation (When, Where, and How)
The Every Day Counts round four (EDC-4) innovation of the month for August is pavement preservation (when, where, and how), a whole-life approach to extending the service life of pavement networks.
Applying a pavement preservation treatment at the right time (when) on the right project (where) with quality materials and construction (how) is a critical investment strategy for optimizing infrastructure performance. It helps transportation agencies stretch taxpayer dollars and achieve smoother, safer roads that need fewer repairs.
The "when and where" component of the initiative promotes a network-level approach to managing pavements. With assistance from the EDC-4 deployment team, 11 States, Puerto Rico, and Washington, DC, are developing implementation plans and learning more about when and where to apply pavement preservation treatments. Fifteen States and Federal Lands Highway (FLH) are demonstrating and assessing the when and where component, and 22 States have made it a standard practice to manage pavements proactively.
On the "how" side, the EDC-4 initiative encourages agencies to explore the range of quality construction and material practices available to preserve pavements. Eight States, Puerto Rico, and Washington, DC, are developing implementation plans and learning more about how to apply pavement preservation treatments. Ten States and FLH are demonstrating and assessing preservation treatments, and 26 States have institutionalized the use of quality construction and materials practices to preserve pavements.
View an Innovation Spotlight video on pavement preservation.
For information and technical assistance on pavement preservation, contact Jason Dietz of the FHWA Resource Center, Thomas Van of the FHWA Office of Infrastructure, or Antonio Nieves of the FHWA Office of Asset Management, Pavements, and Construction.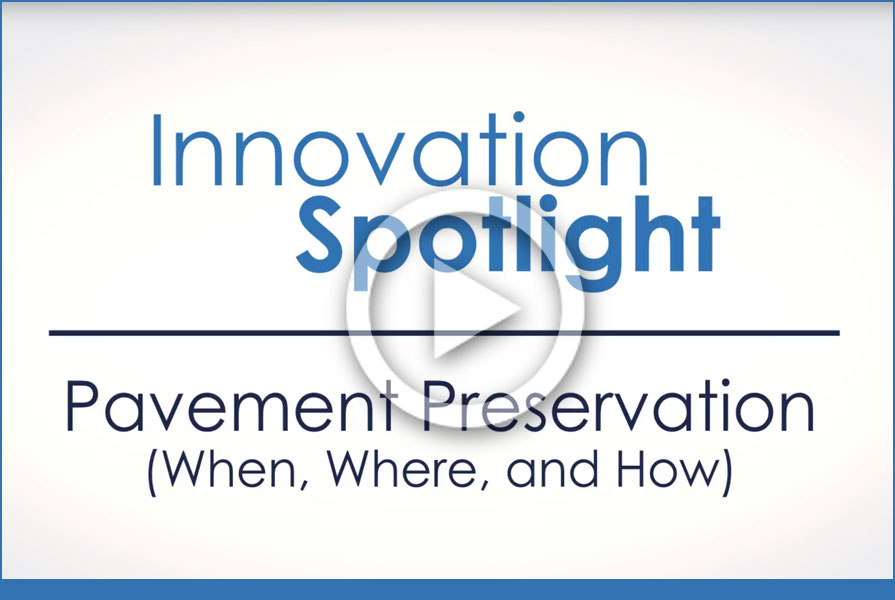 Michigan Develops Safety Analysis Guidance for Project Development
The Michigan Department of Transportation (MDOT) is broadening its implementation of quantitative safety analysis so that it becomes an integral component of safety management and project development decision making, leading to better targeted highway investments. As part of that effort, MDOT used State Transportation Innovation Council (STIC) Incentive funds to develop guidance on using data-driven safety analysis. The guidance outlines the appropriate level of safety analysis at each stage of project development, including the project scoping, development of project alternatives, and design exception processes. MDOT also created a safety tool matrix and training plan on using safety analysis tools. For information, Contact Mark Bott of MDOT.
Online Resource Features Pennsylvania Transportation Innovations
The Pennsylvania Department of Transportation (PennDOT) launched a new online resource for the Pennsylvania STIC to provide transportation partners and the traveling public greater access to information on innovation in the State. The website describes how all levels of government can work with PennDOT to implement innovations and how the STIC innovation development process works. The website also highlights current innovations being deployed in the State, such as an initiative that allows contractors and designers to work together on traffic control plans for design-build projects and high-friction surface treatments to improve driver safety at high-priority locations. For information, contact Jan Huzvar of PennDOT.
About EDC
Every Day Counts, a State-based initiative of the Federal Highway Administration's Center for Accelerating Innovation, works with State, local, and private sector partners to encourage the adoption of proven technologies and innovations to shorten and enhance project delivery.