September 13, 2018
Innovation of the Month:
Community Connections
Community connections tools and strategies help transportation agencies work with community stakeholders to pinpoint gaps in transportation infrastructure and services and develop solutions.
The Every Day Counts (EDC) deployment team identified more than two dozen community connections tools from planning and public involvement to design and operations. The tools will be included in a handbook set for release in October.
Analytical tools and planning frameworks such as the following identify and assess the impacts of transportation infrastructure on communities:
Bicycle and pedestrian assessments help communities understand obstacles and safety issues with the road, bicycle, and pedestrian infrastructure.
Geographic information systems technology helps agencies evaluate transportation infrastructure assets, demographics, and community impacts such as access to services.
Road safety audits use multidisciplinary teams to estimate potential safety issues and identify opportunities to improve safety for all road users.
Public involvement strategies enable agencies to communicate with stakeholders about issues and get input on design plans:
Stakeholder engagement brings diverse viewpoints into decision-making processes, allowing agencies to make more informed decisions.
Virtual public engagement helps agencies involve the public in project planning more effectively by supplementing face-to-face information sharing with technology.
Visualization techniques such as maps, videos, and 3D renderings help project teams convey challenges and solutions more clearly.
For more information on tools, see the Federal Highway Administration's community connections toolbox or contact Corbin Davis or Kenneth Petty of the FHWA Office of Planning, Environment, and Realty or Robert Mooney of the FHWA Office of Infrastructure.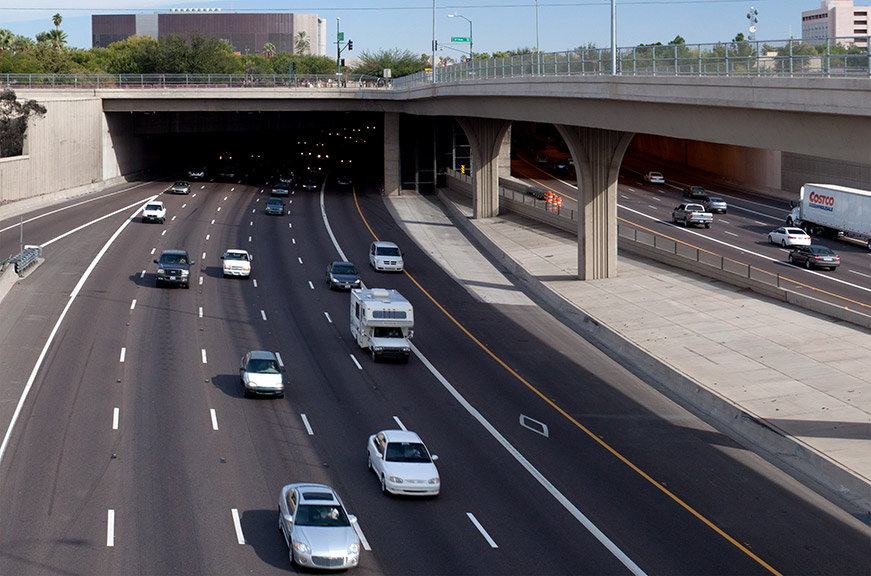 Register for EDC-5 Innovation Webinars
FHWA is offering free webinars in September on the 10 innovations to be deployed in Every Day Counts round five (EDC-5), starting in 2019. Go to the EDC-5 innovation orientation webinars page to see the schedule and register for next week's webinars:
Unmanned Aerial Systems: September 17, 10:30 a.m. to 12 noon and 1:30 to 3 p.m. ET
Virtual Public Involvement: September 18, 10 to 11:30 a.m. ET, and September 19, 2 to 3:30 p.m. ET
Use of Crowdsourcing to Advance Operations: September 18, 2 to 3:30 p.m. ET, and September 19, 11 a.m. to 12:30 p.m. ET
Project Bundling: September 20, 10:30 a.m. to 12 noon and 1:30 to 3 p.m. ET
Missed the EDC–5 orientation webinars? – find the recordings here.
Award-Winning Projects Feature EDC Innovations
EDC innovations are helping highway agencies build award-winning projects, including two recognized in the 2018 mid-America regional America's Transportation Awards competition:
When the Indiana Department of Transportation (INDOT) rebuilt two Interstate 70 bridges over State Route 121, it used slide-in bridge construction to minimize driver inconvenience and enhance safety for workers and motorists. INDOT built the bridge superstructures on the median between the existing bridges while interstate traffic continued to move. After the existing bridges were demolished, the new bridges were slid into place while temporary crossovers diverted traffic off each bridge. Traffic crossed the new bridges just a week after each bridge slide. INDOT used Accelerated Innovation Deployment Demonstration funds for the project, its first bridge slide on a major interstate corridor.
When increased traffic congestion overwhelmed the diamond interchange at State Route 25 in Perrysburg, the Ohio Department of Transportation replaced it with a diverging diamond interchange (DDI) to improve safety and mobility. The new interchange eliminates left turns, reducing driver conflict points from the 26 in a conventional interchange to 14. Additional benefits include higher capacity for turning traffic, slower speeds because of the curved design, decreased delays and vehicle stacking, better sight distance at turns, and reduced construction costs through the reuse of an existing bridge. The DDI project added a bike path and sidewalk, providing access for bicyclists and pedestrians.
About EDC
Every Day Counts, a State-based program of the Federal Highway Administration's Center for Accelerating Innovation, works with State, local, and private sector partners to encourage the adoption of proven technologies and innovations to shorten and enhance project delivery.