September 20, 2018
Innovation of the Month:
Community Connections
The tools in the community connections toolbox help transportation agencies ensure that all users have access to safe, reliable, affordable, and multimodal transportation networks.
Project development and design techniques such as the following encourage flexibility to develop projects that meet community desires and users' needs:
Context-sensitive solutions involve all stakeholders in planning transportation facilities that fit their setting.
Performance-based practical design emphasizes thinking beyond cost-based choices on projects and using performance data to make informed decisions in balance with community needs.
Road diets reconfigure roadways to calm traffic, enhance safety, and provide space for uses such as bicycle lanes and pedestrian pathways.
Operational improvements and programs help agencies better connect communities:
Expanded access to transit for pedestrians and bicyclists helps agencies support multimodal trips, improve safety, and increase public transportation use.
Improved transit service and transit infrastructure investment reduce dependence on cars and enhance access to economic opportunities.
Shared mobility services such as bike-sharing, car-sharing, and demand-response bus services provide flexible transportation options for communities.
To learn more, see the Federal Highway Administration's community connections toolbox and watch the Overview of Community Connections webinar.
Contact Corbin Davis or Kenneth Petty of the FHWA Office of Planning, Environment, and Realty or Robert Mooney of the FHWA Office of Infrastructure for information and technical assistance.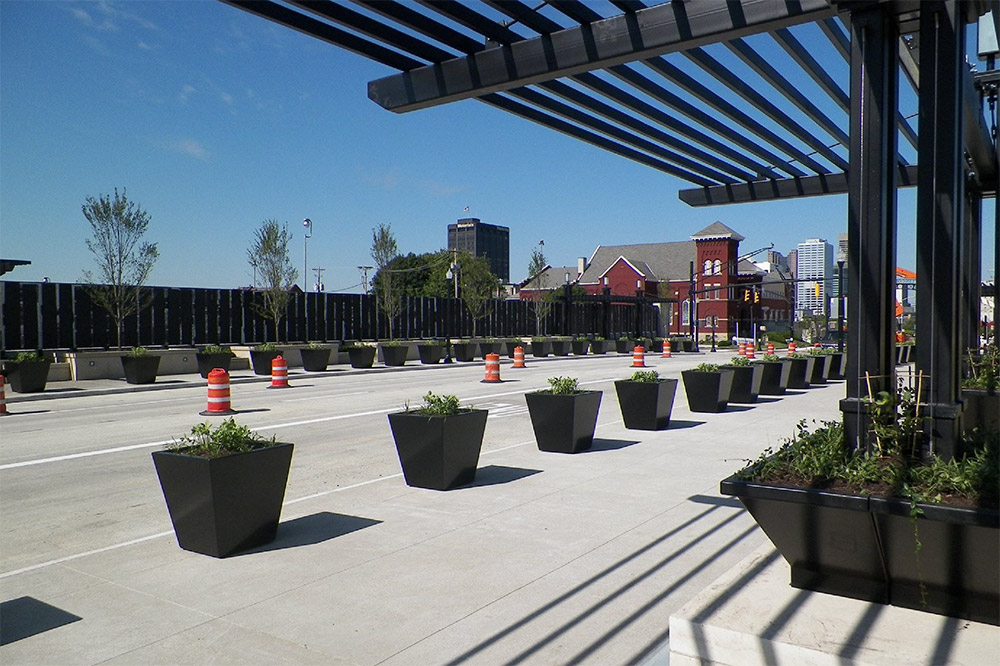 Learn About EDC-5 Innovations
FHWA's webinar series introducing the innovations in Every Day Counts round five (EDC-5) wraps up next week. Go to the EDC-5 innovation orientation webinars page to register for next week's sessions:
Safe Transportation for Every Pedestrian: September 24, 1 to 2:30 p.m. and September 25, 1 to 2:30 p.m. ET
Value Capture: Capitalizing on the Value Created by Transportation: September 25, 10:30 a.m. to 12 noon, and September 26, 1 to 2:30 p.m. ET
Advanced Geotechnical Exploration Methods: September 26, 10:30 a.m. to 12 noon ET
Missed the EDC-5 orientation webinars? Find the recordings here.
Texas Uses Pavement Preservation Treatment to Reduce Noise
After exploring several noise abatement solutions, the Texas Department of Transportation (TxDOT) constructed a Next Generation Concrete Surface (NGCS) on Interstate 10 near Houston to address residents' concerns about tire-pavement noise. Developed by Purdue University and installed in 16 States, NGCS is a pavement preservation treatment that combines grinding and grooving to create a texture that improves ride quality and lessens the amount of noise vehicles make on roads. Traditionally, transportation departments used just grinding for concrete pavements. After the NGCS texture was installed, TxDOT received positive feedback from the public and elected officials about tire-pavement noise reduction. TxDOT expects to place several million square yards of NGCS in the Houston area in the coming years to provide a smoother and quieter driving experience. For information on pavement preservation, contact Jason Dietz of the FHWA Resource Center.
About EDC
Every Day Counts, a State-based program of the Federal Highway Administration's Center for Accelerating Innovation, works with State, local, and private sector partners to encourage the adoption of proven technologies and innovations to shorten and enhance project delivery.