September 27, 2018
Innovation of the Month:
Community Connections
The Washington State Department of Transportation (WSDOT) used community connections approaches on its project to replace the State Route 520 floating bridge.
WSDOT replaced the four-lane structure over Lake Washington with a longer, safer, six-lane bridge designed to withstand strong windstorms and waves. The new bridge has a path for bicyclists and pedestrians that connects to regional trails on either side of the lake, creating additional recreation and commuter options. In an upcoming SR 520 project, the highway rebuild and bicycle-pedestrian trail will continue through two Seattle neighborhoods and Portage Bay to connect to Interstate 5. The project includes landscaped lids over the sunken freeway to reconnect the neighborhoods. The design will create park space, connect bicycle-pedestrian pathways, and upgrade transit stops.
Community connections deployment is underway in several other States:
The Minnesota Department of Transportation established an Office of Community Connections to focus on planning and design techniques, public involvement strategies for reconnection, and operational improvements.
The Ohio Department of Transportation is developing a policy to require consideration of the need for community connections on all of the agency's transportation projects.
The Tennessee Department of Transportation is conducting a study for an Interstate 24 interchange project in Chattanooga to reconnect a disadvantaged community to employment and recreation opportunities.
For information and technical assistance on community connections, contact Corbin Davis or Kenneth Petty of the Federal Highway Administration Office of Planning, Environment, and Realty or Robert Mooney of the FHWA Office of Infrastructure.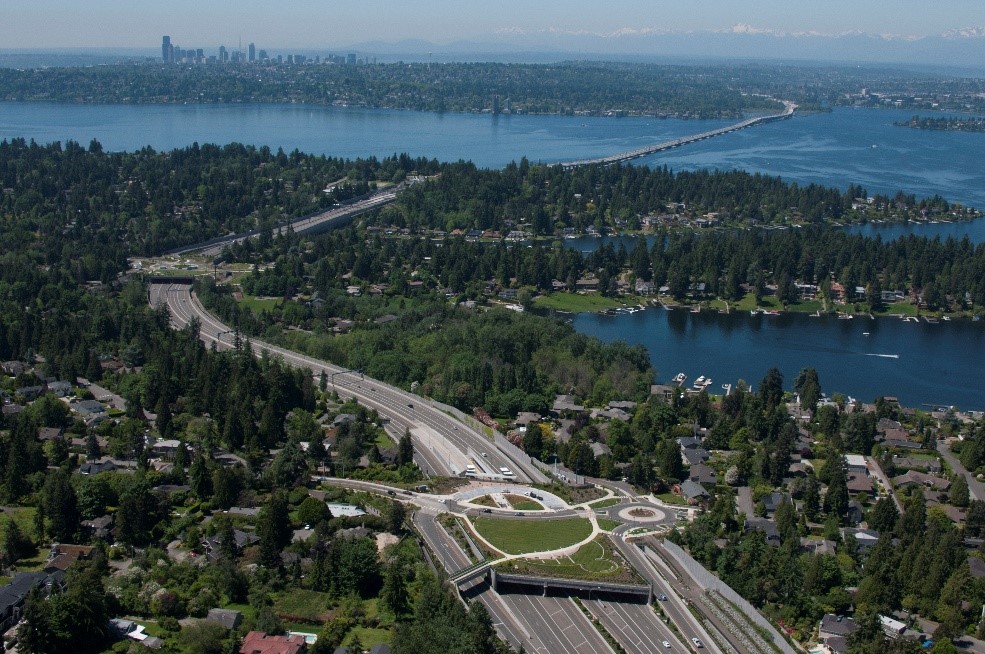 FHWA Awards $8.4 Million to Nine States for Innovative Highway Projects
FHWA announced $8.4 million in Accelerated Innovation Deployment (AID) Demonstration awards to State departments of transportation in Arizona, Florida, Illinois, Iowa, Minnesota, New Hampshire, New Jersey, Oklahoma, and Utah. Projects will be underway soon in each State to improve safety and operational efficiency of roads and bridges using cutting-edge pavement materials, engineering techniques, and connected-vehicle technology. Since the launch of the AID Demonstration program in 2014, FHWA has awarded more than $60 million to help Federal, State, local, and tribal government agencies use innovative traffic, safety, and construction practices. For information, contact Fawn Thompson of the FHWA Center for Accelerating Innovation.
New Video Explains Concrete Pavement Preservation Treatments
A new video for local agencies on Concrete Pavement Preservation explains a long-term strategy of applying timely and appropriate preventive treatments to maintain good pavement condition and extend pavement life. The video reviews five preservation techniques—joint resealing and crack sealing, diamond grinding, grooving, load-transfer restoration and cross-stitching, and partial and full-depth repairs—and explains how a county applied the treatments on a maintenance project. The video is part of the Federal-Aid Essentials collection of informational videos for local agencies. An asphalt pavement preservation video will be available in January 2019.
Read About EDC-4 Innovation Deployment Progress
EDC-4 Progress Report #3 summarizes the status of innovation deployment for the 11 innovations in Every Day Counts round four as of June 2018, three-quarters of the way through the 2-year cycle. Read deployment highlights for each innovation and view maps and charts to learn how innovation implementation is advancing in States across the country.
View EDC-5 Orientation Webinars
Watch recordings of the introductory webinars on the innovations in Every Day Counts round five (EDC-5), which begins in January 2019. Each 90-minute webinar provides an overview of an EDC-5 innovation and examples of how the innovation is being used in transportation programs.
About EDC
Every Day Counts, a State-based program of the Federal Highway Administration's Center for Accelerating Innovation, works with State, local, and private sector partners to encourage the adoption of proven technologies and innovations to shorten and enhance project delivery.