January 10, 2019
Learn About Every Day Counts Round Five Innovations
Now that Every Day Counts round five (EDC-5) is underway, State and local agencies are evaluating the 10 innovations to determine which to adopt over the next 2 years. The Federal Highway Administration is available to provide technical assistance, training, and resources to help deploy the innovations.
Two EDC-5 innovations address safety issues:
Systemic application of proven countermeasures to reduce rural roadway departures helps keep vehicles in their travel lanes, lower the potential for crashes, and lessen the severity of crashes that do occur. For assistance, contact Cathy Satterfield of the FHWA Office of Safety or Dick Albin of the FHWA Resource Center.
As pedestrian safety continues to be a concern, the cost-effective countermeasures in the safe transportation for every pedestrian initiative can help reduce pedestrian fatalities at uncontrolled and signalized crossing locations. Contact Becky Crowe of the FHWA Office of Safety or Peter Eun of the FHWA Resource Center.
Three innovations can enhance quality:
Two innovations help agencies improve mobility:
Two innovations use strategies to shorten project delivery times:
Using project bundling to award a single contract for several similar preservation, rehabilitation, or replacement projects helps agencies streamline design and construction, cut costs, and decrease project backlogs. Contact Romeo Garcia of the FHWA Office of Infrastructure or David Unkefer of the FHWA Resource Center.
Strategies promoted in the value capture: capitalizing on the value created by transportation initiative enable agencies to recover a portion of public transportation investments that result in increased land values to reinvest in the transportation system. Contact Stefan Natzke of the FHWA Office of Planning, Environment, and Realty or Thay Bishop of the FHWA Center for Innovative Finance Support.
One innovation supports environmental sustainability:
Watch introductory webinars on the EDC-5 innovations.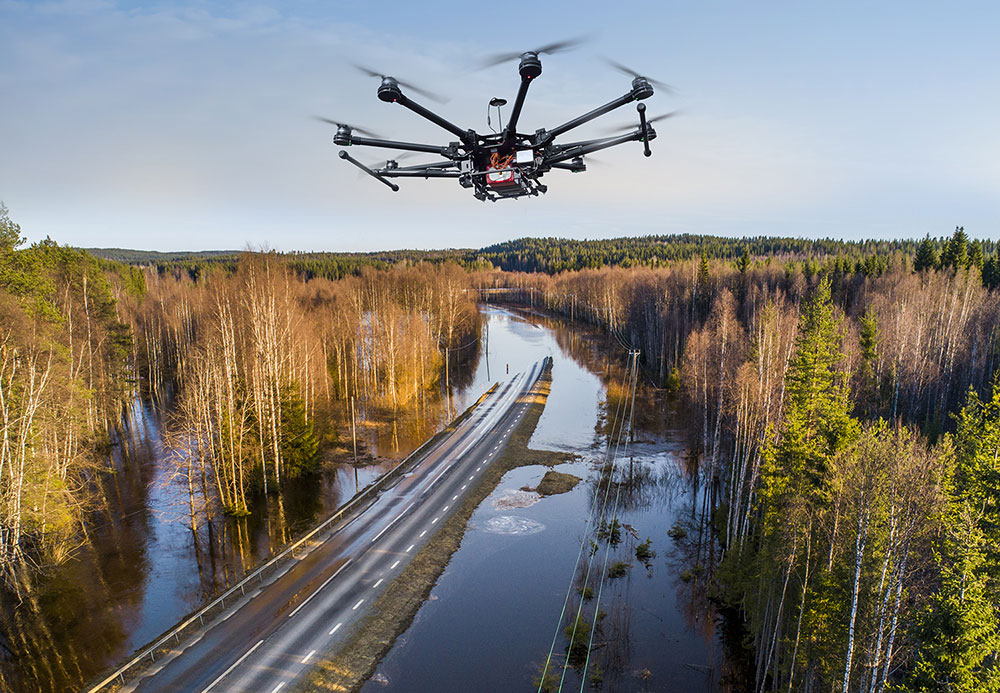 See the Latest Issue of Innovator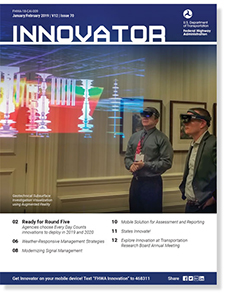 Illustration: January/February 2019 Innovator cover
Read the January/February issue of the Innovator newsletter for an introduction to EDC-5, including summits that introduced the innovations to the transportation community and resources available to help deploy the innovations. Also, read about weather-responsive management strategies to increase the effectiveness of traffic operations and maintenance when the weather turns bad and how the Mobile Solution for Assessment and Reporting is accelerating recovery efforts after natural disasters.
Explore Innovation at Transportation Research Board Meeting
Visit booth #923 to learn about the EDC-5 innovations at the Transportation Research Board Annual Meeting January 13 to 17 in Washington, DC. Attend session #1471 on "Innovation Programs: Identifying New Technologies and Practices From the Front Lines" at 10:15 a.m. on January 15 to hear how State transportation agencies identify, reward, and implement innovative technologies and practices developed by frontline workers who find better ways to do their jobs.
See a list of all EDC-5-related events, including these sessions related to safe transportation for every pedestrian and value capture:
"Uncontrolled Sidewalks: What's New, What's Needed," #1084, 1:30 to 4:30 p.m., January 13
"Cross-Subsidization for a Smart, Sustainable, and Equitable Future: Exploration of Opportunities and Constraints," #1003, 9 a.m. to 12 noon, January 13
"Transport-Oriented Land Development: Land Values and Travel Impacts," #1326, 3:45 to 5:30 p.m., January 14
"Emerging Issues in Project Finance," #1660, 8 to 9:45 a.m., January 16
About EDC
Every Day Counts, a State-based program of the Federal Highway Administration's Center for Accelerating Innovation, works with State, local, and private sector partners to encourage the adoption of proven technologies and innovations to shorten and enhance project delivery.