May 23, 2019
Innovation of the Month:
Value Capture
Over the last few weeks, we've introduced you to value capture, explained its local funding applications, and how it can help obtain infrastructure funding in major developments. Here are two strategies for agencies to recover a portion of public transportation investments that result in increased land values.
Transportation improvement districts (TID) are special assessment districts to improve the transportation system within a designated zone. Under this value capture model, agencies collect fees from property owners in the TID. The revenue is then dedicated to making improvements to existing facilities and planning for future transportation infrastructure. The Delaware Department of Transportation (DelDOT) has recently entered into agreements with several towns, cities and counties to develop TIDs across the State. DelDOT's efforts are significant, as they demonstrate that TIDs can successfully be initiated at a DOT level rather than solely at the local level.
Another value capture technique is collecting impact fees. These fees are one-time charges levied by local governments on new development. They help recover costs from growth-related infrastructure and public-services related to the development.
The City of Redmond, WA, collects impact fees before building permits are issued or before a new business opens. These fees may only be used to pay for system improvements that provide service to the community, are related to the new development, and will benefit the new development.
The fees have already been used to help fund two-way street conversions in the downtown area and to make improvements along NE 116th Street, a main thoroughfare. The agency also regraded the road for safety and installed a new roundabout designed to accommodate a variety of pedestrian traffic, bicyclists, and even occasional horse riders.
To learn more about these value capture techniques, please contact Stefan Natzke of the Federal Highway Administration Office of Planning, Environment, and Realty or Thay Bishop of the FHWA Center for Innovative Finance Support.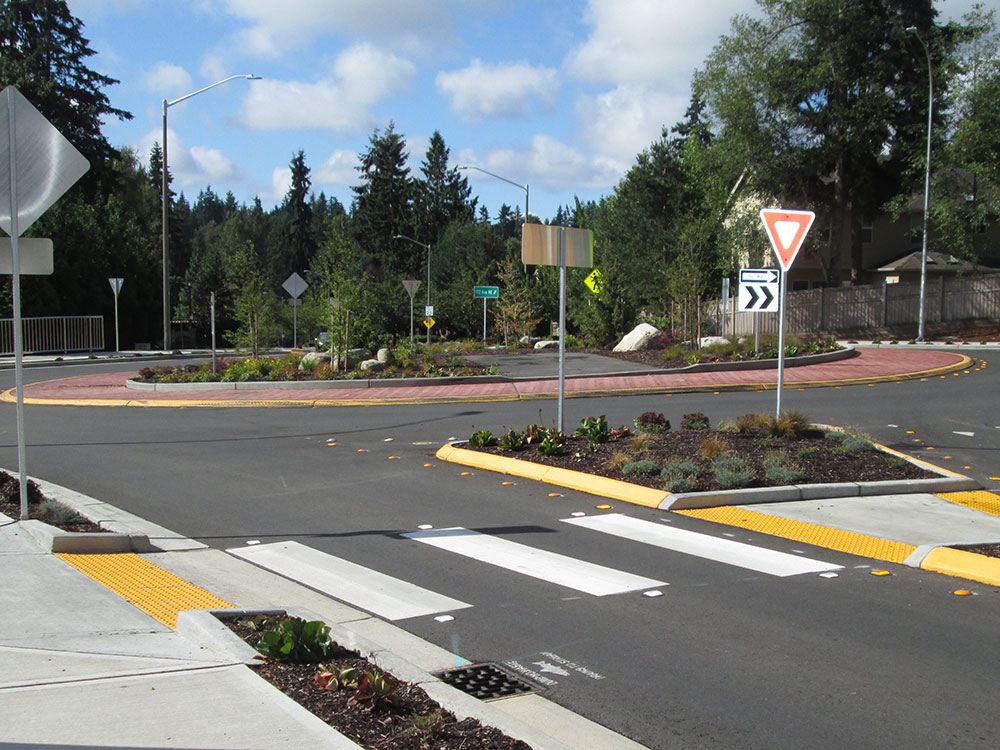 Rhode Island Forms a Unique Programmatic Agreement with the Narragansett Indian Tribe
FHWA's Rhode Island Division, in collaboration with the Narragansett Indian Tribe, the Rhode Island Department of Transportation (RIDOT), and the Rhode Island Historical Preservation & Heritage Commission (RISHPO) developed a unique programmatic agreement (PA) to streamline project delivery.
For years the Tribe sought opportunities to participate directly in the conservation, preservation and protection of Native American cultural resources or Native American human remains that may be impacted by Federal-aid projects. Under the PA, the Narragansett Indian Tribal Historic Preservation Office (NITHPO) will observe archaeological field work performed by the State and provide assistance with the identification of Native American archaeological and cultural resources of significance to the Tribe.
The agreement helps to integrate NEPA and permitting, expedite the consultation process under Section 106 of the National Historic Preservation Act, and strengthen the relationship between the State and the Tribe.
For more information on this unique PA, contact Carlos Padilla with the FHWA Rhode Island Division.
In Case You Missed It
Don't forget to check out the May/June issue of Innovator. In this issue, you'll learn about topics such as:
Read past issues and sign up to receive Innovator by email, or text "FHWA Innovation" to 468311 to get Innovator on your smartphone.
About EDC
Every Day Counts, a State-based program of the Federal Highway Administration's Center for Accelerating Innovation, works with State, local, and private sector partners to encourage the adoption of proven technologies and innovations to shorten and enhance project delivery.