June 20, 2019
Innovation of the Month:
A-GaME: Advanced Geotechnical Methods in Exploration
Last week, we shared how two A-GaME techniques—cone penetration testing and seismic methods—helped engineers plan the Choctawhatchee Bay Bridge project in Florida. This week, we're featuring another A-GaME technology called televiewers. They have proven extremely useful in gathering accurate rock structure information where traditional rock corings cannot.
Televiewers use acoustics or optics to produce high-resolution images of underground rock features. The images help practitioners see important geotechnical details so they can make more informed decisions about their projects. Televiewers are useful where the ability to drill inclined holes is limited. They are especially effective in areas where rock may be weak or fractured and core recovery is poor. In addition, televiewers are generally less expensive, labor intensive, and more reliable than traditional coring methods.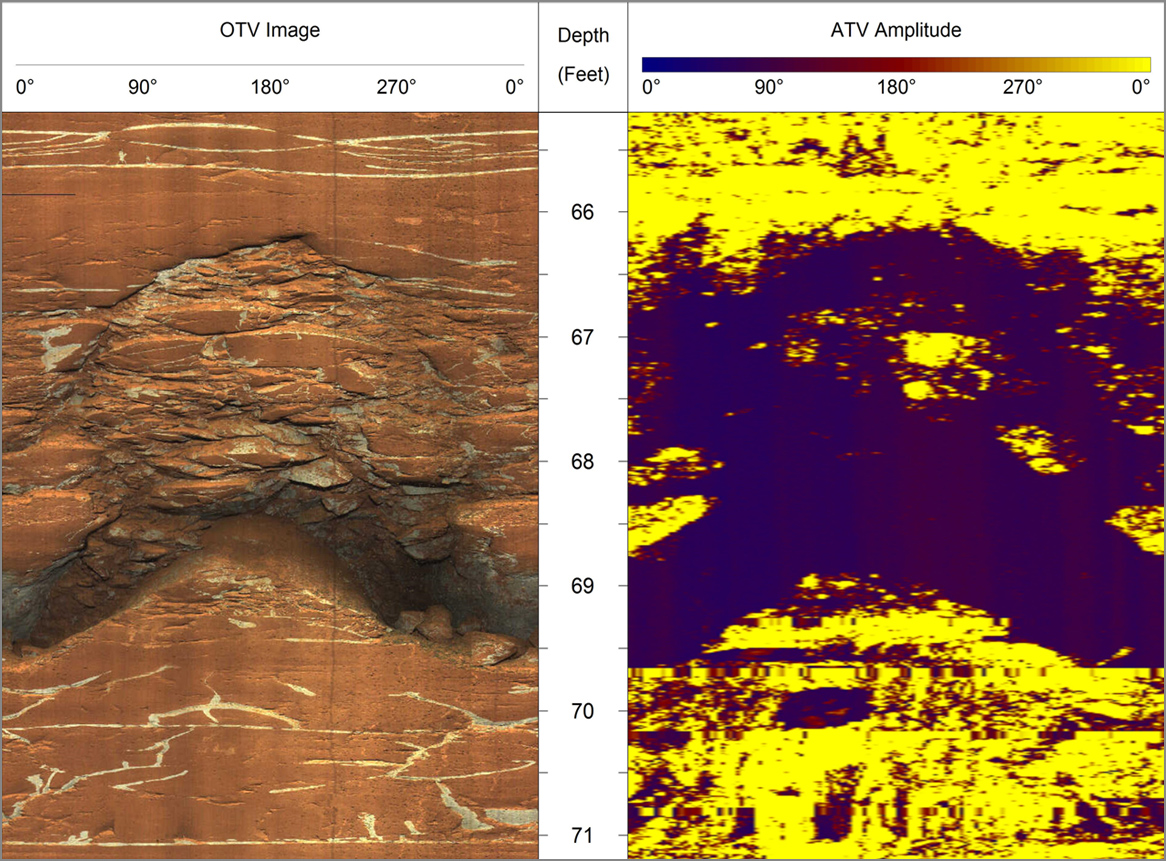 During planning for the new Mississippi River Bridge in St. Louis, MO, investigative borings revealed thin voids in the limestone where the main tower foundations were to be located. Initially, an extensive grouting program was suggested to address the voids. The Missouri Department of Transportation then brought in an acoustic televiewer (ATV) to investigate further.
The ATV quickly identified and measured the voids. The televiewer showed engineers characteristics of the voids, including location, orientation, dimensions, and whether they were connected, as well as what impact they might have on the foundations. Based on this data, the project team determined the voids would not threaten foundation performance and decided against bedrock grouting. The detailed information from the televiewers saved unnecessary cost, in time and dollars.
To learn more about televiewers and other proven, innovative geotechnical exploration methods, contact Ben Rivers of the FHWA Resource Center or Silas Nichols of the FHWA Office of Infrastructure.
Arizona Uses Fleet Vehicle Sensors to Make Roads Safer
In Arizona, 25 new plow trucks were equipped with a compact sensor that measures relative humidity, dew point, ambient temperature, and road temperature. This information is integrated with automatic vehicle location and helps inform road treatment strategies as weather conditions change. Supervisors and operators use this information to determine if pretreatment is needed for freezing fog (commonly known as black ice in most States). If dew point and temperature are trending toward freezing fog conditions, the information alerts the traffic operations center which can then put appropriate messaging on dynamic message signs in the affected areas.
To learn more about road weather management and how integrating mobile observations can benefit your State, contact Ray Murphy of the FHWA Resource Center.
2019 STIC Excellence Award Nominations Due July 1
Has your State Transportation Innovation Council (STIC) made a significant impact toward fostering a strong culture for innovation? If yes, consider nominating your STIC for the STIC Excellence Award, sponsored by the Federal Highway Administration's Center for Accelerating Innovation and the American Association of State Highway and Transportation Officials.
Nominations for 2019's Award are due to FHWA by July 1, 2019. Take this opportunity to nominate your STIC and share examples of how it is making a difference and the results of these efforts.
Please visit our website to learn about past STIC Excellence Award winners. For more information on this award or on the STIC program, contact Sara Lowry of CAI.
About EDC
Every Day Counts, a State-based program of the Federal Highway Administration's Center for Accelerating Innovation, works with State, local, and private sector partners to encourage the adoption of proven technologies and innovations to shorten and enhance project delivery.