November 14, 2019
Innovation of the Month:
Collaborative Hydraulics: Advancing to the Next Generation of Engineering (CHANGE)
Last week, we introduced you to the benefits of Collaborative Hydraulics: Advancing to the Next Generation of Engineering (CHANGE) and the tools available to support your agency in adopting the practice. To see CHANGE's effect, you need look no farther than to the States who are already seeing results from its implementation.
The Washington State Department of Transportation (WSDOT) has used 2D modeling on several projects including bridge replacements, bridge scour countermeasure design, fish barrier removal projects, and bridge scour emergencies.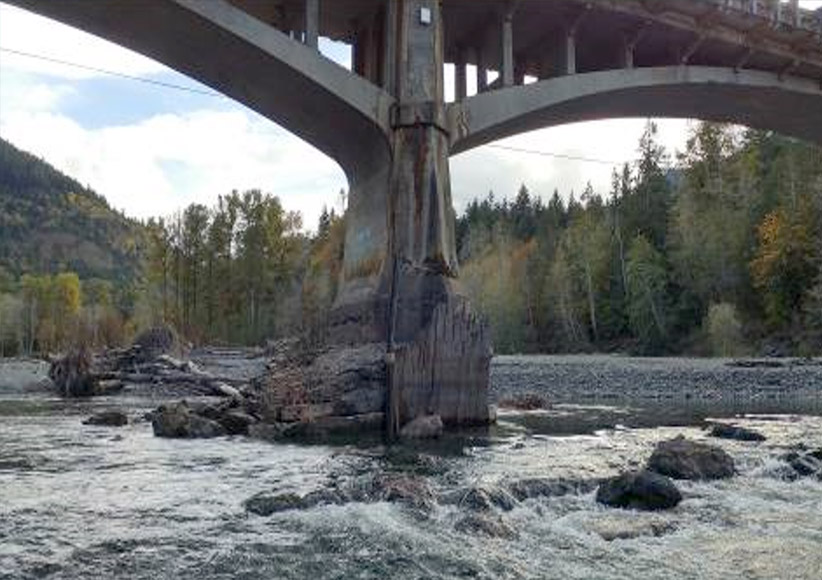 After the removal of two dams on the Elwha River in northwest Washington State, the State declared an emergency on the existing US 101 Bridge due to changes in river conditions and susceptibility of the foundations to scour. WSDOT used 2D modeling to assess the vulnerability of the bridge, and reported that 2D modeling was instrumental in communicating risk within the department and ensuring the safety of drivers.
For the proposed US 101 bridge, WSDOT used 2D modeling throughout the project delivery process. This included assessing the performance of a scour countermeasure constructed during the emergency declaration; designing the new structure including the new bridge span length, pier locations, and scour depths; evaluating potential environmental effects including assessment of impacts to aquatic habitat; and identifying potential stream diversion parameters to be used during construction.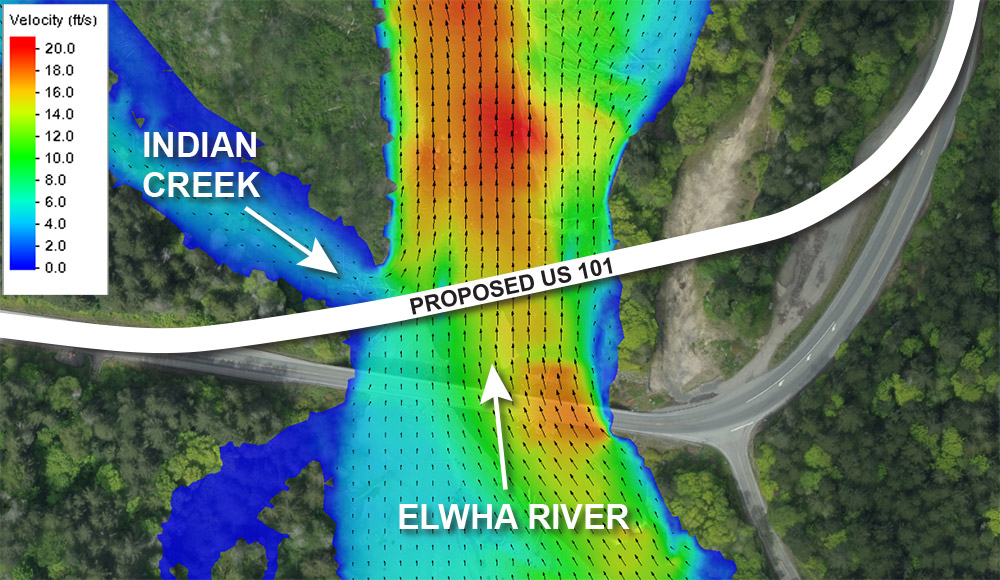 To CHANGE the way your agency looks at hydraulic modeling, contact Scott Hogan or Laura Girard, with the FHWA Resource Center.
Traffic Emergency Actions Matter: Safety is a Team Effort!
November 10-16 marks the fourth Annual National Traffic Incident Response Awareness Week and is the perfect time to revisit the importance of effective Traffic Incident Management (TIM). TIM is a planned and coordinated multi-disciplinary process to detect, respond to, and safely clear traffic incidents quickly to reduce the duration and impacts of traffic incidents and improve the safety of motorists, crash victims, and emergency responders. Effective TIM reduces the duration and impacts of traffic incidents, while improving the safety of motorists, crash victims and responders. Effective TIM also reduces the occurrence of secondary crashes, which often are more serious than the primary crash.
FHWA offers the National TIM Responder Training Program, a free, standardized in-person 4-hour course that trains first responders (EMS, fire/rescue, law enforcement, transportation/public works, 911 communications, and towing/recovery) to achieve the three objectives of the TIM National Unified Goal: Responder Safety; Safe, Quick Clearance; and Prompt, Reliable, Interoperable Communications. Responders can also take advantage of the web-based version through the National Highway Institute (NHI) or the Responder Safety Learning Network (RSLN).
If you'd like to learn more about other resources available to support TIM programs, please contact James Austrich or Paul Jodoin with the FHWA Office of Operations for more information.
Bringing Communities Together Through Joint Development in Boston
Joint development projects are public transportation improvements that are co-located with non-transit real estate development. A private developer implements the improvements directly or gives money to a public sector sponsor to offset the costs.
Copley Place is a $400 million mixed-use development on 9.5 acres above the Massachusetts Turnpike in Boston. The complex includes two hotels; a convention center; a retail center with shops, restaurants, and cinemas; office buildings; 100 units of housing; and 1,432 parking spaces. The 99-year lease includes air and land rights, and the project provided funds to cover capital, operating, and maintenance expenses for the turnpike.
The development also benefitted the local community by reconnecting urban neighborhoods divided by the turnpike and attracting tourists, shoppers, and new residents to the area. In addition, developers earmarked interest from the repayment of a Federal loan for the project for Boston's Neighborhood Development Loan Bank, generating $42 million for improvements to nearby neighborhoods.
To learn more about how value capture methods can help your agency—and your communities, contact Stefan Natzke, FHWA Office of Planning, Environment, and Realty, or Thay Bishop, FHWA Center for Innovative Finance Support.
Vermont Shares Learned Lessons from Developing Traffic Signal Maintenance Plan
The Vermont Agency of Transportation (VTrans) completed a Traffic Signal Management Plan (TSMP) as part of exploring deployment of Automated Traffic Signal Performance Measures (ATSPMs). This plan detailed an objectives and performance-based approach to traffic signal management, operations, and maintenance. Looking back on the development of their TSMP, VTrans offered these lessons learned for other agencies developing their own TSMP:
Lesson 1: Agencies need a detailed asset inventory to serve as the foundation of the TSMP. This information includes the age, type of controller, intersection configuration, traffic volumes, and similar data.
Lesson 2: Assets do not need to be replaced solely by age; conducting a risk assessment can help prioritize asset replacement.
Lesson 3: Developing the TSMP helped VTrans staff effectively communicate capital and human resource needs to VTrans management for budget development. This resulted in VTrans increasing the Traffic Signals budget by approximately 600% from fiscal year 2016-2020. VTrans added two staff positions to the traffic signal team and traffic signals are now centrally managed by the Transportation Systems Management & Operations Office.
Learn more about the benefits VTrans is experiencing from implementing ATSPMs. For more information about Vermont's TSMP, contact Derek Lyman, VTrans Traffic Signal Operations Engineer. To learn how you can incorporate ATSPMs in your state, contact Eddie Curtis or Rick Denney with the FHWA Resource Center.
About EDC
Every Day Counts, a State-based program of the Federal Highway Administration's Center for Accelerating Innovation, works with State, local, and private sector partners to encourage the adoption of proven technologies and innovations to shorten and enhance project delivery.