December 5, 2019
EDC-5 Synergies
The Washington State Department of Transportation (WSDOT) is demonstrating how combining EDC innovations accelerates success. The WSDOT Visual Engineering Resource Group (VERG) combines Virtual Public Involvement (VPI) and Unmanned Aerial Systems (UAS) to enhance the transportation decision making process.
VERG provides clear and effective communication of project development, design, and delivery issues through visual media made with a wide range of 3D modeling, animation, video, and other graphic software packages. From planning and communication to design and construction, VERG products are vital to project success.
VERG uses aerial video in many of their products, and WSDOT credits UAS with reducing lead-time and cost. Purchasing a UAS system can be a similar price as a few hours of helicopter rental, and the UAS provides years of service. VERG uses the UAS to recreate cinematic shots and effects in their visual storytelling of a project.
To support public involvement for one of the most complex projects in WSDOT's history, VERG used drones to capture footage of key stages of the Alaskan Way Viaduct's construction process to provide public updates through web links, public meetings, and social media, including their YouTube channel.
In the City of Bingen, WA, VPI and UAS came together in another project, where a roundabout was being proposed. VERG combined aerial video with 3D modeling to create a combined view, visualizing what the project would look like once complete. This visualization was able to clearly explain the project to stakeholders including local government officials and businesses, which helped generate support for the project while avoiding potential delays.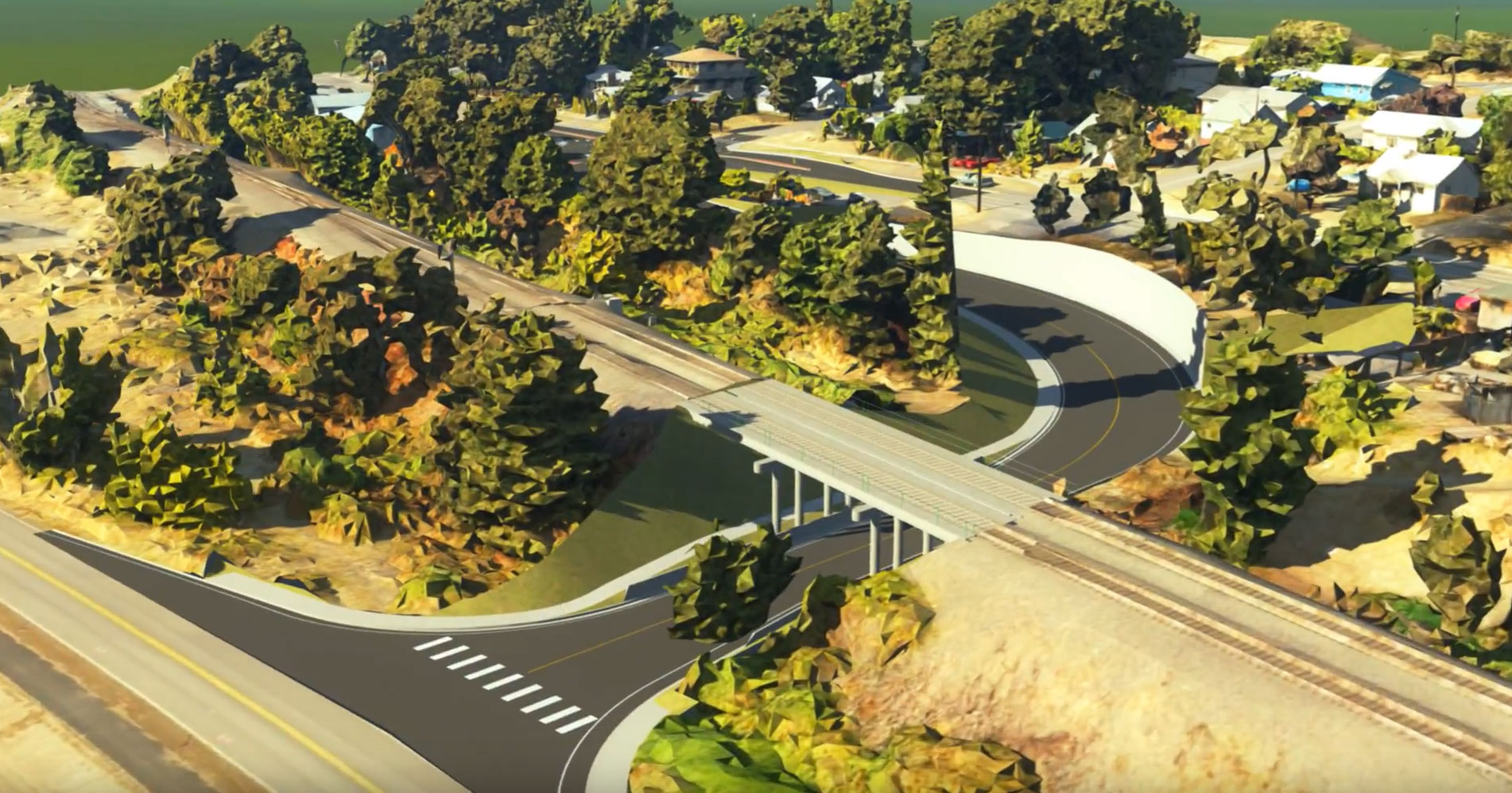 To find out how VPI can help your agency expand its outreach, contact Scott Allen, FHWA Office of Planning, or Carolyn Nelson, FHWA Office of Project Development and Environmental Review. For more information on UAS, contact James Gray, FHWA Office of Infrastructure.
New Jersey Takes to the Skies
The New Jersey Department of Transportation (NJDOT) released a video describing the institutionalization of Unmanned Aerial Systems (UAS) throughout their state. NJDOT used STIC Incentive funds to develop their UAS Program, and now, drones are beginning to replace boots on the ground, increasing accuracy, speeding up data collection, and providing access to hard-to-reach locations. To learn more about New Jersey's UAS program, contact Amanda Gendek with the NJDOT Bureau of Research.
FHWA's Virtual Public Involvement – Engaging a 21st Century Audience
The 21st century audience seeks and consumes information in a much different way than previous generations. Social media, blogs, and online news outlets are preferred over traditional forms of media such a print newspapers and radio. To capture the attention of a distracted audience, transportation practitioners must not only embrace changes in communications and technology, but become proficient users of these mediums. To help practitioners navigate this changing environment, FHWA developed a series of fact sheets and short videos highlighting innovative and proven, public involvement techniques for today's transportation plans and projects. Highlighted VPI tools and strategies include:
Building a Social Media Presence – Are you having trouble attracting an engaged following on your social media platforms? Learn how to develop a robust, social media community here.
Targeted Online Advertisements – Hard copy newspaper subscriptions are down, and online media consumption is up. Strategic use of online advertisements is a cost-effective solution.
Telephone Town Halls – Engaging individuals over large geographic areas can be an issue for effective public involvement. Telephone town halls could be your solution.
These techniques were discussed by practitioners during Webinar 2 of the Extending our Reach webinar series. To find out how virtual public involvement can help your agency expand its outreach, contact Scott Allen, FHWA Office of Planning, or Carolyn Nelson, FHWA Office of Project Development and Environmental Review.
Minnesota is Paving the Way for Weather-Responsive Management Strategies
The Minnesota Department of Transportation (MnDOT) is paving the way for using mobile road weather sensor data to enhance weather-responsive management strategies (WRMS). As one of the first states to implement integrating mobile observations (IMO) technology, MnDOT institutionalized the acquisition, transmission, storage, and use of mobile road weather observations across the State. These sustainable and interoperable processes enhance situational awareness and reduce the costs associated with winter maintenance activities.
The agency also uses its Web Maintenance Decision Support System (WebMDSS) to better manage roadways and resources during inclement weather. By providing road advisories, warnings, and treatment information and recommendations for road maintenance purposes, the agency has seen improvements in mobility, safety, cost savings, and reduced environmental impacts from reduced material usage.
Learn more about Minnesota's implementation efforts by contacting Joe Huneke of MnDOT and check out the MnDOT case study on the WRMS Toolkit. To learn how your agency can implement WRMS, please contact David Johnson with the FHWA Office of Operations.
About EDC
Every Day Counts, a State-based program of the Federal Highway Administration's Center for Accelerating Innovation, works with State, local, and private sector partners to encourage the adoption of proven technologies and innovations to shorten and enhance project delivery.