December 12, 2019
EDC Synergy:
Advanced Geotechnical Methods in Exploration (A-GaME) and Unmanned Aerial Systems (UAS)
Hazardous and tough-to-reach areas create difficulties for geotechnical experts assessing locations along our nation's roadways. Unmanned aerial systems (UAS) offer a potential solution to these challenges. Many States are evaluating UAS to see how this technology can make project development safer, more cost efficient, and more effective.
The New Hampshire Department of Transportation (NHDOT) funded a research project through the University of Vermont (UVM) that assessed the use of UAS across the Department. The project's final report includes eight case studies describing potential improvements UAS can make in the condition assessment and stability evaluation of rock slopes along routes in the State and other use cases.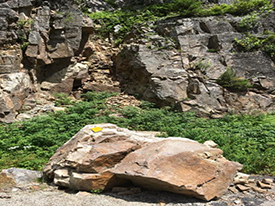 Rock-slopes such as this pose safety risks and limit traditional measurement options. Photo: New Hampshire DOT
Route 302 in Crawford Notch, NH, contains a 100-foot high rock cut-slope that has a poor overall stability rating. Traditionally, rock structure conditions affecting stability of rock-slopes are mapped using manual measurement. This involves dangerous work using rope access. Introducing UAS to the process allowed engineering geologists to capture rock-structure data in areas only accessible by rope or too difficult and dangerous to reach at all.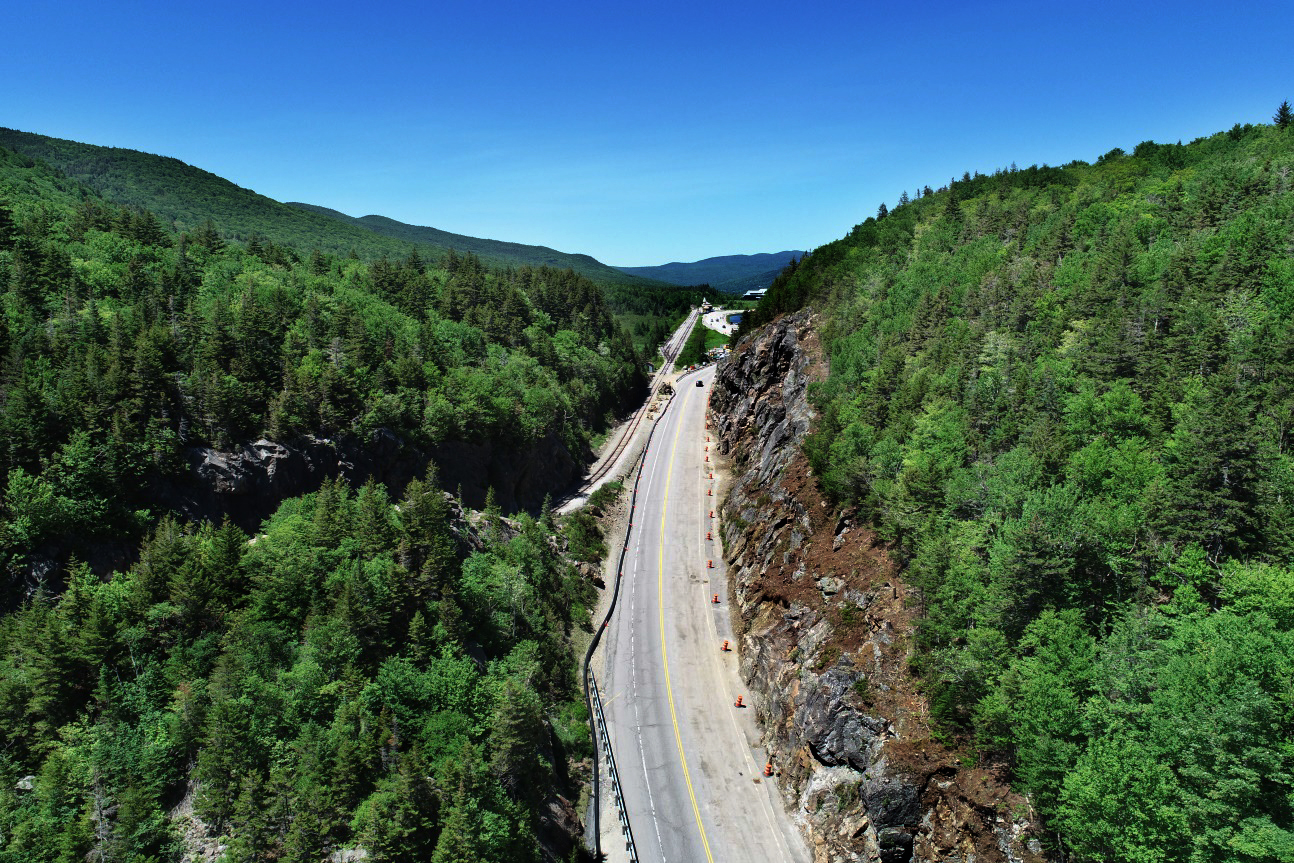 UVM collected 310 high-resolution images during their UAS flights in Crawford Notch. NHDOT used photogrammetry techniques, one of its A-GaME methods for rock-slope characterization to create a detailed 3D point cloud model. This technique is faster than traditional methods and the sheer number of measurements obtained by analyzing photogrammetric data provides better characterization of rock structure conditions, resulting in a more comprehensive stability analysis of the cut.
Data analyzed from the 3D point cloud easily transfers into other software for further analysis, visualization, and future access. Using detailed 3D models like these allow engineering geologists and geotechnical experts to make better-informed decisions regarding the stability of new cut-slope designs and geologic hazards from existing rock-slopes.
Measurements taken over time can also help detect changes in rock slopes. Geotechnical asset managers can detail these changes and will have the ability to monitor slopes for movement that may indicate future rockfall releases or rock slides.
The Crawford Notch, NH, case study is available online. To learn more about how your agency can incorporate UAS into its programs, contact James Gray, FHWA Office of Infrastructure. To learn more about photogrammetry and other advanced geotechnical methods in exploration (A-GaME), contact Ben Rivers with the FHWA Resource Center.
Putting Transportation Reinvestment Zones to Work in Texas
Transportation reinvestment zones (TRZs) are designated areas around transportation projects created to encourage development and capture property tax increments to help fund the improvements. TRZs do not raise tax rates; instead, they leverage new property tax revenues generated within the TRZ. The land involved must be underdeveloped and receive direct benefits from the transportation improvement, such as increased access, public safety, and congestion reduction.
The City of El Paso first used TRZs for its ambitious Americas Interchange project. The TRZs covered $30 million in funding for the project, constructed in three phases completed between 2013 and 2016. TRZs now serve as a key funding mechanism to implement El Paso's Comprehensive Mobility Plan. Revenue generated in these zones helped finance several projects in addition to the interchange, and the City anticipates the TRZs ultimately will generate $70 million for projects in the mobility plan.
Agencies can use TRZs in conjunction with other value capture methods. To find out how to put value capture to work for your agency, contact Stefan Natzke, FHWA Office of Planning, Environment, and Realty, or Thay Bishop, FHWA Center for Innovative Finance Support.
Arizona DOT Develops Web Tool to Promote STEP Countermeasures
The Arizona Department of Transportation (ADOT) has developed a website devoted to their Safe Transportation for Every Pedestrian (STEP) program. The website includes an interactive countermeasure selection tool based on the FHWA Guide for Improving Pedestrian Safety at Uncontrolled Crossing Locations. The website also provides links to Arizona-specific installation examples, illustrations of the countermeasures, and references to State laws and the Manual on Uniform Traffic Control Devices guidance for the design of the treatments.
Learn more about how STEP countermeasures can improve pedestrian safety in your area by contacting Becky Crowe with the FHWA Office of Safety or Peter Eun with the FHWA Resource Center.
About EDC
Every Day Counts, a State-based program of the Federal Highway Administration's Center for Accelerating Innovation, works with State, local, and private sector partners to encourage the adoption of proven technologies and innovations to shorten and enhance project delivery.