January 9, 2020
Innovation of the Month:
Weather Responsive Management Strategies
Last week, we introduced you to weather-responsive management strategies (WRMS). WRMS can help your agency proactively prepare for severe weather events, such as the major flood that occurred in the Missouri River Basin in early 2019. This flood affected Iowa, Missouri, and Nebraska, resulting in thousands of miles of closed roadway throughout the region. By using WRMS, the departments of transportation (DOTs) in these states leveraged data, tools, and relationships to predict and prepare for the impacts of the flood, which ultimately accelerated the recovery process.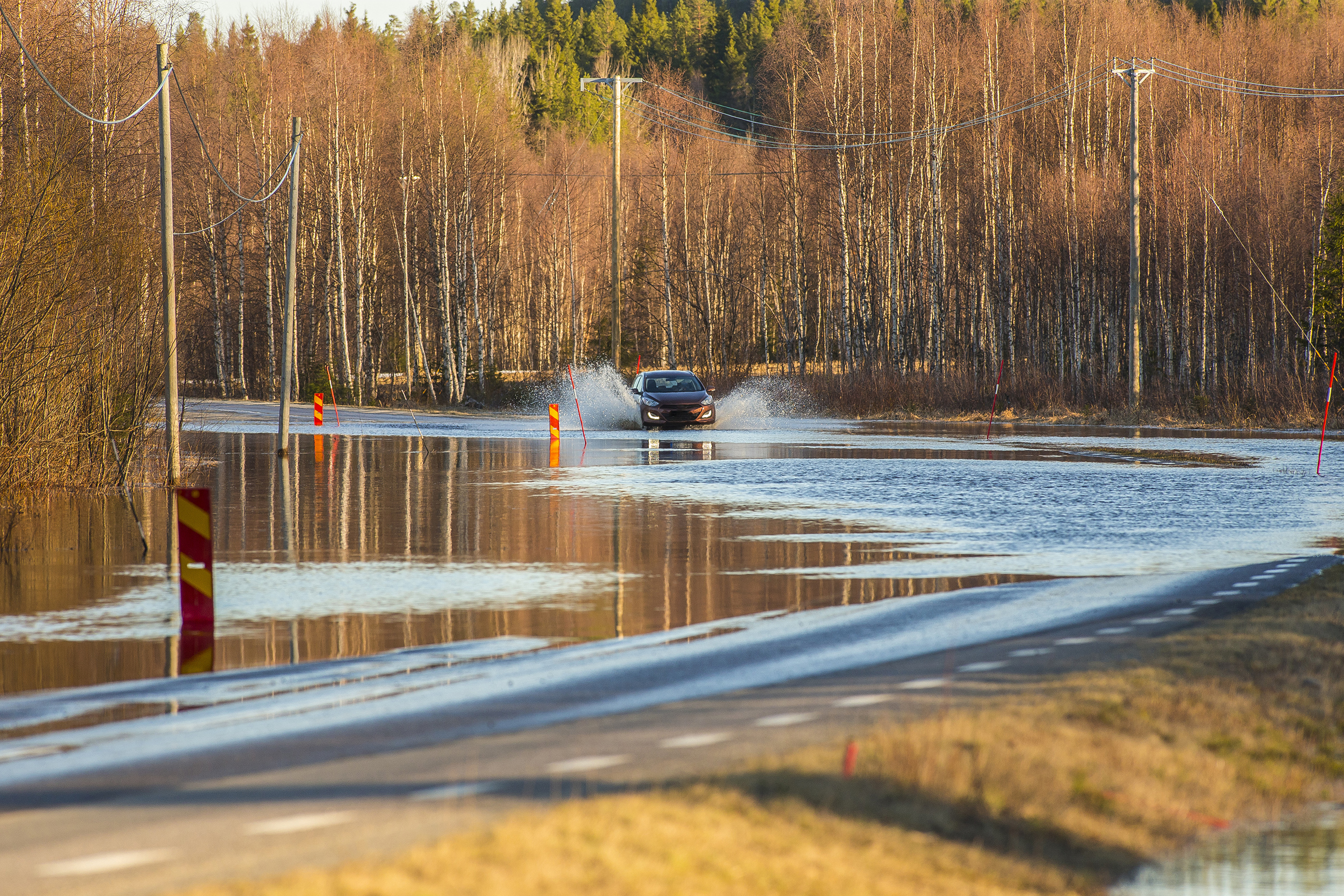 In preparation for the flooding, the Iowa Department of Transportation used LiDAR mapping to accurately model where water would pool over large areas and whether roads would act as a dam or allow water to overtop. The agency also used the LiDAR outputs to identify where to temporarily elevate roads using jersey barriers filled with rock and where to use sandbags.
After the storm, the DOTs coordinated and worked with a variety of agencies, including some non-traditional partners. The Missouri DOT used National Oceanic and Atmospheric Administration/National Weather Service River Gauge predictions to plan for road closures and engaged the Army Corps of Engineers to understand their plans for releasing water, to ensure that roads and crossings they repaired and reopened to traffic would not face re-closure. The Iowa DOT relied on HazMat teams to help remove potentially hazardous materials and refuse washed onto roadways and DOT right-of-way and engaged the Department of Corrections in advance of the flooding to provide labor for filling sandbags. Additionally, the Nebraska DOT worked with the Game and Parks Department for airboats and officer operators to inspect flood damage to roadways and bridges, and coordinated with the National Guard to provide aid to flooded communities.
To learn how WRMS can help your agency prepare for and predict the effects of flooding, contact David Johnson with the FHWA Office of Operations.
FHWA's Virtual Public Involvement – "Do-it-Yourself" Practical Public Involvement Strategies
Virtual Public involvement (VPI) tools and practices do not have to "break the bank." With the proliferation of smart phones, tablets, and other hand-held devices, the costs of developing do-it-your-self videos and other visualization products have decreased dramatically. Geographic Information Systems (GIS) software has also become more affordable, allowing the development of online "story maps" to supplement public engagement strategies. FHWA developed a series of fact sheets and short videos highlighting innovative and proven public involvement techniques for today's transportation plans and projects. Highlighted VPI tools and strategies include:
Story Maps – Combining GIS with public involvement can revolutionize your engagement process.
Online in the Field – Taking public involvement outside of the four walls of a traditional public meeting has proven to be not only cost-effective, but fun as well.
Practitioners discussed successful use of these techniques during Webinar 3 of the Extending our Reach webinar series.
To find out how virtual public involvement can help your agency expand its outreach, contact Scott Allen, FHWA Office of Planning, or Carolyn Nelson, FHWA Office of Project Development and Environmental Review.
Time is Running Out to Submit Ideas for the Next Round of EDC!
FHWA needs YOUR help finding proven processes and technologies to showcase in our next round of Every Day Counts from 2021-2022.
We are seeking ideas from State, local, Tribal, and industry partners as well as the public on proven, market-ready processes or technologies that have the potential to transform the way the highway transportation community does business by enhancing roadway safety, shortening project delivery time, reducing traffic congestion, or integrating automation. If you have experience with a market-ready and proven innovation that can transform the highway transportation community, we want to know!
To submit a suggestion, complete this form and send it to EDCsuggestions@dot.gov by January 21 by. Your ideas will help us make every day count to ensure our infrastructure is built better, faster, and smarter.

New Issue of Innovator Available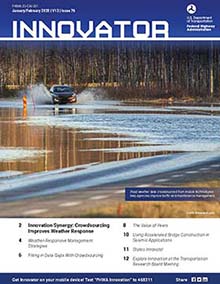 The January/February issue of Innovator is available on its new web platform, accessible from any device! This new and improved format will give an optimized experience, whether you access it from your mobile phone, tablet, or computer.
In this issue:
Comments? Questions? We'd love your feedback! Drop us a line and let us know what you think.
Read past issues and sign up to receive Innovator by email, or text "FHWA Innovation" to 468311 to get Innovator on your smartphone.
Learn about EDC Innovations at the Transportation Research Board Annual Meeting
The Transportation Research Board (TRB) 99th Annual Meeting will be held January 12–16, 2020, at the Walter E. Washington Convention Center, in Washington, D.C. Visit the Every Day Counts exhibit at Booth 921 to learn more about EDC-5 innovations and meet members of our team. Join us for several demonstrations that will take place at the Office of Innovative Program Delivery booth (booth 924):
Disaster Response Tool: Mobile Solution for Assessment and Reporting – Jan 13, 1-2:30 PM
Virtual public involvement – Jan 13, 2:30-4 PM
Monitoring post-tensioning tendons – Jan 14, 1-2:30 PM
Advanced geotechnical methods in exploration (A-GaME) – Jan 14, 2:30-4 PM
Browse the online Interactive Program for information on nearly 800 sessions and workshops, and learn more about the EDC-5 related sessions taking place during the meeting.
About EDC
Every Day Counts, a State-based program of the Federal Highway Administration's Center for Accelerating Innovation, works with State, local, and private sector partners to encourage the adoption of proven technologies and innovations to shorten and enhance project delivery.