February 6, 2020
Innovation of the Month:
Crowdsourcing for Operations
Crowdsourcing is probably a term many of you have heard but may not be sure what it is. Crowdsourcing is the practice of addressing a need or problem by enlisting the services of a large number of people through technology. This process outsources tasks to a diverse group, beyond an organization's typical resources.
Crowdsourcing for Operations is a low-cost, powerful tool that leverages the public to improve traveler information, traffic incident management, signal timing, weather-responsive management, work zone management, and more. Crowdsourcing overcomes gaps in geographic coverage of real-time monitoring systems, lags in timeliness of information, costs to build and maintain monitoring equipment, and jurisdictional data stovepipes. Crowdsourced data are available wherever and whenever people travel, giving visibility into suburban and rural networks where roadway sensor technology is often not available.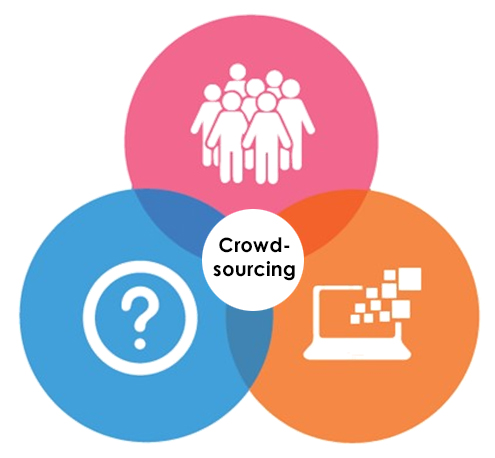 More than half of all States and many local transportation agencies already use some form of crowdsourcing. They gather data from agency-operated and third party mobile applications, crowdsourced data providers, and social media. These sources gather information that includes vehicle speeds, travel times, crashes, stalled vehicles, pothole or debris locations, temperatures, adverse weather conditions, and work zone locations.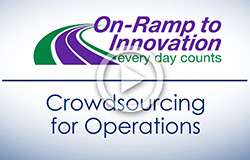 Is your agency using crowdsourcing at a small scale and would like to expand? Would you like to be more proactive in transportation systems management and operations? Are you considering investing in roadway monitoring or finding it difficult to maintain your existing monitoring systems? If you answered yes to any of these questions, our crowdsourcing team may be able to help you.
For more information, contact James Colyar or Paul Jodoin of the Federal Highway Administration Office of Operations. Please watch our Innovation Spotlight video to learn more about how crowdsourcing may help your agency.
EDC Outtakes – Crowdsourcing for Operations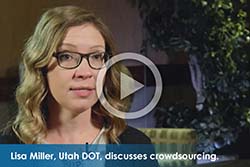 In EDC Outtakes—a series of short interview videos—State practitioners and FHWA personnel give insight into the current round of EDC innovations. In our latest edition, Lisa Miller, Traveler Information Manager for the Utah Department of Transportation, discusses the importance of crowdsourcing and highlights her agency's app-based crowdsourcing program, Citizen Reporter, which captures road weather condition information on road segments throughout the State, particularly in rural areas.
Keep reading EDC News for future editions of EDC Outtakes!
State of Texas Showcases EDC Innovations During TxDOT Short Course
Looking to spur further EDC implementation efforts in the State, the Texas State Transportation Innovation Council (STIC) used STIC Incentive funds to conduct outreach and training workshops on 10 EDC innovations as part of the 91st Transportation Short Course hosted by the Texas A&M Transportation Institute. These workshops exposed approximately 2,700 professional engineers, planners, students, and consultants to the innovations, and are expected to lead to requests for additional training and outreach for various State and local transportation agencies through the Texas Local Technical Assistance Program (LTAP) Center. To learn more about how your State can plan events similar to the workshops included in the Short Course, contact your State EDC coordinator. To learn more about the STIC Incentive program, contact Sara Lowry or visit the STIC Network homepage.
About EDC
Every Day Counts, a State-based program of the Federal Highway Administration's Center for Accelerating Innovation, works with State, local, and private sector partners to encourage the adoption of proven technologies and innovations to shorten and enhance project delivery.