June 4, 2020
Innovation of the Month:
Value Capture
When government invests in transportation infrastructure, the improvements gained from the resulting projects enable further development and increase property value for the adjacent property owners.
Value Capture is one powerful tool to address the growing gap between available funding and roadway construction and maintenance needs, and can be used in a wide range of settings including urban, suburban, and rural areas. Value Capture seeks to capture a portion of the value created by transportation infrastructure investment through various means. This can be reinvested into roadway operations, maintenance, or financing current or future transportation projects.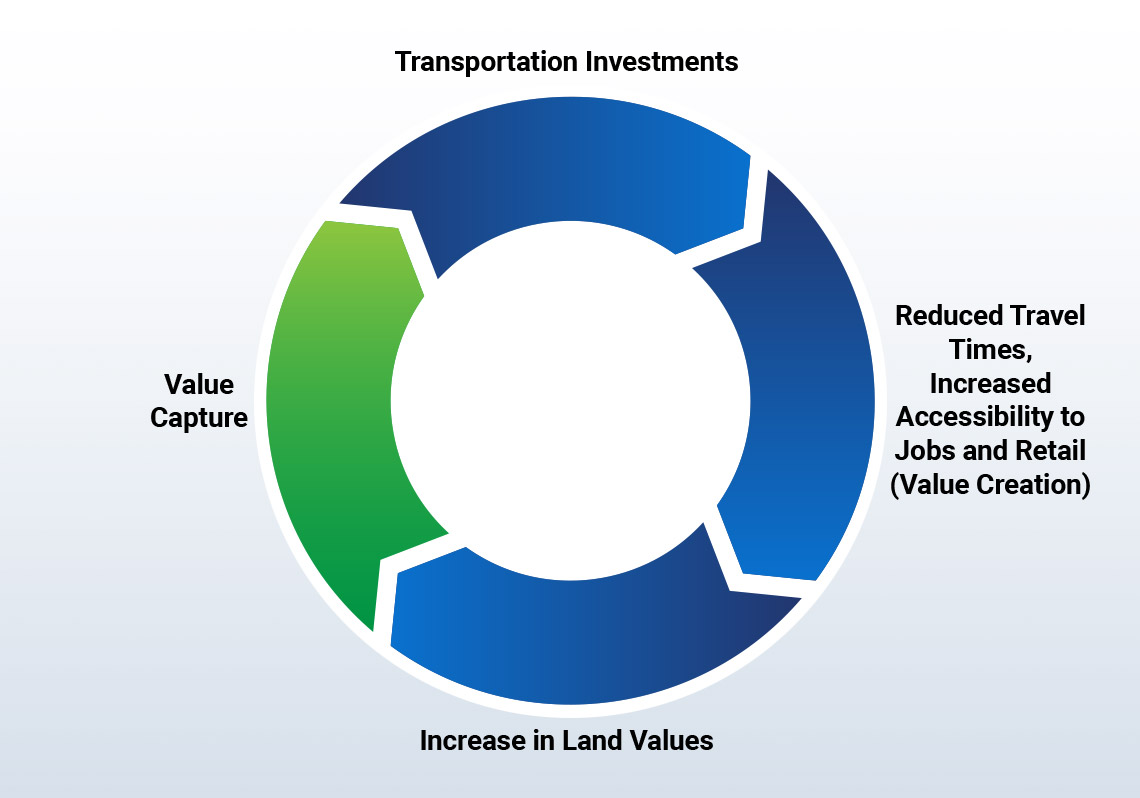 Over the next few weeks, we will look at examples of different value capture techniques and how they have benefited communities all over the country.
Value Capture resources
Numerous tools are available to help you learn more about value capture and begin to implement them in your agency:
Value Capture implementation manual- This manual provides best practices for identifying opportunities to integrate value capture into priority projects. The manual also highlights successful examples of value capture through project profiles and serves as a guide for developing a solid business case, assessing real estate risk and regulatory barriers, selecting and implementing the various techniques, and more.
Value Capture Virtual Peer Exchange Series- Join the Value Capture team for this series of seven webinars that dives into various value capture techniques with peer experts who have successfully used them in their own agencies. The next live webinar, focused on private sector contributions, will take place June 18, from 1-3pm ET.
Value Capture website- The Value Capture website is a valuable collection of resources that can help any agency using or considering using Value Capture. You'll find links to Value Capture-related legislation, project profiles and case studies, frequently asked questions, and more.
If you would like to learn more about this innovative financing approach, contact Stefan Natzke of the Federal Highway Administration Office of Planning, Environment, and Realty or Thay Bishop of the FHWA Center for Innovative Finance Support.
EDC Outtakes – Value Capture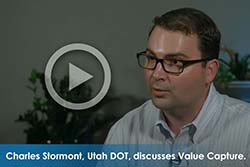 In EDC Outtakes–a series of short interview videos–State practitioners and FHWA personnel give insight into the current round of EDC innovations. In our latest edition, Charles Stormont, Director of Right of Way and Property Management for the Utah Department of Transportation, discusses an example of Value Capture in his State and how it benefited the project and the private entities that contributed to the project.
Keep reading EDC News for future editions of EDC Outtakes!
2020 STIC Excellence Award Nominations Due July 1
Only one month remains to make nominations for the 2020 STIC Excellence Awards, sponsored by the Federal Highway Administration's Center for Accelerating Innovation and the American Association of State Highway and Transportation Officials..
Has YOUR State Transportation Innovation Council (STIC) made a significant impact toward fostering a strong culture for innovation? If so, please consider submitting a nomination.
Nominations are due to FHWA by July 1, 2020. Take this opportunity to nominate your STIC and share examples of how it is making a difference and the results of these efforts.
Please visit our website to learn about past STIC Excellence Award winners. For more information on this award or on the STIC program, contact Sara Lowry of CAI.
About EDC
Every Day Counts, a State-based program of the Federal Highway Administration's Center for Accelerating Innovation, works with State, local, and private sector partners to encourage the adoption of proven technologies and innovations to shorten and enhance project delivery.