June 11, 2020
Innovation of the Month:
Value Capture
Last week, we introduced you to Value Capture and shared some important resources to help you implement this innovative way to leverage a portion of the additional value generated by transportation infrastructure projects.
One of Value Capture's featured techniques is private sector contribution, which promotes infrastructure cost sharing with "win-win" outcomes to both public and private sectors. These outcomes include increased property values for the private sector and increased tax revenues for the public sector. In this technique, a private landowner, developer, or business/service provider makes a contribution to enhance the feasibility or financing of the project. The private entity does this because it expects the long-term value it will gain from the project will exceed its initial contribution.
In Chicago, IL, the Chicago Region Environmental and Transportation Efficiency (CREATE) Program used this form of Value Capture to help fund a $4.6 billion multimodal project including freight and passenger rail and highway improvements. The Illinois Department of Transportation, the City of Chicago Department of Transportation, the freight railroads, Metra, and Amtrak selected this project collaboratively. Thus far, private freight railroads have contributed $375 million to the project. The program represents a first-of-its-kind public-private partnership between the U.S. Department of Transportation, the State of Illinois, Cook County, the City of Chicago, Metra, Amtrak and the nation's freight railroads.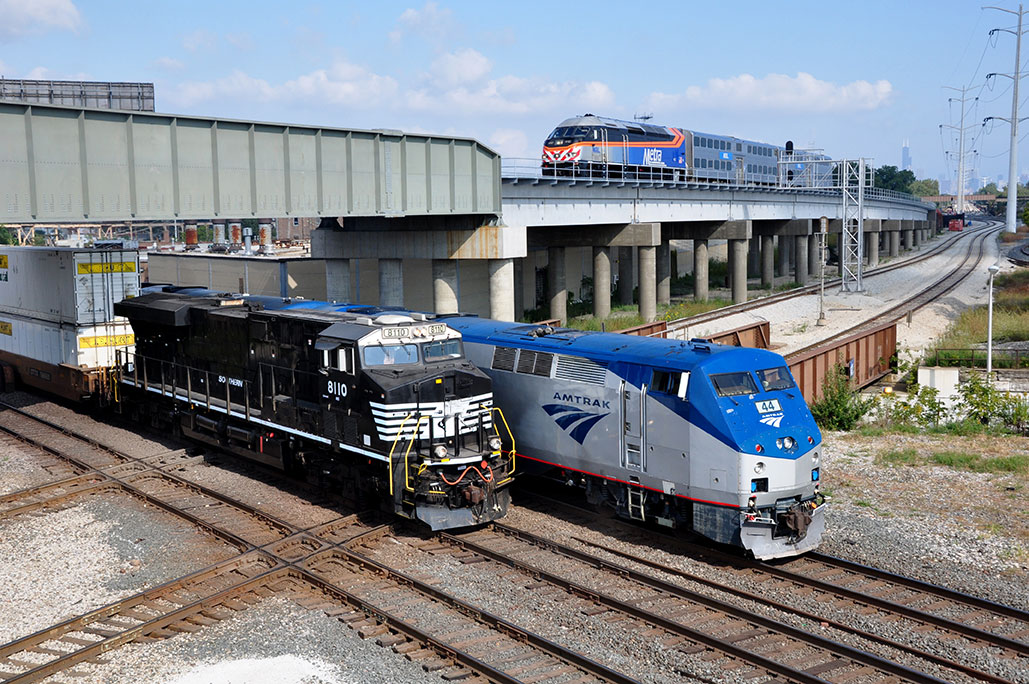 In addition to voluntary contributions such as those in Chicago, required contributions in the form of impact fees can also be used by agencies to fund projects. In Stafford County, Virginia, impact fees paid for the first phase of improvements to Poplar Road, a roadway used by residents to avoid I-95 traffic that required improvements for safety, drainage, and to bring the roadway up to current Virginia Department of Transportation standards. Funding came from the Central West Impact Fee Area Fund, created by the county in 2003. Use of this funding allowed the County to avoid using bond funds to finance an additional phase of the project, reducing potential construction delays and overall costs.
To learn more about this innovative financing approach, contact Stefan Natzke of the Federal Highway Administration Office of Planning, Environment, and Realty or Thay Bishop of the FHWA Center for Innovative Finance Support.
Safety Circuit Rider Programs: A Life-Saver for Many Local Agencies
Safety on locally maintained roads is a significant issue nationwide as local roads account for approximately 40 percent of the fatalities annually. Nationally there are over 30,000 local agencies with diverse levels of safety expertise; many of these agencies lack the resources to best identify, diagnose, and address their traffic safety issues alone.
Safety Circuit Rider (SCR) programs can help fill resource needs while supporting the goal of reducing the frequency and severity of roadway crashes. A Safety Circuit Rider travels to all regions within a state providing on-site training and technical assistance to transportation agencies responsible for local road safety.
SCR programs can help address roadway departure issues through road safety audits, technical site visits, or loan programs for equipment such as ball bank indicators, the safety edge shoe, reflectometers, and traffic volume counters.
Kansas, Missouri, Colorado, Connecticut, and Virginia are among the states that have recently added Safety Circuit Rider programs to their toolbox to curb fatalities and serious injuries on their local road network, joining those with established programs including Iowa, Ohio, Indiana and Kentucky.
If you would like to learn more about Safety Circuit Riders and how to bring them to your area, review the summary report from an SCR Peer Exchange hosted by the FHWA Office of Safety, and contact Cate Satterfield or Dick Albin with the Focus on Reducing Rural Roadway Departures team.
Project Bundling Yields Many Benefits for NCDOT
The North Carolina Department of Transportation (NCDOT) has realized many benefits using project bundling. The Department uses bundling on a wide array of project scopes and types, including bridge or culvert construction, emergency repairs, pavement resurfacing, maintenance activities, scrubbing for bridges, bridge joint repair, safety improvements, traffic operation improvements, and intelligent transportation system (ITS) projects.
Through bundling, NCDOT has seen cost savings or increased efficiencies in several phases of project delivery. Benefits realized include the ability to standardize design elements across multiple projects, and reduced contract administrative and mobilization costs, and more effective crew and equipment usage.
Finally, NCDOT has found that letting of individual projects sometimes limits the interest of bidders, whereas projects that are bundled together can attract more attention and increase competition.
To learn more about how your agency can unlock these benefits from bundling, contact Romeo Garcia of the FHWA Office of Infrastructure or David Unkefer of the FHWA Resource Center.
Did You Catch the Last Innovator?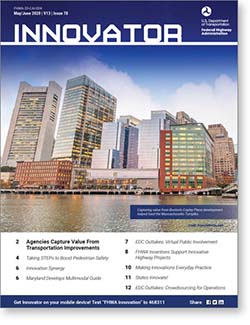 The May/June issue of Innovator is available on its new web platform, accessible from any device! This new and improved format will optimize your reading experience, whether you access it from your mobile phone, tablet, or computer.
In this issue:
Comments? Questions? We'd love your feedback! Drop us a line and let us know what you think.
Read past issues and sign up to receive Innovator by email here, or text "FHWA Innovation" to 468311 to get Innovator on your smartphone.
About EDC
Every Day Counts, a State-based program of the Federal Highway Administration's Center for Accelerating Innovation, works with State, local, and private sector partners to encourage the adoption of proven technologies and innovations to shorten and enhance project delivery.