July 16, 2020
Innovation of the Month:
Project Bundling
Project bundling offers a path for many small municipalities to leverage increased competition and economies of scale. The City of Oakwood, GA, faces contracting challenges that result from low numbers of bidders on projects. To address this issue, Oakwood created a program that partnered with other small municipalities to bundle road projects.
The city's program goals include establishing a realistic project plan that meets the participating municipalities' funding needs, promoting the use of alternative paving methods, assisting the municipalities with project selection, and providing a single entity to conduct contract administration activities.
Participating municipalities provide Oakwood lists of roads and descriptions of work to include in the bundles. Oakwood tabulates bid quantities and provides each municipality a cost estimate for their portion of the work. After the individual projects are approved and submitted, Oakwood combines them into a single bid document.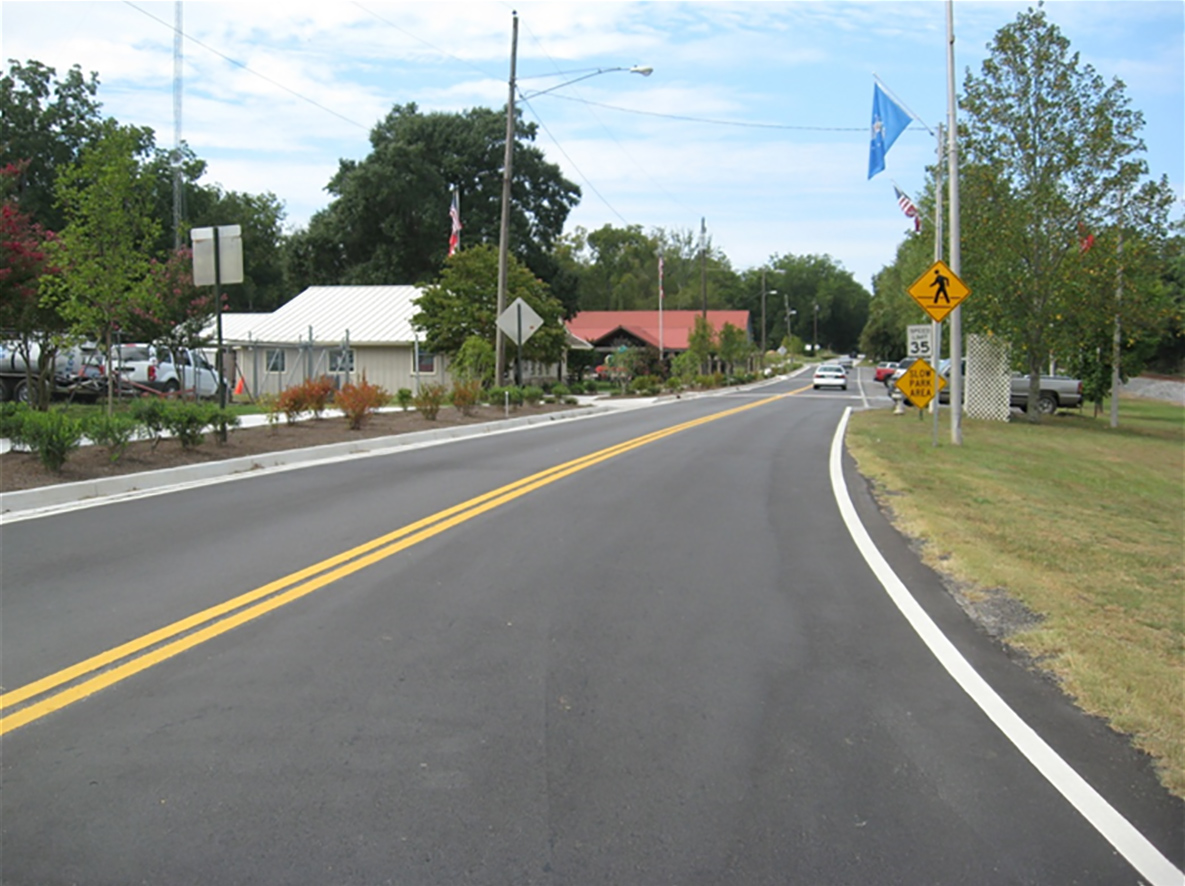 Oakwood's bundling program for pavement projects has increased contractor bid participation. In the past, projects received interest from only one to three bidders, whereas Oakwood now receives between five and seven bids. Because project bundling increases the total quantity of pavement work, the door is opened for Oakwood to specify the use of alternative paving methods that would be cost prohibitive with smaller projects. While cost savings vary by project and construction season, bid amounts on bundled projects with variable depth milling have been as low as one-fourth the cost per square yard compared to a solo project.
A key to success in developing a multi-agency program such as this is communication. Simple inter-governmental agreements can be helpful in documenting roles and responsibilities, and all participants must understand the program's procedures for contract administration.
Due to the success of Oakwood's bundling program, it is currently working with Hall County to expand it. The County is considering including smaller municipalities' work in County projects to maximize economies of scale.
To learn how your agency could benefit from a similar bundling program, contact Romeo Garcia with the Federal Highway Administration Office of Infrastructure or David Unkefer with FHWA's Resource Center.
Wisconsin Finds Added Value from Crowdsourced Vehicle Probe Data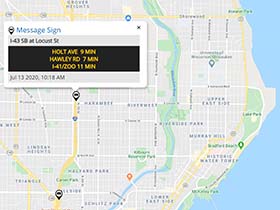 The Wisconsin Department of Transportation (WisDOT) initially purchased vehicle probe data for a single Interstate project. The use and value of this data has steadily increased throughout the agency prompting WisDOT to expand its real-time vehicle probe data footprint to priority State and local routes.
WisDOT now uses the vehicle probe data from TomTom for real-time monitoring, for posting real-time travel times on dynamic message signs (DMS), and to enhance 511 traveler information. WisDOT also shares the vehicle probe data with local agencies for their use. Other divisions within WisDOT are also now exploring the use of vehicle probe data for their needs.
To learn more about how crowdsourcing can help your agency improve traffic operations, contact James Colyar or Paul Jodoin with the FHWA Office of Operations.
Virtual Public Involvement Improves Efficiency and Engagement in PEL Process
Planning and Environment Linkages (PEL) represent a collaborative and integrated approach to transportation decision-making that considers environmental, community, and economic goals early in the transportation planning process. PEL uses the information, analysis, and products developed during planning to then inform the environmental review process.
The Colorado Department of Transportation (CDOT), an early champion in incorporating PEL principles into their planning and environmental review processes, is now successfully integrating Virtual Public Involvement (VPI) techniques into the process to achieve further benefits.
During two recently completed PEL studies, CDOT conducted virtual stakeholder committee meetings to finalize key decisions to ensure strong stakeholder communication, collaboration, and expanded engagement. The final review of each PEL study was also able to be done virtually and with an accelerated review cycle, which helped to finalize the PEL Study efficiently.
CDOT expects that both PEL studies could create time and cost savings on future National and Environmental Policy Act studies conducted within the corridor planning study limits. By incorporating VPI, CDOT added further benefit through strengthened collaboration with a diverse set of stakeholders. For more information on the Colorado PEL studies, contact Patricia Sergeson with the FHWA CO division office. For more information on using Virtual Public Involvement techniques in your agency, contact Carolyn Nelson with the FHWA Office of Planning, Environment, and Realty.
New Edition of Innovator Now Available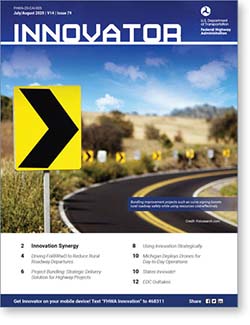 The July/August issue of Innovator is now available, accessible from any device! This format will optimize your reading experience, whether you access it from your mobile phone, tablet, or computer.
In this issue:
Comments? Questions? We'd love your feedback! Drop us a line and let us know what you think.
Read past issues and sign up to receive Innovator by email here, or text "FHWA Innovation" to 468311 to get Innovator on your smartphone.
About EDC
Every Day Counts, a State-based program of the Federal Highway Administration's Center for Accelerating Innovation, works with State, local, and private sector partners to encourage the adoption of proven technologies and innovations to shorten and enhance project delivery.