November 19, 2020
EDC-6 Summit Preview:
Strategic Workforce Development
The beginning of EDC-6 is just around the corner, and each week through the end of the year, we will give you a preview of the seven innovations being featured. This week, we will take a sneak-peak at strategic workforce development.
The demand for highway construction, maintenance, and operations workers is growing while the industry is experiencing a revolution of emerging technologies that will require new skills. According to the Associated General Contractors of America (AGC), 80 percent of construction firms report difficulty finding qualified workers and the U.S. Departments of Transportation, Education, and Labor estimate that the transportation sector will need to hire approximately 4.6 million workers between 2012 and 2022. The strategic workforce development initiative will provide new resources and innovative strategies for identifying, training, placing, and retaining individuals in the contractors' workforce. This initiative will help the transportation sector compete with other industries and demonstrate the value of a career in transportation.
This initiative features a partnership between FHWA, State departments of transportation (DOTs), local public agencies, contractors' associations, and State/local workforce boards to develop the contractors' workforce to continue moving the Nation's highway infrastructure forward.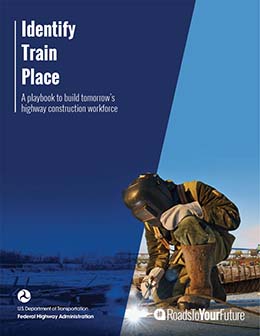 This partnership resulted in a highway construction workforce development playbook called "Identify, Train, Place." The playbook aims to help State and local agencies identify, train, and place workers in the workforce to meet resource needs to deliver highway construction jobs. The playbook condenses the lessons learned from a two-year, multi-State pilot into simple, repeatable "plays" that others can use. The plays reflect solutions to challenges that affected the pilot participants and are customizable to local needs.
In addition to the playbook, FHWA developed a comprehensive outreach campaign called Roads To Your Future. The campaign includes free messaging and marketing materials to help recruit the next generation of highway construction workers. Many of the materials can be customized to advertise available jobs and training to potential applicants.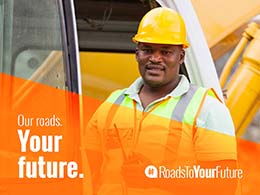 Increasing the Contractors' construction workforce can help communities thrive while solving one of today's most persistent national transportation problems. This initiative connects agencies to a National partnership of highway construction practitioners and resources and offers an opportunity to recruit minorities and women to jobs that can change their lives and the lives of their families, for the better.
To learn more about strategic workforce development, contact Karen Bobo, FHWA Office of Innovative Program Delivery Center for Transportation Workforce Development or Victoria Peters, FHWA Office of Innovative Program Delivery Center for Local Aid Support, register for the EDC-6 virtual summit and attend the breakout session on Dec 10, or visit FHWA's EDC website.
HFST Improves Kentucky Curve Safety
In Daviess County, Kentucky, officials used Highway Safety Improvement Program (HSIP) funding to install high-friction surface treatment (HFST) as part of a larger safety project with the Kentucky Transportation Cabinet (KYTC). HFST are pavement treatments that effectively reduce all crashes, particularly wet pavement related crashes with friction demand issues, typically seen on curves. In Kentucky, the average total crash reduction for HFST is 73 percent and the average wet crash reduction is 86 percent.
Daviess County had identified that the curve selected experienced more wet pavement crashes than similar curves throughout the State. Because the curve was on a locally-owned road, KYTC used a screening process and determined that the county's HFST application met the criteria for HSIP funding. A field investigation found that there were several entrances in the area. With other mitigation methods, the entrances would cause realignment issues. The road is also located in a wooded area where pavement often remains wet and drivers underestimate the curve. This made HFST a good candidate as a countermeasure.

Through FHWA the KYTC was able to fund 90 percent of the project and Daviess County was responsible for the remaining 10 percent. According to Daviess County, they are unaware of any crashes on the curve since the HFST installation in November 2019.
To learn more about HFST or other methods to reduce rural roadway departures, contact Cate Satterfield or Dick Albin with the Focus on Reducing Rural Roadway Departures team.
Join Us for the EDC-6 Virtual Summit
Registration is open for the EDC-6 summit. This year's event will be held virtually in three half-day sessions on December 8, 9, and 10.
The summit brings together transportation leaders and frontline professionals responsible for developing and delivering highway projects. We welcome participation from all of our partners–State transportation departments, local agencies, Federal land management agencies, tribes, and industry.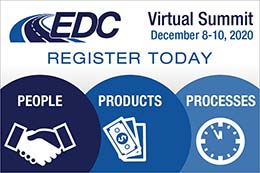 The third day of the summit will feature processes that can improve safety, enhance project delivery, and save money. These include e-Ticketing and digital as-builts, which improves the tracking, exchange, and archiving of materials tickets and enhances the future usability of as-built plans for operations, maintenance, and asset management; and next-generation traffic incident management (NextGen TIM), which integrates new and emerging technology, tools, and training to improve incident detection and reduce safety response and clearance times.
To learn more about the featured innovations and other events that will take place during the event, view the draft agenda here.
About EDC
Every Day Counts, a State-based program of the Federal Highway Administration's Center for Accelerating Innovation, works with State, local, and private sector partners to encourage the adoption of proven technologies and innovations to shorten and enhance project delivery.