March 11, 2021
Innovation of the Month:
Strategic Workforce Development
Last week, we introduced you to the strategic workforce development (SWD) initiative. One key component of this initiative is the "Identify, Train, Place" playbook, which condenses the lessons learned from a two-year, multi-State pilot into simple, repeatable "plays" that others can use.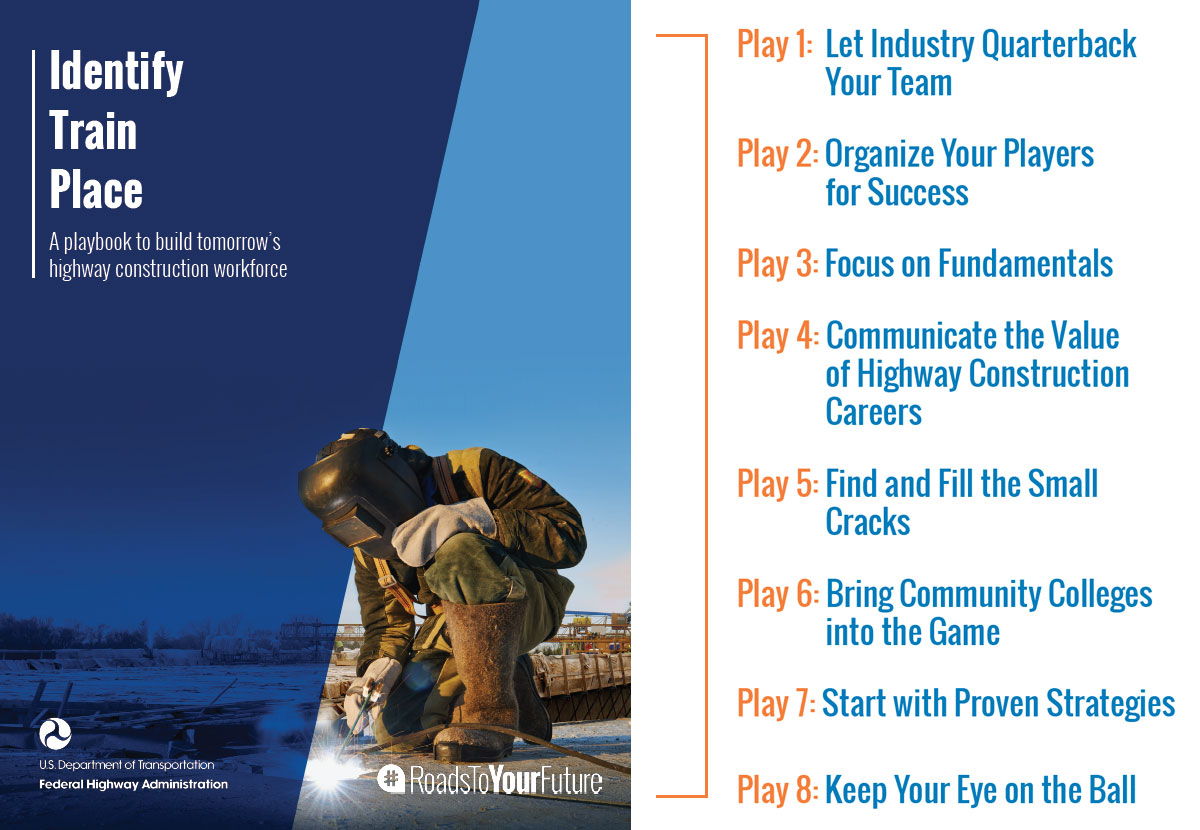 Just as athletes need a playbook for success on the field, transportation agencies can benefit from this concise set of eight approaches–plays–to help develop strategies to fill vacant highway construction jobs. The playbook includes best practices for organizing stakeholders, success stories from the pilot locations, complete programs ready for immediate implementation, and observations about issues other agencies have faced in identifying, training, and placing workers in highway construction jobs.
The plays provided in the playbook are not strict rules to be followed, but rather, helpful tips and guiding principles that can be used in part or as a whole to address your specific needs. Each play represents a collection of common experiences shared by locations across the country, and it's likely that you will find plays that reflect your own agency challenges.
Take the opportunity to review our eight plays and see which ones are the right fit for your agency. As your agencies execute these plays and develop your own new ones, we hope you share your experiences to add to the growing knowledge base of successful highway construction workforce practices.
If you have any questions about the strategic workforce development initiative, please contact Karen Bobo, FHWA Office of Innovative Program Delivery Center for Transportation Workforce Development, or Joe Conway, FHWA Office of Innovative Program Delivery Center for Local Aid Support.
Systemic Analysis Identifies High-Risk Locations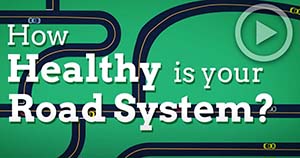 Systemic analysis is a crucial technique for reducing serious and fatal crashes, especially on rural roadways. However, it can be challenging to understand at first because while roadway characteristics that increase the risk for rural crashes are predictable, the locations of those crashes are not. They are scattered randomly across the whole roadway network. So where should agencies focus their limited funds to make the biggest difference? Systemic analysis can help.
The Data-Driven Safety Analysis (DDSA) and Focus on Reducing Rural Roadway Departures (FoRRRwD) implementation teams produced this animated video to help explain this life-saving approach. To learn more about DDSA, contact Jerry Roche, FHWA Office of Safety. To learn more about FoRRRwD, contact Cate Satterfield with the FHWA Office of Safety or Dick Albin with the FHWA Resource Center.
Discover Home-Grown Innovations from Around the Country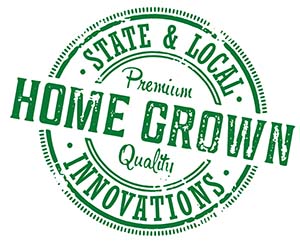 Are you interested in homegrown innovations being used by your peers in other parts of the country? Check out the National STIC Network Showcase, a component of the EDC-6 Virtual Summit. Over 200 innovations, submitted by State DOTs, Local Agencies, and other STIC members, are grouped into eight topic area categories for easy navigation. This site features a convenient one-time registration that will allow you to continue accessing information throughout 2021.
The showcase prominently features several innovations focused on workforce development and knowledge sharing. Learn about the Illinois DOT's District Resource for Informative and Voluntary Exchange (DRIVE) program, which offers weekly training and group discussion sessions to help train new employees and minimize loss of knowledge for retiring employees; University of New Hampshire Technology Transfer Center's "Tuesday Top 10 at 10 with T2" series, which, weekly, featured 10 items for public works agencies to be "in the know" on; and the Idaho DOT heavy equipment operator training program, which helped 20 men and women receive multiple certifications including forklift, maintenance and service, and heavy equipment operator.
Celebrate the ingenuity of your peers and read about these innovations–developed and deployed in–house at transportation agencies nationwide. Additionally, we invite you to watch the one-hour presentations on-demand that feature several of the highlighted innovations.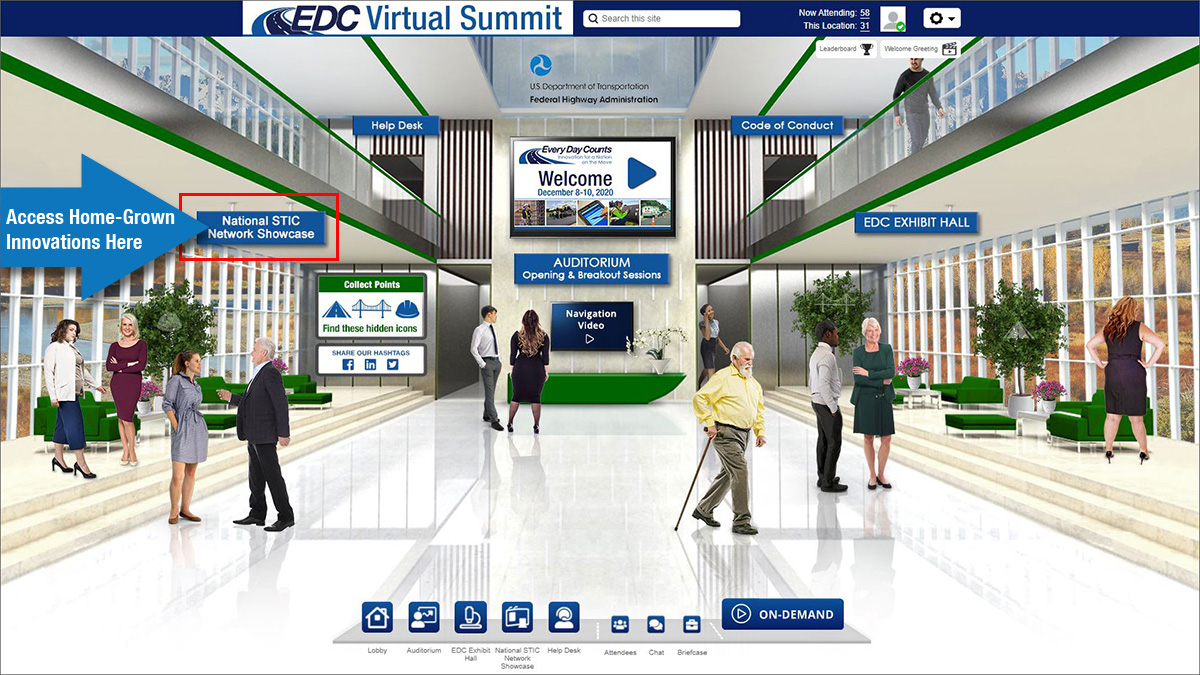 New Innovator Now Available!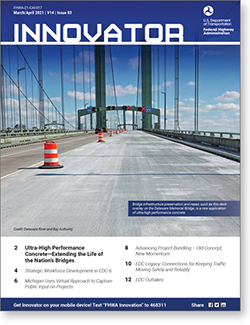 The March/April issue of Innovator is now available, accessible from your computer, tablet, or mobile phone to optimize your reading experience!
In this issue:
Comments? Questions? We'd love your feedback! Drop us a line and let us know what you think.
Read past issues and sign up to receive Innovator by email here, or text "FHWA Innovation" to 468311 to get Innovator on your smartphone.
About EDC
Every Day Counts, a State-based program of the Federal Highway Administration's Center for Accelerating Innovation, works with State, local, and private sector partners to encourage the adoption of proven technologies and innovations to shorten and enhance project delivery.