July 8, 2021
Innovation of the Month:
Focus on Reducing Rural Roadway Departures
Last week, we told you about how a State DOT assisted local and tribal agencies to implement the Focus on Reducing Rural Roadway Departures (FoRRRwD) approach and achieve reductions in rural roadway departure crashes. This week, we'll highlight a story of how the Sisseton-Wahpeton Oyate (SWO) Tribe of the Lake Traverse Reservation used FoRRRwD to improve safety on its roadways.
FoRRRwD rests on four pillars. This project exemplifies them all. First, it was funded through a grant from the FHWA Tribal Transportation Program Safety Fund. This is in line with the FoRRRwD pillar that rural roadway departures should be addressed on all public roads, including local and tribal networks. For instance, the Tribal Transportation Strategic Safety Plan identified roadway departures as accounting for 63 percent of the vehicle fatalities in tribal areas.
The SWO Tribe documented its own roadway analysis in its Tribal Transportation Strategic Safety Plan to better understand the roadway safety problems and qualify for funding. Safety action plans are another of the FoRRRwD pillars.
A core component of a safety action plan – and a FoRRRwD pillar – is systemic analysis. With the systemic approach, practitioners review their road networks for risk factors associated with crashes, and target proven, cost-effective countermeasures to higher-risk locations, sometimes before crashes happen.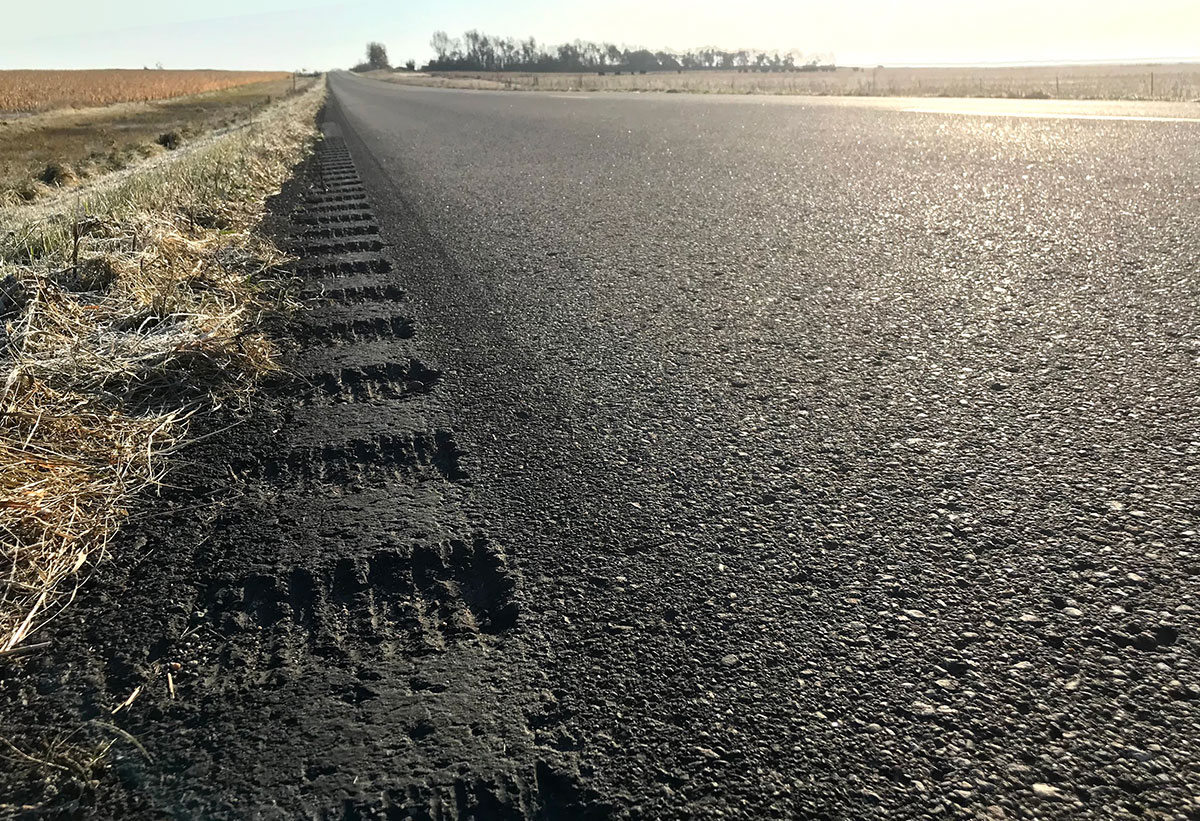 In this case, the SWO Tribe's analysis showed that, from [JBG3] 2004-2013, 1,065 crashes happened on the reservation. Of those crashes, 3 percent were fatal, compared to only 1 percent for the rest of South Dakota. Among the crash data for the Lake Traverse Reservation, 46 percent of reported crashes were off-roadway crashes, which aligns with the crash data in the rest of South Dakota.
The safety plan targeted locations based on this analysis. Through the FHWA Tribal Transportation Program Safety Fund grant, the SWO Tribe installed 30.6 miles of 8-inch rumble strips with 4-inch edge lines. This is an example of the FoRRRwD pillar of installing proven countermeasures.
Contact Cathy Satterfield of the FHWA Office of Safety or Dick Albin of the FHWA Resource Center for information and technical assistance.
Maine System Interface Helps Operators Make More Timely Incident Response Decisions
The Maine Department of Transportation (MaineDOT) developed a system interface to feed crowdsourced Waze event data into the agency's advanced traffic management system for traffic management center (TMC) operator use. Real-time Waze data such as roadway crashes or traffic jams now appears in the agency's Map Viewer interface. Operators can now make more timely incident response decisions by reviewing this information. MaineDOT is currently developing custom dashboards to track the frequency of Waze events.
MaineDOT also shares its planned activities (such as road closures) to Waze through an interface from their Compass system; thus, enabling Waze users to make more informed and safer route decisions.
To learn more about how crowdsourcing can help your agency improve traffic operations, contact James Colyar with the FHWA Office of Operations.
Pedestrian Road Safety Audits in Action
Between 2017 and 2020, the FHWA Safe Transportation for Every Pedestrian (STEP) program facilitated over a dozen road safety audits (RSAs) focusing on pedestrian crossing safety. The FHWA STEP team worked in States from Maine to New Mexico, meeting with interdisciplinary teams to identify safety problems and potential improvements for high-risk corridors. In 2020, the STEP RSAs used technology, such as drone footage and online mapping tools, to review sites and collaborate with local staff virtually.
In Martinsburg, West Virginia, the City created a storyboard website to explain the process followed, show maps used during the assessment, and summarize findings of the RSA team. In 2020, the City began constructing sidewalks near a bus stop – a need identified by the RSA team.
To learn how your agency can improve pedestrian safety with STEP or other FHWA RSA tools, contact Becky Crowe with FHWA's Office of Safety or Peter Eun with the FHWA Resource Center.
Stay Up to Date on the EDC Innovations That Interest You Most
EDC teams are always on the move! If you blink, you could miss out on important webinars, case studies, tools, videos, and more. To never miss information for the EDC innovations that interest you most, visit the subscription page and select the topics you'd like to receive updates on directly from the teams that coordinate them.
Recent bulletins:
Crowdsourcing for Advancing Operations – 7/1/21
Center for Local Aid Support – 6/28/21
Center for Local Aid Support Summer Newsletter – 6/24/21
New Innovator Now Available!
The July/August issue of Innovator is now available, accessible from your computer, tablet, or mobile phone to optimize your reading experience!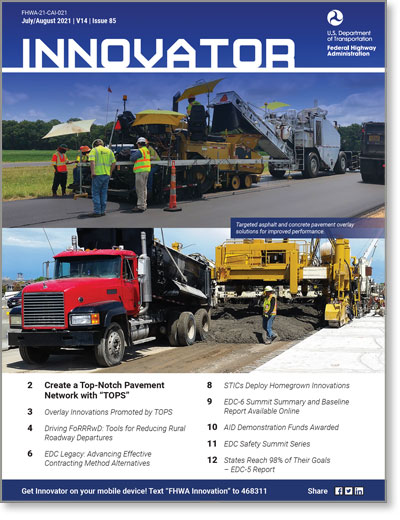 In this issue:
Comments? Questions? We'd love your feedback! Drop us a line and let us know what you think.
Read past issues and sign up to receive Innovator by email here, or text "FHWA Innovation" to 468311 to get Innovator on your smartphone.
About EDC
Every Day Counts, a State-based program of the Federal Highway Administration's Center for Accelerating Innovation, works with State, local, and private sector partners to encourage the adoption of proven technologies and innovations to shorten and enhance project delivery.
Recommended Citation:
U.S Department of Transportation, Federal Highway Administration
EDC News; July 8, 2021
Washington, DC
https://doi.org/10.21949/1521797