June 23, 2022
Innovation of the Month: Unmanned Aerial Systems
Unmanned Aerial Systems have provided an agile and effective tool for emergency response in States across the nation. In addition to providing an "additional set of eyes" for responders, the aircraft can also serve as a window into emergency situations for the public, media, and other stakeholders.
The Oregon Department of Transportation's (ODOT) UAS program has more than 20 dedicated pilots in a central office plus additional pilots across the State with Federal Aviation Administration part 107 licenses who can perform missions as needed or in an emergency situation.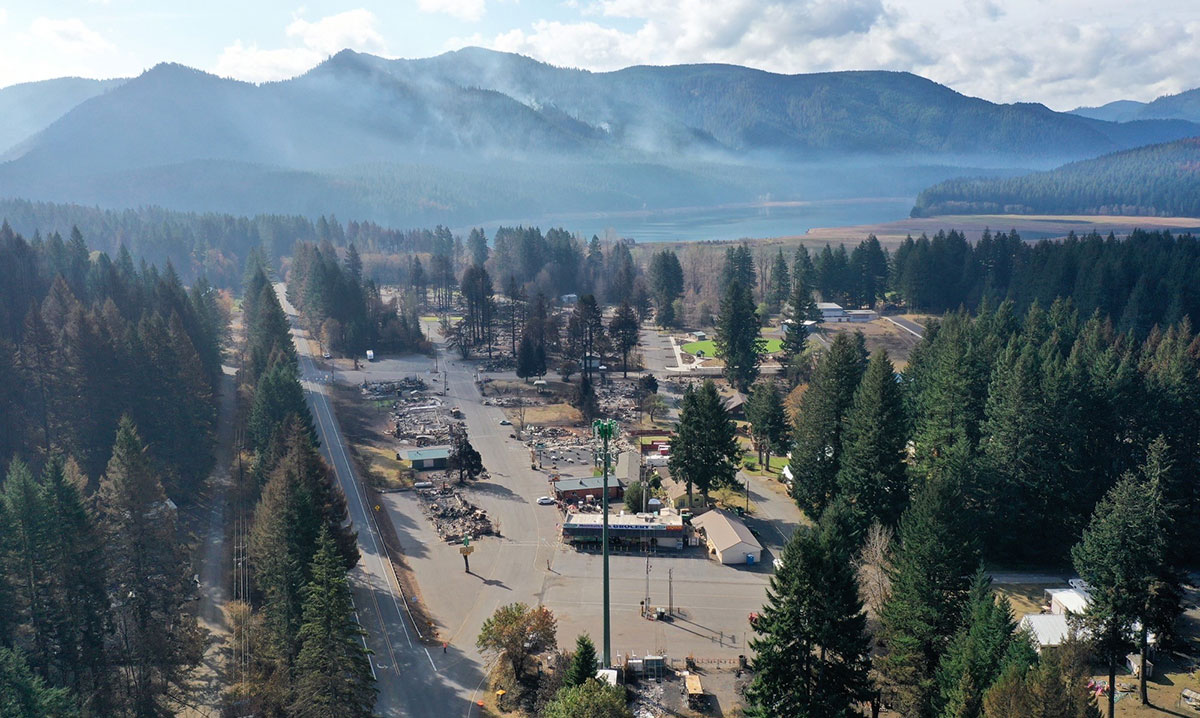 In 2020, the State was faced with wildfires, and UAS served a critical communication role in the emergency response. ODOT closely worked with media organizations to provide regular UAS images and video of affected areas throughout the emergency and during recovery. This helped fulfill the public's need for transparency around conditions, response, and recovery operations; the media's need for compelling, informative footage; and ODOT's desire to reach a larger audience with communication efforts to inform motorists on the developing situation. This continued all the way through the repair and reopening of roadways. ODOT was able to show the public why certain roadways were closed and also show what the agency was doing in partnership with other emergency response agencies.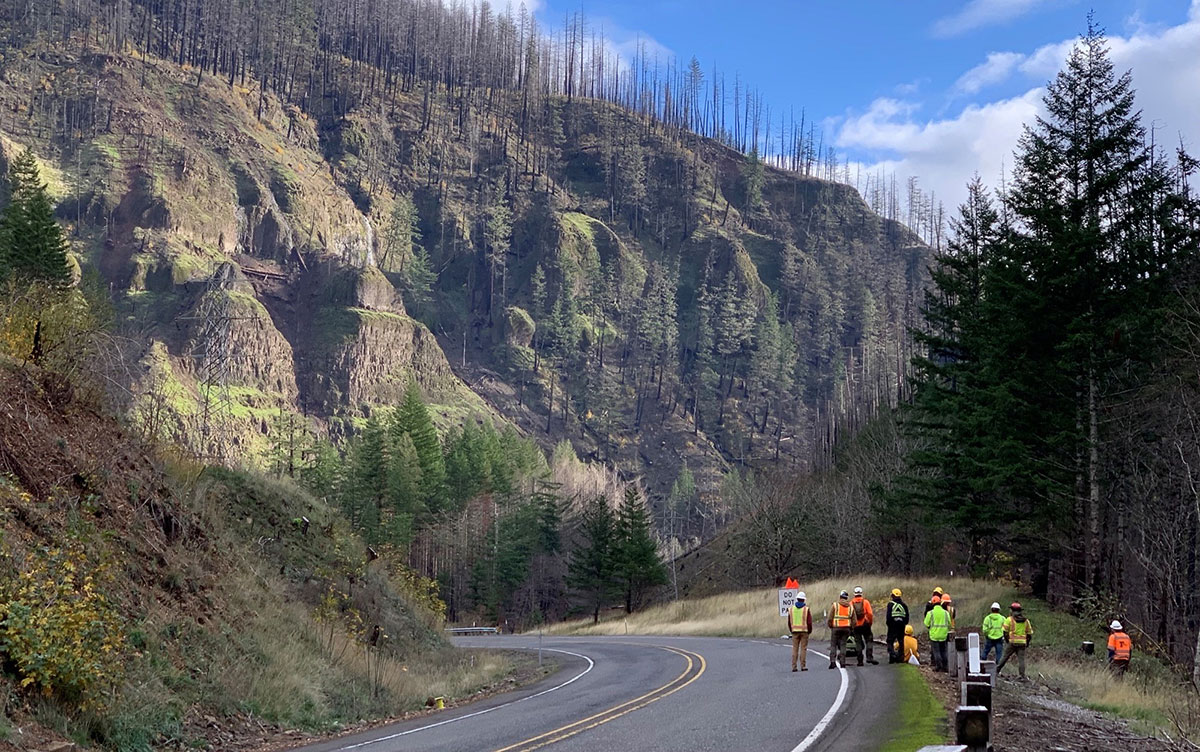 Many of the State's major passes over the Cascade Mountains were closed during these fires and without consistent communication, public sentiment could have turned for the worse. Oregon Route 224 is one such route that was closed for over a year and a half after the wildfires. Due to the large-scale devastation, over one million trees had to be removed for safety, rock scaling was necessary in many locations, and guardrails were damaged or destroyed. ODOT's ability to fly UAS missions and show the extent of the devastation and subsequent recovery efforts played a key role in effectively communicating with the public. Over one dozen missions were flown as part of this emergency response communication effort.
To learn more about the roles UAS can play in an emergency response program, contact James Gray, FHWA Office of Infrastructure, or John Haynes, FHWA Utah Division. Additionally, watch the UAS visual storyboard to learn more ways UAS can improve transportation systems.
New Hampshire Uses Measurement While Drilling for Better Geotechnical Site Characterization
As part of a project to widen and improve a major corridor, the New Hampshire Department of Transportation (NHDOT) instrumented a rig to use Measurement While Drilling (MWD) – an advanced geotechnical methods in exploration (A-GaME) technology – to better understand the engineering properties of the soil and rock.
The original route was constructed in the early 1950s and remains a vital north/south transportation corridor linking residents, communities, commerce and year-round tourists throughout NH. The project widened portions of the roadway, improved stormwater treatment areas, and replaced or rehabilitated bridges along a 12-mile corridor.
NHDOT used MWD on this project to enhance geotechnical site characterization and provide continuous, real-time monitoring and recording of data during the drilling process. This technique allowed NHDOT to add information between standard penetration tests and get real-time information in-between the 5-foot samples. Not only did this help with the site characterization, but it also helped the driller know in real-time how the drill was responding to the subsurface materials.
MWD can be used in any type of soil or rock, records continuously, and doesn't require additional effort from the driller. The great advantage of MWD is that it can accurately distinguish boundaries and material changes with depth since measurements are taken continuously.
To learn more about MWD, contact Derrick Dasenbrock, Ben Rivers, or Silas Nichols with the A-GaME team.
The Systemic Approach to Safety- Tools for Your Use
Roadway departure crash locations on rural roads are random and change from year to year. Agencies that rely solely on crash history are unlikely to find locations where more than one crash occurs, which makes it difficult to prioritize locations for improvement.
The Systemic Approach to safety identifies locations based on high risk roadway features that are correlated to particular crash types, rather than crash frequency. Rather than waiting for a tragedy to happen, the Systemic Approach tries to proactively improve locations based on risk.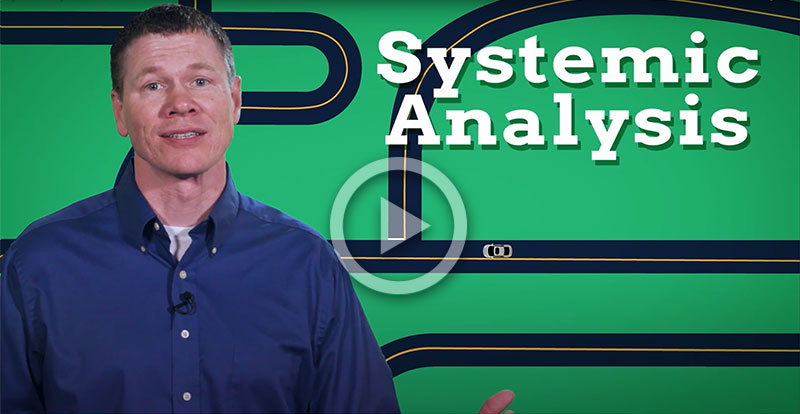 FHWA has developed a number of tools and resources to help practitioners implement a Systemic Approach. These include a video, which explains the Systemic Approach, relating it to an annual medical visit.
Additionally, the Systemic Safety Project Selection Tool presents a process for incorporating systemic safety planning into traditional safety management processes. The tool provides a step-by-step process for conducting systemic safety analysis including when to select spot safety improvements verses systemic safety improvements and a mechanism to quantify the benefits of safety improvements.
Crash Trees can be used as part of the systemic analysis to identify focus crash types and facilities. FHWA has developed a Crash Tree Maker that automates the process and makes it easier to try different combinations. A tutorial video for the Crash Tree Maker is also available.
Finally, the Crash Data Summary Template is a spreadsheet that State, Tribal, local, and other agencies can use to detect over-representation to inform their highway safety programs.
To learn more about the systemic approach to reducing rural roadway departures, please contact Cate Satterfield, FHWA Office of Safety, or Dick Albin, FHWA Resource Center.
2022 STIC Excellence Award Nominations
Nominations are open through July 1 for the 2022 State Transportation Innovation Council (STIC) Excellence Award, which recognizes a STIC that has made significant impact toward fostering a strong culture for innovation. Past awardees have been recognized for a variety of efforts and initiatives, representing agencies from across the Nation that put innovation at the forefront. FHWA and the American Association of State Highway and Transportation Officials Innovation Initiative partnered to sponsor the award to promote innovations and to recognize excellence within the STICs.
See the 2022 STIC Excellence Award Nomination form for more details and visit the STIC Excellence Award webpage to read about past recipients. If you have additional questions, contact Sara Lowry, National STIC Network & Incentive Program Coordinator.
Stay Up to Date on the EDC Innovations That Interest You Most
EDC teams are always on the move! If you blink, you could miss out on important webinars, case studies, tools, videos, and more. To never miss information for the EDC innovations that interest you most, visit the subscription page and select the topics you'd like to receive updates on directly from the teams that coordinate them.
Recent bulletins:
Weather-Responsive Management Systems 6/9/22
Crowdsourcing for Advancing Operations 6/10/22
A-GaME 6/13/22
Strategic Workforce Development 6/13/22
A-GaME 6/14/22
Local Aid Support 6/16/22
UHPC 6/16/22
TOPS 6/16/22
About EDC
Every Day Counts, a state-based initiative of the Federal Highway Administration's Center for Accelerating Innovation, works with state, local and private sector partners to encourage the adoption of proven technologies and innovations to shorten and enhance project delivery.
EDC News is published weekly by the FHWA Center for Accelerating Innovation.
Notice: The U.S. Government does not endorse products or manufacturers. Trademarks or manufacturers' names appear in this presentation only because they are considered essential to the objective of the presentation. They are included for informational purposes only and are not intended to reflect a preference, approval, or endorsement of any one product or entity.
Recommended Citation:
U.S. Department of Transportation, Federal Highway Administration
EDC News; June 23, 2022
Washington, DC
https://doi.org/10.21949/1521843