November 9, 2023
Innovation of the Month: Next-Generation Traffic Incident Management
For first responders, situational awareness includes all conditions at or near the scene of a traffic incident. Examples of these conditions include vehicle hazards, access to victims, and search and rescue operations. Often, complicated recovery operations and hazardous spills are not clear from typical vantage points, making it invaluable to have access to another viewpoint. Additionally, impacts of incidents on upstream traffic, traffic approaching from the opposite direction, and the larger surrounding road network, are even less clear.
Unmanned aerial systems (UAS) are being used by many police, fire, and transportation agencies across the United States for traffic incident management (TIM). A newer innovation for TIM is the use of a tethered UAS. This type of UAS launches from a briefcase-sized box, flies straight up to a prescribed distance (150 feet or less) and remains stationary without human intervention. Cameras can send live video back to responders on the ground, who get a "birds-eye view" of the scene and surrounding area. Images can also be shared with remote locations like a traffic management center or public safety command staff to help better manage the information shared with the public.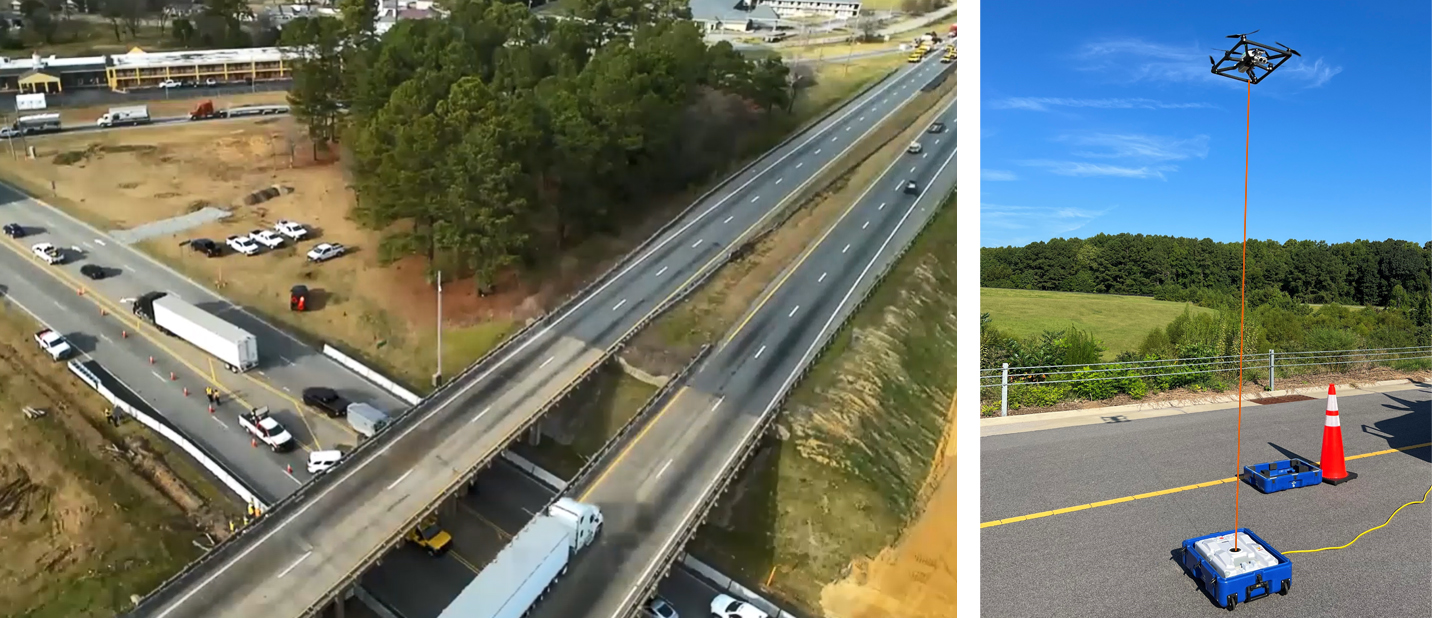 Side-by-side image. At left, aerial view of overpass with traffic on roadway under encountering a traffic incident. At right, UAS hovering approximately 20 feet above the ground, connected to a box via a tether.
The benefits of tethered UAS include the potential for operation without an FAA remote pilot certificate or pilot license. They can also withstand rain, snow and windy conditions that would ground a typical UAS. Most importantly, their flight is not limited by the typical 30 minutes of battery life like most UAS because they are tethered to a power source. Tethered UAS are being evaluated by several transportation agencies, including the North Carolina Department of Transportation (NCDOT) Incident Management Assistance Patrol.
NCDOT noted that in one case, tethered UAS allowed responders to view signal timing along a diversion route and make real-time changes as necessary. This improved the diversion route's efficiency. The UAS allowed responders to see the back of the queue and what the impacts of the incident on traffic were, providing better situational awareness.
UAS have proven to be a valuable tool for TIM, allowing law enforcement to map, measure, and clear scenes in a fraction of the time. New innovations like tethered drones are bringing this game-changing technology to other aspects of TIM response.
To learn more about Next Generation TIM, please contact Paul Jodoin or James Austrich, FHWA Office of Operations.
November 13-17 is Crash Responder Safety Week
Traffic incident responders put their lives at risk when clearing each of the nearly 7 million annual motor vehicle crashes or the broader range of incidents such as stalled vehicles or roadway debris. Crash Responder Safety Week (CRSW) is an FHWA-sponsored initiative that communicates simple steps everyone can take to help keep roadway responders and the public safe around traffic incidents.
CRSW offers an opportunity to promote road user awareness and adherence to Move Over laws and Traffic Incident Management (TIM) training for all traffic incident responders. Register now for the CRSW National Kickoff webinar, scheduled for Nov. 13, 2023, which will honor responders, connect all responder stakeholders to kickoff this important week, and provide an opportunity to sign the National CRSW Proclamation.
Each day of CRSW features daily social media messaging themes that support this year's overall theme, "Protect Those Who Protect You." Find these daily messaging recommendations in the CRSW outreach toolkit, and be sure to use #CRSW. To learn more about how organizations commemorate CRSW, visit the National Operations Center of Excellence CRSW site.
Geosynthetics Field Installation Mobile App Available for Download
Geosynthetic materials can help extend the life of pavement, improve safety and mitigate erosion control. FHWA's Local Aid Support unit partnered with the Geosynthetic Materials Association and released a mobile app that serves as a comprehensive guide to geosynthetics and their applications in highway building and maintenance.
The app provides immediate access to information on using geosynthetics in transportation construction projects and features important information such as specification requirements and a checklist that practitioners can use during on-site inspections of walls, slopes, pavement, and drainage. Additional features include step-by-step guides, real-time note logging, and informational videos. View this video to see how the mobile app can be used during onsite inspections.
The mobile app is designed for use by local agencies' road maintenance and public works departments, contractors and consultants. It is available at no cost and can be downloaded from either the Apple Store or Google Play Store. If you would like to learn more about additional geotechnical tools, visit the Advanced Geotechnical Methods in Exploration (A-GaME) website or contact Ben Rivers or Derrick Dasenbrock, FHWA Resource Center.
Discover Home-Grown Innovations from Around the Country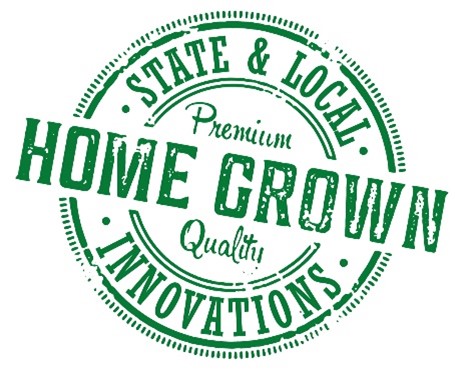 Are you interested in homegrown innovations being used by your peers in other parts of the country? Check out the National STIC Network Showcase, a component of the EDC-7 Virtual Summit. Registering for the event allows you to access all the content through February 2024. The Showcase features several innovations around pavements.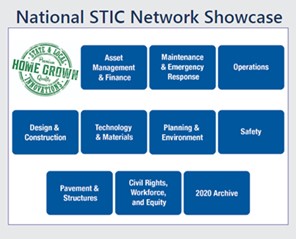 Screenshot of STIC Network Showcase section of EDC Virtual Summit website. Text title reads, &dquo;National STIC Network Showcase&dquo; with 10 categories of links which the innovations are broken up into. Those categories include &dquo;Asset Management & Finance,&dquo; &dquo;Maintenance & Emergency Response,&dquo; &dquo;Operations,&dquo; &dquo;Design & Construction,&dquo; &dquo;Technology & Materials,&dquo; &dquo;Planning & Environment,&dquo; &dquo;Safety,&dquo; &dquo;Pavement &amp Structures,&dquo; &dquo;Civil Rights, Workforce, and Equity,&dquo; and &dquo;2020 Archive.&dquo;
Learn about the North Carolina DOT's TIM training track, a lifelike classroom where responders can train and refine their skills in a more realistic environment without being exposed to the hazards of live traffic. This track, built through a partnership with the North Carolina State Highway Patrol, incorporates a broad range of roadway characteristics that allow agencies to practice various incident work zone applications and vehicle maneuvers.
Celebrate the ingenuity of your peers and read about these innovations—developed and deployed in-house at transportation agencies nationwide. Additionally, we invite you to watch the one-hour presentations on-demand that feature many of these and other innovations.
New Innovator Now Available!
The November/December issue of Innovator is now available, accessible from your computer, tablet, or mobile phone to optimize your reading experience!
In this issue:
Comments? Questions? We'd love your feedback! Drop us a line and let us know what you think.
Read past issues and sign up to receive Innovator by email here, or text "FHWA Innovation" to 468311 to get Innovator on your smartphone.
Applications Open for AID Demonstration Grants
Are you looking to deploy an innovation on a highway project and need funding to offset the costs? The Accelerated Innovation Deployment (AID) Demonstration provides incentive funds to eligible entities to accelerate the implementation and adoption of innovation in highway transportation. AID Demonstration funds can be used in any phase of a highway transportation project between project planning and project delivery, including planning, finance, operation, structures, materials, pavements, environment, and construction. The 2023-2026 AID Demonstration will make up to $10 million in grants in Fiscal Year (FY) 2023 and $12.5 million FYs 2024 through FY 2026. Learn about AID Demonstration and the 127 grants and more than $95.7 million dollars that FHWA has awarded since its launch in 2014. Join the upcoming 2023 AID Demonstration Information Session on November 20, 2023 (3:00 PM ET – 4:30 PM ET).

Stay Up to Date on the EDC Innovations That Interest You Most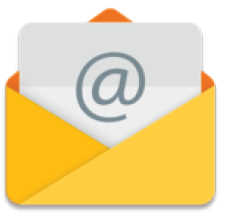 EDC teams are always on the move! If you blink, you could miss out on important webinars, case studies, tools, videos, and more. To never miss information for the EDC innovations that interest you most, visit the subscription page and select the topics you'd like to receive updates on directly from the teams that coordinate them.
Recent bulletins:
Strategic Workforce Development 11/6/23
Innovation in Project Delivery 11/3/23
Targeted Overlay Pavement Solutions (TOPS) 11/1/23
Local Aid Support 11/1/23
Integrating GHG Assessment and Reduction Targets in Transportation Planning 10/30/23
Active & Upcoming NOFOs 10/26/23
---

---
Upcoming Events
Value Capture and Debt Financing Strategies: Tax-Exempt Debt Financing
November 14, 2023, 1:00-3:00pm ET Register
Digital As-Builts Forum Digital Construction Management Domestic Scan
November 27, 2023, 3:30-4:30pm ET Register
Value Capture: Advertising, Naming Rights & Sponsorships
December 6, 2023, 1:00-3:00pm ET Register
About EDC
Every Day Counts, a state-based initiative of the Federal Highway Administration's Center for Accelerating Innovation, works with state, local and private sector partners to encourage the adoption of proven technologies and innovations to shorten and enhance project delivery.
EDC News is published weekly by the FHWA Center for Accelerating Innovation.
Notice: The U.S. Government does not endorse products or manufacturers. Trademarks or manufacturers' names appear in this presentation only because they are considered essential to the objective of the presentation. They are included for informational purposes only and are not intended to reflect a preference, approval, or endorsement of any one product or entity.
Disclaimer: The U.S. Government does not endorse products or manufacturers. Trademarks or manufacturers' names appear in this document only because they are considered essential to the objective of the document. They are included for informational purposes only and are not intended to reflect a preference, approval, or endorsement of any one product or entity.
Except for the statutes and regulations cited, the contents of this document do not have the force and effect of law and are not meant to bind the States or the public in any way. This document is intended only to provide information regarding existing requirements under the law or agency policies.
Recommended Citation:
U.S. Department of Transportation, Federal Highway Administration
EDC News; November 9, 2023
Washington, DC