50th Anniversary of the Interstate Highway System - The Interstate Kids' Section
Welcome to the Interstate Kids' Section
And I Should Care Why?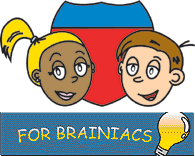 The Interstate System is 50 years old.
Maybe you are thinking, "Whatever!"
Okay, that's fair. After all, the Interstate System will be there for you whether you care or not. It's not like we're going to ground you if you never heard of the Federal-Aid Highway Act of 1956!
But maybe you fall into one of these categories:
I have to do a report for school.
I'm being punished for playing "The Incredible Hulk Ultimate Destruction" when I was supposed to be asleep.
My sister said I'm a dope, so I will dazzle her with my knowledge of the Interstate System.
I actually like to learn stuff.
I'm like, you know.
Whatever your reason is, welcome to the Interstate Kids' Section. We'll try to make it as painless as possible.
Featured