About the Motor Fuel / Highway Trust Fund Attribution
The Highway Trust Fund (HTF) was established by the Highway Revenue Act of 1956 as a mechanism to finance an accelerated highway program, including the Interstate Highway System. The taxes dedicated to the HTF are extended periodically by Congress. Each year, highway users pay billions of dollars in highway excise taxes, which end up in the Federal Highway Trust Fund. While motorists pay these taxes as they purchase the various taxed items, the U.S. Department of Treasury actually collects most of these taxes from large corporations located in a handful of States, and deposits the receipts into the Highway Trust Fund.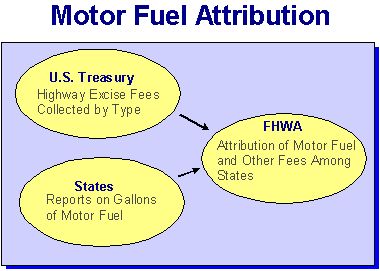 What is the Role of Motor Fuel in HTF Attribution
The U.S. Department of Treasurey provides to FHWA documentation of the actual revenues received, by type of highway fee, into the Highway Account of the Highway Trust Fund. The States provides reports to FHWA on the gallonage of motor fuel recorded and taxed in each State, by type of fuel. FHWA, in cooperation with the States, developed procedures to attribute HTF revenues generated in each State using Motor Fuel data. The FHWA analyzes the State-generated data and develops the final attribution estimates for States based on the State data. Information can be found yearly in the Highway Statistics Series publication.
---
Motor Fuel / HTF Attribution Community of Practice - (Join in discusssion with your peers)
Guide to Reporting Highway Statistics - (Chapter 2 - Reports identifying motor-fuel use and taxation)
Presentations:
Other Reports and Publications: