Licensed Drivers
Licensed Drivers by Age and Sex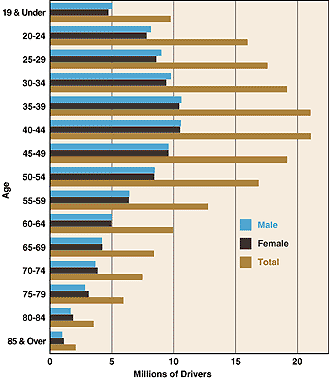 There were 190,625,023 licensed drivers in the United States in 2000. That is an increase of 23.73% since 1980 and an a 12.39% increase over 1990. As the average age of licensed drivers shifts upward, we see that the 35-39 and 40-44 year old age groups contain the largest share of drivers.
The number of age 70 and over drivers holding a valid license has continued to increase. In 1980, drivers 70 years and over was 8.8 million. And rose to 18.9 million in 2000. This is a 111% increase in older driver since 1980.
Female drivers increased by about 39% from 1980 to 2000, whereas the number of male drivers only increased by 24%.
---
Licensed Drivers, Population, and Motor Vehicles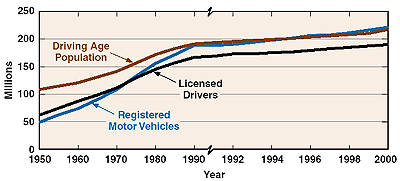 In 2000, 88% of the driving age population was licensed to drive a motor vehicle. Compared to 1950, which was 57%, this is an increase of 128 million drivers on our highways in the past 50 years. In 1975, the number of registered vehicles surpassed the number of licensed drivers--that trend has continued to this day. In fact, registered vehicles has surpassed even the driving age population since 1996.
---
Average Annual Miles per Driver by Age Group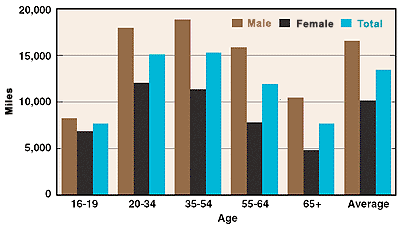 Despite significant increases in women's driving, men still average 6,408 miles more per year than women. This disparity is closing for younger drivers, and it is expected that this gap will close considerably in the future.
Previous | Back to ONH page | Next
---
FHWA Home | OHPI Home | Products & Publications | Feedback

United States Department of Transportation - Federal Highway Administration