The Vehicle Fleet
Motor-Vehicle Registrations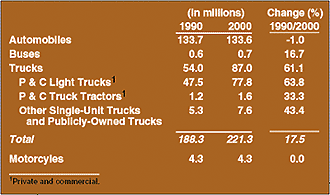 The number of registered motor vehicle continues to increase steadily. However, automobile registrations have decreased slightly (-0.1% or 0.1 million vehicles) since 1990 while truck registrations have increased significantly (61.1% or 33.3 million vehicles). Light single-unit trucks have seen a phenomenal growth in popularity and now account for 39.3% of total registered motor vehicles. In addition, prior to 1985, automobile registrations included personal passenger vans, passenger minivans, and utility-type vehicles. However, beginning with the 1985 data, these vehicles are included with truck registrations. Reference Highway Statistics Summary to 1995 for corrections or revisions make to previous published data.
---
Market Share of Household Vehicles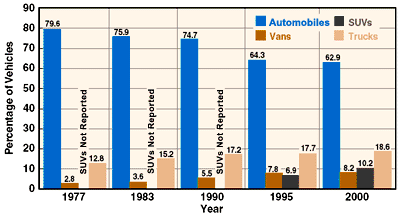 Automobiles continue to lose their market share of private vehicles, from 80% in 1977 to 62.9% in 2000. Minivans have been stable since 1995, and slightly increased to 8.2% by 2000, from 7.8% in 1995. SUV's have made the greatest increase from 6.9% in 1995 to 10.2% in 2000.
---
Average Age of Automobiles and Trucks in Use, 1970-1999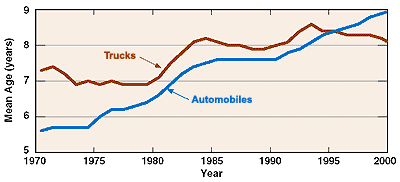 The average age of automobiles has continued to increase, to a high of 9.0 years in 2000. The average age of trucks had actually declined from an all time high of 8.6 in 1993, to 8.0 years by 2000. The increasing popularity of pickups, vans, and sport utility vehicles as personal vehicles may be influencing the age of trucks.
---
Cost of Owning and Operating Automobiles, Vans, and Light Trucks - 2001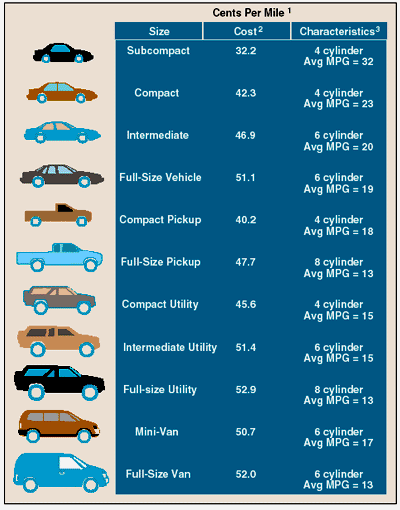 Source: Federal Highway Administration estimates based on the 2001 editions of The Complete Car Cost Guide and Complete Small Truck Guide from Intellichoice, Inc., and sales figures from Automotive News.
---
Ownership and Operation Costs By Category-Intermediate Size Vehicle - 2001 (Based on Average Cost of 46.9 cents / Mile)
The Federal Highway Administration estimates that combined Federal and State motor-fuel taxes currently account for 4% of the cost per mile of owning and operation an automobile, which is unchanged since 1998. The largest share is depreciation which makes up 35% of total costs, the largest increase from 31% in 1998.
---
Motor Vehicle Retail Sales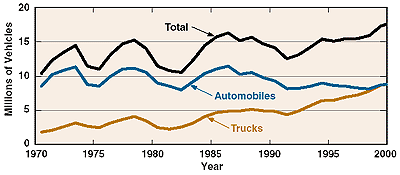 After a slight drop in 1991, total motor-vehicle retail sales are steadily increasing, with 17,812,000 units sold in 2000. We are still seeing a decline in the automobile share of retail sales - 50% of total sales in 2000, compared to 73% in 1978. Popularity of light trucks as personal vehicles continues to increase- retail sales of trucks for 2000 amount to 8,965,000 units sold.
Previous | Back to ONH page | Next
---
FHWA Home | OHPI Home | Products & Publications | Feedback

United States Department of Transportation - Federal Highway Administration