Mobile Concrete Technology Center: Activities
The current focus of the MCTC includes assisting agencies in implementation of the Performance Engineering Mixture (PEM) Specifications, Quality Assurance, Performance-Related Specifications (PRS), nondestructive testing, long life pavements, durability, and sustainability. An active partnership with manufacturers, contractors, industry associations, and academia is central to all of the MCTC's activities.
QA Workshop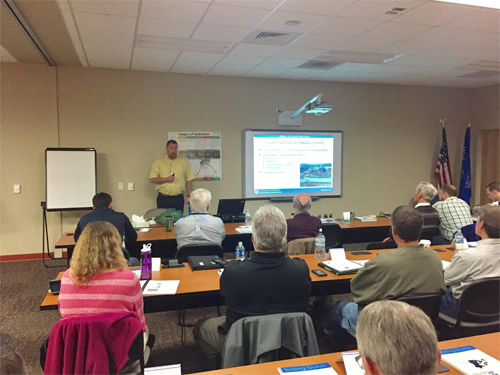 Mr Praul presenting the QA workshop
Following the field visit, the MCTC also offers a 2-day workshop to state highway agencies and contractors covering concrete materials, construction, and the benefits of a good Quality Assurance program including how it can be used to increase the longevity of concrete.
Open Houses

Participants in the trailer

Participants in the trailer

Demonstration outside the trailer

Discussion in the trailer
Hands-on Training

Participants testing on a roadway

Participants observing testing

Participants performing tests
Field Testing

Participants performaning a field test

Participants performaning a field test
Close-out Meetings

Close-out meeting in the classroom

Close-out meeting in the trailer