Mobile Concrete Technology Center: Mission
Transferring Advanced Concrete Technology To Our Partners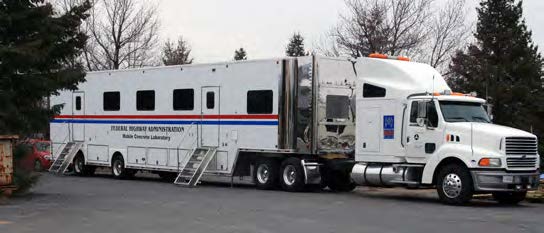 Federal Highway Administration's Mobile Concrete Technology Center (MCTC) introduces Federal, State, and local transportation personnel to the state-of-the-art concrete technology in materials selection, mixture design, field and laboratory testing, and pavement evaluation. The MCTC accomplishes this technology transfer in several ways:
By conducting on-site field testing at construction projects to supplement State highway agency (Agency) testing and to demonstrate new innovative equipment / construction practices.
By training Agency personnel through "hands-on" experience with new technologies.
By showcasing equipment and technology at industry conferences, symposia, and Agency facilities to familiarize transportation personnel with state-of-the-art technology.
By providing an equipment loan program where Agency personnel can borrow equipment for various lengths of time after having been trained in their use by MCTC staff.
Customer Services
The MCTC accomplishes its goal of technology deployment through project participation, demonstrations, training, and equipment loan. In an effort to reach a maximum number of transportation personnel the MCTC provides project reports and published papers in journals and symposia proceedings. Presentations at industry conferences and showcases, such as ACI, PCI, ACPA, and TRB are utilized to further the transfer of these new technologies. MCTC staff can also provide speakers, put on specialized workshops, and provide technical assistance.