Publication Number: FHWA-HRT-07-012
Date: April 2007

New Manuals Offer Guidance on Using and Maintaining FWDs
Find assistance with using and maintaining falling weight deflectometers (FWDs) with two new manuals available from the Federal Highway Administration's (FHWA) Long-Term Pavement Performance (LTPP) program. The LTPP Program Falling Weight Deflectometer Maintenance Manual (Pub. No. FHWA-HRT-05-153) walks users through the process of performing routine periodic maintenance. A companion publication, the updated fourth version of the LTPP Program Manual for Falling Weight Deflectometer Measurements (Pub. No. FHWA-HRT-06-132), provides step-by-step instructions for using LTPP FWD data collection procedures.
FWDs can be used in structural testing for pavement rehabilitation, investigations, design, and research. The FWD imparts a stationary dynamic load to the pavement surface that is similar to that of a single heavy moving wheel load. The resulting pavement deflection can then be measured. This deflection data, combined with the pavement layer thickness, can be used to determine the in-situ resilient modulus of layers within a pavement structure and to estimate the remaining service life of a pavement. "FWDs are often preferred over destructive methods of testing because they are much faster than destructive tests and do not require the removal of pavement materials," says Eric Weaver of FHWA. The equipment is easily transportable on a trailer or mounted to a vehicle.
The LTPP program uses eight FWDs to collect deflection data on in-service pavement test sections across North America. This testing has contributed to the largest pavement deflection data set in the world. "The LTPP program has collected pavement deflection data in daily operations for 18 years, and in that time, the FWDs have had very little downtime," says Weaver. Continuous preventive maintenance is necessary to keep the complex FWD equipment operating under demanding road conditions, so that high quality data can be collected. The equipment must also pass rigorous monthly and annual relative and reference calibration checks, respectively.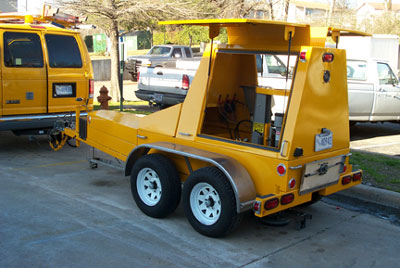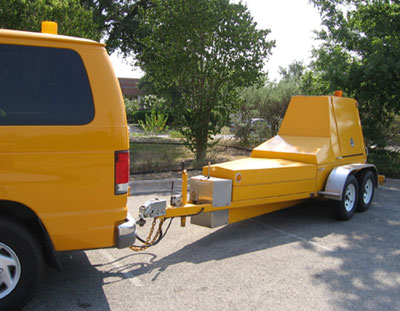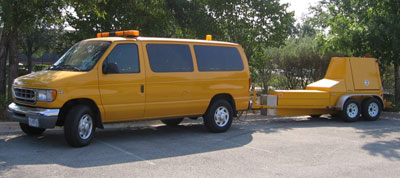 FWDs can be used in structural testing for pavement rehabilitation, investigations, design, and research. The equipment is easily transportable on a trailer or mounted to a vehicle.
The maintenance manual photographically captures different stages of an overhaul that the LTPP program's contractor performed for one of the program's Dynatest Model 8000 FWDs. Extensive photographs of portions of the overhaul are featured, including subsystems in complete disassembly. "The overhaul process provided an excellent opportunity to document the components of the FWD, their locations relative to one another, and areas that deserve particular attention for maintenance," says Weaver. Among the topics covered are maintenance of the FWD's trailer, subassembly, strike plate, load cell, and electronic components. The manual provides Dynatest Model 8000 FWD owners, operators, and technicians with a valuable supplement to their equipment owner's manual, as well as offering useful general information for owners and operators of other FWD models. The maintenance guidelines are based on continuous operation of the FWD. Less frequent operation may require adjusting the maintenance frequency.
The companion manual on FWD measurements contains a set of field operational guidelines for collecting pavement data with the FWD, including guidance on equipment set up, test locations, equipment calibration and verification, and test procedures, as well as background information on FWD equipment in general and the role of FWD testing within the LTPP program. Also covered are equipment checks, cold weather FWD testing, how to handle deflection or load errors, and data handling procedures for both the field and office. Appendices feature diagrams of LTPP FWD test plans and standard forms that the LTPP program uses for FWD testing and data collection.
To obtain copies of the FWD manuals, contact the LTPP Customer Support Service Center, 202-493-3035 (email: ltppinfo@dot.gov). For more information on using FWDs, contact Eric Weaver at FHWA, 202-493-3153 (email: eric.weaver@fhwa.dot.gov).