Publication Number: FHWA-HRT-10-012
Date: April 2010

Recycled Materials in Roadway Construction: The Many Ways of Going Green
From reclaimed asphalt pavement (RAP) to recycled concrete aggregate (RCA) and the reuse of such materials as fly ash, tire rubber, and shingles, incorporating recycled materials in roadway construction offers the benefits of going green while saving money and maintaining quality and performance. A recent Webinar sponsored by the Federal Highway Administration's (FHWA) National Highway Institute (NHI) and Highways for LIFE program showcased resources available to assist transportation agencies in expanding their use of recycled materials. Also featured were case studies of three successful project applications. Future Webinars will present information on additional applications.
"In an era of tight budgets and increased concern about the environment, the use of recycled materials can help agencies save money and demonstrate their commitment to environmental stewardship," said Webinar moderator Steve Mueller of FHWA.
FHWA's recycling policy, issued on February 7, 2002, and available online at www.fhwa.dot.gov/legsregs/directives/policy/recmatmemo.htm, asks agencies to "consider recycling first." The use of recycled materials should be considered early in the planning and design process. Options include the use of RAP and RCA, as well as both hot and cold in-place asphalt recycling, which takes an existing pavement and recycles 100 percent of it on site for use in the new pavement or base material.
"It is most cost effective to reuse materials on site, rather than hauling them away and using them elsewhere," said Rick Givan of the Recycled Materials Company, Inc. (RMCI), in Colorado. RMCI's projects include using a mix design with 75 percent recycled materials to pave a section of I-70 in Colorado, as well as a massive 10-year project to remove and recycle pavements from taxiways, runways, and aprons at Stapleton International Airport in Denver, Colorado. "We removed and recycled 6.5 million tons of concrete and asphalt, creating what we call 'the urban quarry,'" said Givan.
When measured on a tonnage basis, hot-mix asphalt (HMA) is among the most recycled materials in the world, amounting to nearly 73 million metric tons (80 million tons) in the United States alone. Materials such as fly ash, tire rubber, shingles, slag, and foundry sand can also be reused in roadways, resulting in enhanced performance and cost savings, in addition to benefiting the environment. The reuse of foundry sand in HMA, for example, can reduce the cost of sand as the fine aggregate by about 40 percent. Approximately 91,000 metric tons (100,000 tons) per year are now being used in HMA and for such purposes as structural fills and embankments. More information can be found in FHWA's publication, Foundry Sand Facts for Civil Engineers (Pub. No. FHWA-IF-04-004), which is available at www.fhwa.dot.gov/Pavement/pub_details.cfm?id=55.
Also staying out of landfills and finding new uses in roadway applications are scrap tires. Tires are shredded to create tire-derived aggregate (TDA), which can be used as a substitute for gravel, sand, and other lightweight fill materials. Tire shreds are not only lightweight but have low earth pressure, good thermal insulation, and good drainage. "This is very beneficial where there is poor soil structure and can improve engineering performance," said Michael Blumenthal of the Rubber Manufacturers Association. The use of tire shreds can increase slope stability, reduce settlement, and stabilize potential landslides. TDA can also cost much less than other lightweight fill options. "Roadway applications include lightweight fill for highway embankments, retaining wall backfill, and insulation to limit frost penetration," said Blumenthal. Additional information is available at www.rma.org/scrap_tires.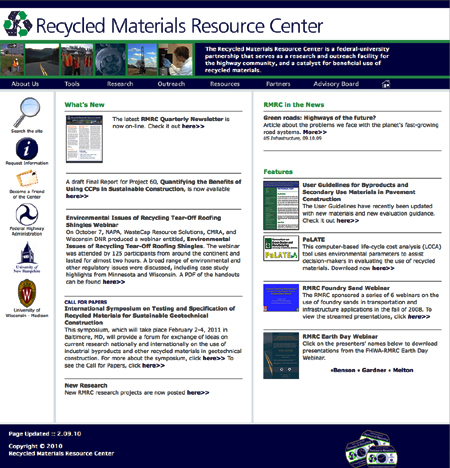 For more information on using recycled materials in
roadway construction, visit www.recycledmaterials.org.
Reclaimed asphalt shingles (RAS) may also be coming soon to a roadway near you. The use of RAS in HMA can help States reduce costs, save landfill space, and improve the quality of their pavements. These recycled shingles are residential roofing shingles that have been processed to meet specifications. Debris is then removed and the RAS is ground to less than 1.27 cm (.50 in) in size for use in HMA. Made using high quality aggregate, the use of RAS in HMA can increase rut resistance and improve the high temperature performance of the asphalt.
The Missouri Department of Transportation (MoDOT) first allowed RAS in a roadway project for evaluation purposes in 2005. After the success of that project, MoDOT revised its specifications to allow the use of both RAS and RAP. As Missouri is not permitting any new landfills to open in the State, the reuse of materials is now more important than ever. Seventeen materials processors and 13 HMA producers in Missouri are currently using RAS. For more information about RAS applications in Missouri, visit www.shinglerecycling.org.
To learn more about the range of byproducts that can be used in pavements, download the FHWA Recycled Materials Resource Center's User Guidelines for Byproducts and Secondary Use Materials in Pavement Construction at www.recycledmaterials.org. With an advisory board that includes Federal, State, and industry representatives, the Resource Center serves as a recycling research and outreach facility for the world's highway community.
Information on using RCA, meanwhile, is available at the National Concrete Pavement Technology Center's Web site, www.cptechcenter.org. Resources include a new publication, Building Sustainable Pavements with Concrete. Also available at www.fhwa.dot.gov/pavement/t504037.cfm is an FHWA Technical Advisory that discusses using RCA as aggregate for new concrete pavements. RCA generally comes from portland cement concrete pavements, bridge structures and decks, sidewalks, curbs, and gutters that have been removed from service, had their steel removed, and have been crushed to a desired gradation. Commercial construction debris can also be used for RCA, provided that it is cleaned of material such as brick, wood, steel, and glass.
Looking ahead, FHWA and the National Concrete Pavement Technology Center are sponsoring an International Conference on Sustainable Concrete Pavements, to be held September 15-17, 2010, in Sacramento, California. The conference will present innovative processes for achieving sustainable concrete pavements throughout a pavement's life cycle. For more information, visit www.fhwa.dot.gov/pavement/concrete/2010acptpconf.cfm.
In addition to highway materials recycling, environmental benefits are being realized by the growing use of warm mix asphalt (WMA). Using this technology, the temperature at which asphalt is mixed and placed on the road can be lowered by 10 to 38 °C (50 to 100 °F), resulting in reduced fuel consumption and emissions. WMA projects have now been completed in 40 States. Boosting the advancement of the technology is a Warm Mix Asphalt Technical Working Group (TWG) that includes representatives from State transportation agencies, FHWA, National Asphalt Pavement Association, National Center for Asphalt Technology, and the American Association of State Highway and Transportation Officials. TWG members meet regularly to discuss WMA issues and share knowledge and best practices. For more information, visit www.warmmixasphalt.com.
A recording and presentations from the FHWA Webinar, "The Use of Recycled Materials in Roadway Construction," are available on the NHI Web site at http://fhwa.na3.acrobat.com/n1340832010march/. For more information on recycling, WMA, and other environmental stewardship topics, visit www.fhwa.dot.gov/pavement/enstewardship.cfm. Information is also available by contacting Jason Harrington at FHWA, 202-366-1576 (email: jason.harrington@fhwa.dot.gov), or Steve Mueller at the FHWA Resource Center, 720-963-3213 (email: steve.mueller@fhwa.dot.gov).