Publication Number: FHWA-HRT-10-016
Date: August 2010

Welcome to WIM: FHWA Releases New Data Analyst's Manual
Walk through the various steps and procedures for performing validation and quality control checks of weigh-in-motion (WIM) traffic data with the Federal Highway Administration's (FHWA) new WIM Data Analyst's Manual (Pub. No. FHWA-IF-10-018). WIM equipment can be used to collect data on such factors as vehicle and axle weights, axle spacing, speed, and vehicle class.
"The manual has been developed to ensure that high quality WIM data is collected, processed, and used in the Mechanistic-Empirical Pavement Design Guide software, resulting in reliable and predictable new pavement designs," says Mike Moravec of FHWA's Office of Pavement Technology. "This product would not have been possible without the technology and leadership permeating from the Long Term Pavement Performance program."
The new manual provides WIM data analysts with the necessary information and guidance to identify missing or invalid WIM data, identify the cause and extent of the missing or invalid data, and determine a course of action to correct the problems. Basic information and recommendations are provided for novice analysts, as well as more extensive procedures and guidelines to assist experienced analysts. Much of the information in the manual is the result of the Long Term Pavement Performance Program Specific Pavement Study Traffic Pooled Fund Study.
WIM systems are capable of collecting continuous high quality traffic data for multilane roadway locations. These systems produce various data elements for each vehicle passing through the site, including:
Time and date.
Lane.
Speed.
Vehicle classification.
Wheel load.
Axle load.
Axle load group.
Gross vehicle weight.
Individual axle spacings.
Overall vehicle length.
A WIM system includes a controller, computer, and associated electronics; roadway sensors for all lanes for which traffic data is being processed by the controller (at least one lane must have weigh sensors); and controller support items, such as lightning protection and an uninterruptable power supply.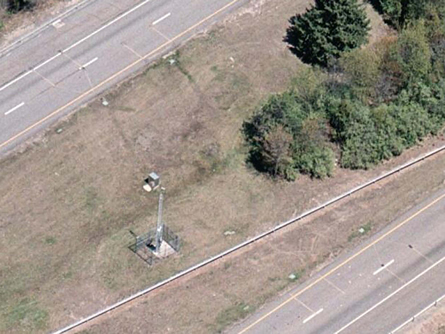 A WIM data collection site on I-84 in Connecticut.
The manual covers such topics as the basics of WIM, tasks of the WIM data analyst, steps for data validation and system monitoring, and how to perform extensive data analyses using individual vehicle records. Also covered are steps for monitoring WIM system validation and resolving data accuracy problems.
FHWA also offers a comprehensive Weigh-in-Motion and Traffic Workshop, which demonstrates the complete process of using WIM technologies to obtain quality traffic data (see the April 2009 Focus at www.fhwa.dot.gov/publications/focus/09apr/05.cfm). The 2.5-day workshop takes participants through each step of the process, starting with an overview of available WIM technologies and equipment that can be used to collect and report on traffic loading data. Guidance is then provided on how to select WIM sites and prepare the pavement at those sites for the WIM equipment. WIM system installation, calibration, validation, and acceptance testing are also covered, as well as data collection, processing, and validation. The workshop concludes with a demonstration of how to produce truck weight groups and traffic input files for use with the Mechanistic-Empirical Pavement Design Guide software.
For more information about upcoming workshops or hosting a workshop, contact Mike Moravec in FHWA's Office of Pavement Technology, 202-366-3982 (email: mike.moravec@fhwa.dot.gov), or David Jones in FHWA's Office of Highway Policy Information, 202-366-5053 (email: djones@fhwa.dot.gov).
To download the WIM Data Analyst's Manual, visit www.fhwa.dot.gov/pavement/pub_details.cfm?id=668. More information on WIM is available online at www.qualitywim.com.