Publication Number: FHWA-HRT-13-014
Date: June 2013
Printable Version (.pdf, .3 mb)
Designing a Better Bridge with Ultra-High Performance Concrete
Accelerated project completion and ultra-high performance. Learn how to combine these project goals while renewing your bridge infrastructure with a new Federal Highway Administration (FHWA) publication, Design Guide for Precast UHPC Waffle Deck Panel System Including Connections. The guide takes users through the design and construction of a precast ultra-high performance concrete (UHPC) waffle deck bridge.
As States contend with aging infrastructure and growing traffic volumes, they have increasingly turned to accelerated bridge construction (ABC) techniques using prefabricated bridge elements. These prefabricated elements, ranging from superstructures or substructures to totally prefabricated bridges, offer both faster and safer bridge construction and better quality. ABC techniques can also reduce costs and the environmental impact of projects.
States have faced challenges, however, with the connections used between precast bridge deck panels, including such problems as cracking and poor construction. UHPC can improve these connections and eliminate conflict points. As demonstrated in bridge projects in States such as Iowa and New York, UHPC exhibits superior properties, including exceptional durability, high compressive strength, and long-term stability.
Through a project awarded to Coreslab Structures, Inc., by FHWA's Highways for LIFE Technology Partnership program, researchers at Iowa State University combined the advantages of UHPC and precast deck systems to develop a prefabricated UHPC waffle deck system with field-cast UHPC connections. Following a full-scale validation test under laboratory conditions, the waffle deck system was successfully installed on a two-lane, single-span bridge in Wapello County, Iowa, in 2012. To make the UHPC waffle deck panels fully composite with the prestressed concrete girders, three different connections were used: shear pocket, longitudinal, and transverse.
Using lessons from the Iowa project, the design guide introduces UHPC and its application in the waffle deck system. The guide covers the waffle deck panel design, panel-to-panel connection details and panel-to-girder connection details, and the use of a UHPC waffle deck in a deck replacement project. Also covered are prefabrication, construction, and installation, including formwork, casting the UHPC waffle panel, and curing of the panel. An Appendix features the design drawings for the Wapello County UHPC bridge project.
The guide will be available online in mid June. For additional information, visit www.fhwa.dot.gov/hfl. Learn more about the design guide by participating in a free FHWA Webinar to be held June 25, 2013, from 2:30 to 4 p.m. For registration information on "UHPC for Precast Bridge Decks and Connections," visit www.nhi.fhwa.dot.gov/resources/webconference/web_conf_learner_reg.aspx?webconfid=25391. For more information on the design guide, contact Ben Graybeal at FHWA, 202-493-3122 (email: benjamin.graybeal@dot.gov).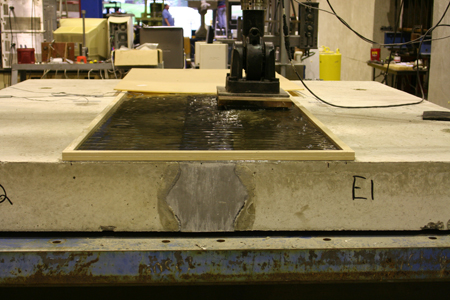 Ultra-high performance concrete (UHPC) can improve the connections used to link bridge girders to precast concrete bridge decks. Here, UHPC connections are tested at FHWA's Turner-Fairbank Highway Research Center in McLean, VA.