Publication Number: FHWA-HRT-13-013
Date: May 2013
Printable Version (.pdf, 0.4 mb)
Infrastructure Innovation Webinars
These free Webinars provide a quick introduction to the latest infrastructure innovations and technologies.
Know the Risks: Geotechnical Assets Are Key to Improving Performance
Part 1, May 13, 2013, 2-3:30 p.m. (eastern daylight time)
Part 2, June 24, 2013, 2-3:30 p.m. (eastern daylight time)
Sponsored by the Federal Highway Administration (FHWA) and American Association of State Highway and Transportation Officials (AASHTO), the Webinars will examine the role of geotechnical assets in the performance of transportation systems. Participants will learn how to consider risk and implement asset plans designed to improve performance. Case studies will highlight steps State transportation departments and Federal agencies are taking to manage their geotechnical assets.
Topics for Part 1 include capturing the impact of geotechnical assets on system performance, risk-based methods for managing geotechnical features in transportation infrastructure, and the Washington State Department of Transportation's Unstable Slope Management Program. Part 2 will feature case studies from Colorado and Yosemite National Park, as well as discussion of retaining wall management programs and geotechnical asset management of mechanically stabilized earth walls.
No registration is required. To join the Webinars, call 866-299-7945 (enter "3450166" as the participant passcode) and log into www.livemeeting.com/cc/icollaboration/join?id=TAM_Webinar&role=attend. After each Webinar, a recording and presentations will be available at http://tam.transportation.org.
Asset Management Book Club
All Webinars are from 2-3:30 p.m. (eastern daylight time).
May 22, 2013
June 26, 2013
July 24, 2013
August 28, 2013
September 25, 2013

In 2011 AASHTO published the Transportation Asset Management Guide: A Focus on Implementation, which encourages transportation agencies to use asset management principles. Sponsored by FHWA and AASHTO, this Webinar series will review the content of the guide and share experiences from practitioners. To register, visit www.fhwa.dot.gov/asset/bookclub.cfm. Advance registration is required for each individual Webinar. For additional information, contact Nastaran Saadatmand at FHWA, 202-366-1337 (email: nastaran.saadatmand@dot.gov).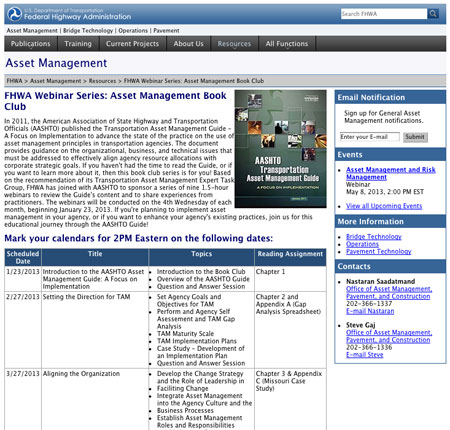 More information about the Asset Management Book Club is available at www.fhwa.dot.gov/asset/bookclub.cfm.