Publication Number: FHWA-SA-97-027
Date: September 1997

Cathodic Bridge Protection Is More Affordable than Ever
There's good news for portland cement concrete bridges that are deteriorating as a result of corrosion caused by deicing salt or seawater. In the past decade, the cost of rehabilitating and protecting these bridges using cathodic protection systems has fallen by as much as one-half, making an already cost-effective technology even more affordable.
Seawater and deicing salts contain chloride ions that can cause the reinforcing steel in concrete bridges to corrode. The corrosion can cause the concrete to crack and spall. Cathodic protection systems give highway agencies the option of rehabilitating, rather than replacing, damaged concrete bridges or bridge decks-which results in huge cost savings. A cathodic protection system will prevent the corrosion from worsening and will prevent new corrosion from starting. This saves the highway agency money on repairs and minimizes the delays the repairs will cause to motorists.
In the late 1980s, it typically cost about $75 to $86 per square meter ($7 to $8 per square foot) to install cathodic protection systems. That cost has dropped to about $43/m2 ($4/ft2) in recent years. On Interstate 695 in Maryland, for example, cathodic protection systems were installed on a 6,000-m2 (60,000-ft2) bridge deck for just $42.50/m2 ($3.95/ft2) in 1995 and on a 10,000-m2 (110,000-ft2) bridge deck for $43.60/m2 ($4.05/ft2) in 1996. These figures include the cost to design the system, purchase the equipment and materials, and install the system.
What's behind this huge drop in costs? For one, cathodic protection systems have become simpler. Now that cathodic protection is a proven technology, the systems no longer need extensive monitoring equipment to ensure that they are functioning properly.
Prices have also dropped because contractors have become more familiar with the technology and more efficient at designing and installing the systems. Contractors have designed and installed cathodic protection systems on more than 500 bridges in North America. That experience means contractors can get the systems in place much more quickly than in the past, reducing the cost of labor, which is one of the biggest expenses.
Donald Jackson, project manager for concrete bridge repair technologies at FHWA, predicts that lower costs will create more interest in cathodic protection. "Given cathodic protection's excellent track record and decreasing price and the increasing popularity of bridge management systems, this rehabilitation tool will become even more widely used by bridge engineers to stop corrosion, extend the service life of bridges, and eliminate costly deck replacement," he says.
For more information, contact Donald Jackson at FHWA (phone: 202-366-6770; fax: 202-366-7909; email: donald.jackson@fhwa.dot.gov).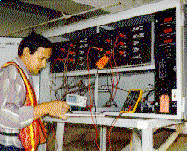 The rectifier is the heart of the cathodic protection system, supplying the electric power that makes the system work. Here, an engineer evaluates the rectifier for the cathodic protection system on the bridge carrying State Route 252 over Interstate 90 in Cleveland, Ohio.