Publication Number: FHWA-SA-97-027
Date: September 1997

Team Investigating Cause of Premature Deformation at WesTrack
In late June, 10 new sections of pavement were placed at WesTrack, FHWA's hot-mix asphalt test track in Nevada. The new sections did not last long: within days of being put in service, several of the new sections began exhibiting permanent deformation.
The mixes met the Superpave requirements for binder and aggregate properties. To conform to the experiment design, the new sections had varying asphalt contents and air voids, so some sections met the Superpave requirements for mix volumetrics, while other sections had higher or lower asphalt contents and air voids than optimal.
The new sections were constructed of a relatively coarse Superpave aggregate gradation. Similar coarse Superpave mixes have been used on pavements across the country and are generally performing very well.
To determine the cause of the early permanent deformation, FHWA has assembled an independent team of experts from State highway agencies and industry to investigate all aspects of the design and construction of the new sections. The team is expected to report its findings this fall.
For more information, contact Terry Mitchell at FHWA (phone: 703-285-2434; fax: 703-285-2767; email: terry.mitchell@fhwa.dot.gov) or John D'Angelo at FHWA (phone: 202-366-0121; fax: 202-366-7909; email: john.d'angelo@fhwa.dot.gov).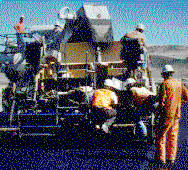 New pavement sections at WesTrack are showing premature signs of permanent deformation.