Publication Number: FHWA-SA-98-023
Date: June 1998

Videotape Portrays Preventive Maintenance as Key to Long-Lasting Pavements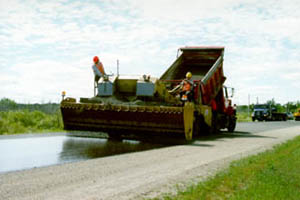 The success of preventive maintenance treatments such as chip seals, shown here, prompted Michigan DOT to produce a video promoting the adoption of preventive maintenance strategies.
Spending a little money today on a well-planned preventive maintenance strategy can keep pavements in good shape at a much lower cost than repairing or rehabilitating pavements after they begin to fall apart. It can be hard, however, to get that message to the people who hold the purse strings. A new videotape from the Michigan Department of Transportation (DOT) and the Federal Highway Administration (FHWA) helps deliver the message.
The 14-minute videotape, Protecting our Pavements: PREVENTIVE Maintenance, takes a nontechnical approach to its subject. The videotape defines preventive maintenance and explains how using the right treatment on the right road at the right time can significantly extend the service life of a pavement-and can save money in the long run. Repairing or rehabilitating a pavement costs six to eight times more than using preventive maintenance treatments to keep the pavement in good shape. The videotape also points out that preventive maintenance should be part of a highway agency's broad pavement preservation strategy and should receive dedicated funding to ensure that maintenance needs are not neglected.
To reinforce its message, the videotape features comments from five prominent highway agency officials: Gary Hoffman, chief engineer-highway administration at Pennsylvania DOT; Mike Lackey, assistant secretary and state transportation engineer at Kansas DOT; Wayne Shakelford, commissioner of Georgia DOT; Bob Welke, former deputy director of Michigan DOT's highways bureau; and Gerry Eller, the former director of FHWA's Office of Engineering.
"The video is intended to introduce the concept that directing some funds to protect good pavements and correct minor deficiencies is a much better approach than directing all funds to reconstruct pavements that are in terrible condition," says Michigan DOT's Larry Galehouse, who helped put the videotape together. "We hope this message will stimulate highway agencies to develop a strong preventive maintenance program."
A letter from American Association of State Highway and Transportation Officials (AASHTO) Executive Director Frank Francois and FHWA Executive Director Tony Kane accompanies the videotape. In the letter, they say that "The use of the right preservation strategy, at the right time will allow us to meet the traveling public's demands for improved safety and serviceability, given limited resources and increasing needs." Francois and Kane recommend using the videotape in presentations to senior management, legislators, county commissioners, and others who set budget priorities for State and local highway agencies.
Galehouse says the idea for the videotape came from Michigan DOT's success with preventive maintenance (see September 1997 Focus). "Michigan DOT appreciates the value of a comprehensive preventive maintenance program, so it seemed logical that Michigan should step forward to produce a video."
In producing the videotape, Michigan DOT received support from AASHTO, the Foundation for Pavement Rehabilitation and Maintenance Research (FPRMR), the Lead States team for pavement preservation, and FHWA. The State highway agencies of Georgia, Kansas, and Pennsylvania also assisted with the videotape.
Nearly 1,000 copies of the videotape have been distributed to the highway agencies of all 50 States, the District of Columbia, and Puerto Rico and to the 57 Local Technical Assistance Program (LTAP) centers. Copies have also been provided to industry groups and FHWA offices.
For more information on the videotape or to obtain a copy, contact Jim Sorenson at FHWA (phone: 202-366-1333; fax: 202-366-9981; email: james.sorenson@fhwa.dot.gov). Copies are also available from any LTAP center or FHWA division office.
Additional information on the videotape is available from Larry Galehouse at Michigan DOT (phone: 517-322-3315; fax: 517-322-3385; email: galehousel@state.mi.us) or John Fiegel, executive director of FPRMR (phone: 202-429-5146; fax: 202-223-4579; email: john_fiegel@dc.sba.com).