Staff From House Committee on Science, Space, and Technology Tour Turner-Fairbank Highway Research Center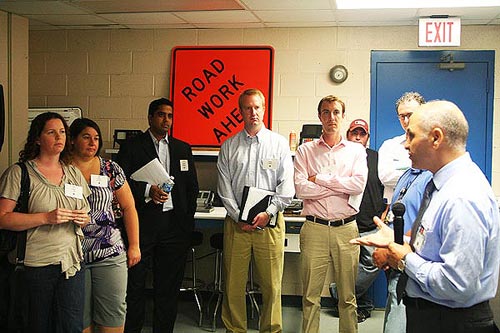 FHWA's Hamid Ghasemi briefs the visitors on research being conducted
in the Nondestructive Evaluation Laboratory to improve the
state of the practice for highway bridge inspection.
How can bridges built today and decades ago safely support the weight of new generations of trucks that are longer and that carry heavier loads? What new intersection designs will help solve safety problems at intersections, yet still be cost effective to implement and easy for drivers to learn to use? How can the transportation industry optimize traffic flow on existing roads to reduce gridlock on highways? What new innovations will solve the problems of today and the anticipated problems of tomorrow?
These are just a few of the questions behind current research projects at the Turner-Fairbank Highway Research Center (TFHRC), which serves to facilitate innovative research and development (R&D), advancement of technologies, and forward-thinking deployment that addresses the safety, infrastructure, and operational needs of highways.
On August 25, 2011, the Federal Highway Administration (FHWA) hosted a tour of TFHRC for six staff members from the U.S. House of Representatives Committee on Science, Space, and Technology (SS&T), which has jurisdiction over non-defense, Federal scientific R&D activities. Three of the members represented the office of Committee Chairman Ralph M. Hall (R-TX), two represented the office of Ranking Member Eddie Bernice Johnson (D-TX), and one represented the office of Benjamin Quayle (R-AZ), Chairman of SS&T's Subcommittee on Technology and Innovation.
The staff members had requested a visit to TFHRC mainly to learn about FHWA's ongoing R&D activities and how small business innovation research (SBIR) is being utilized to stimulate technological advancement, encourage participation by minority and disadvantaged businesses, and increase private sector commercialization of innovations.
"We knew you were here, but [having a tour] is great," remarked Julia Jester, staff director of SS&T's Subcommittee on Technology and Innovation, which has legislative jurisdiction and general and special oversight and investigative authority on all matters relating to competitiveness, technology, and environmental research, development, and demonstration.
Michael Trentacoste, Associate Administrator for Research, Development, and Technology (RD&T) and Director of TFHRC, welcomed the staff members and offered an overview of the facility as well as information about RD&T initiatives such as the SBIR Program, Second Strategic Highway Research Program, Transportation Pooled Fund Program, and Exploratory Advanced Research (EAR) Program.
In his presentation, Trentacoste pointed out that TFHRC is engaged in nine SBIR projects, ranging from signal operation analysis to pedestrian and motorcycle detection. "These projects, which have a total cost of $3,979,448, are taking place in seven States," he said. "While our research has a national focus, we work closely with FHWA division offices and our resource center to address local and state concerns. Our scientists partner with States to implement the research. So there is a strong emphasis on the importance of implementation of research results and findings, and working with States to adopt and use new technologies and innovations in practice."
The staff members had the opportunity to see firsthand how science connects with surface transportation by touring a few of TFHRC's laboratories, including these:
Nondestructive Evaluation Laboratory, containing a radiological facility used for creating X–ray images of defects, a computed tomography facility for characterizing materials, and an instrumentation facility used for manufacturing prototypes and developing new NDE tools that assess the condition of in-service highway bridges; Human Factors Laboratory, containing a highway driving simulator, which is a full-scale vehicle simulator used by researchers to gauge the responses of drivers to different road designs and treatments, signs, lighting, and other highway-related stimuli;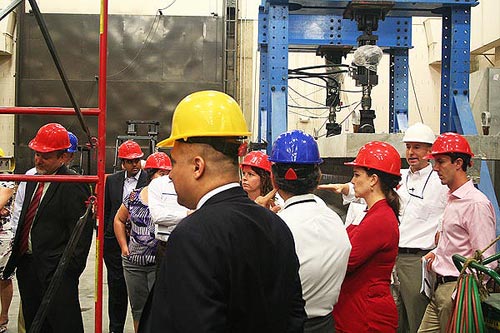 The Congressional staff members get an up-close look at research being
conducted in the Structures Laboratory to help upgrade national bridge design
specifications and improve the safety, reliability, and cost effectiveness
of bridge construction in the United States.
Digital Highway Measurement Laboratory, containing a Digital Highway Measurement System, an instrumented vehicle, which combines laser scanning sensors, high accuracy nationwide differential global positioning system, and an airline–quality inertial navigation unit to accurately measure roadway geometry and to build three–dimensional maps on, over, or beside the road—all while driving at highway speeds—minimizing interference with normal traffic patterns, and reducing the risk to traditional survey crews; Structures Laboratory, containing a strong floor and equipment that enable researchers to test bridge systems, provide bridge failure forensic investigation services (such as investigation of the Minnesota bridge collapse), enhance bridge durability and constructability over time, upgrade national bridge design specifications and improve the safety, reliability, and cost effectiveness of bridge construction in the United States.
"Most of the research work conducted in the Structures Laboratory results in the development and update of codes, specifications, and standards for the use of new materials for bridges and other structures, including tunnels and large sign and lighting structures," explained FHWA Office of Infrastructure R&D Director Jorge Pagán-Ortiz. "Our structures research and development plan and roadmap are strategically oriented to address issues and needs of national importance, and are developed with the input of our partners from other Federal agencies, State DOTs, industry, and academia."
Operations R&D Office Director Joe Peters delivered an energized presentation on plans for TFHRC's Saxton Transportation Operations Laboratory, which is currently under construction. "This laboratory will be a new state-of-the-art research facility focusing on research to reduce congestion, optimize traffic flow, study vehicle-to-roadside hardware communications, and help keep highway operations safe," he said. "The laboratory will enable on-site researchers to conduct critical transportation operations research in a controlled environment and with input from and collaboration with other operations and intelligent transportation systems research practitioners in the U.S. Department of Transportation, and in other agencies and organizations across the country, and across the world."
FHWA staff also highlighted key focus areas of the Exploratory Advanced Research Program, that include integrated highway system concepts; nanoscale research; human behavior and travel choices; new technology and advanced policies for energy and resource conservation; information sciences; breakthrough concepts in material science; and technology for assessing performance.
"In the EAR Program, we're looking at some higher level, longer-term payoffs; things that might involve other industries and other disciplines," recognized David Kuehn, FHWA's team director for the EAR Program. "Bringing in physics and chemistry specialists, for example, and other people from other disciplines not traditionally connected to the highway industry could payoff greatly in the future."
With more than 20 laboratories and data centers and a staff encompassing more than 100 transportation–related disciplines and expertise areas, TFHRC and its laboratories provide a vital resource for advancing the body of knowledge to help address national transportation goals for making roads and operations better, safer, and more efficient. Trentacoste concludes, "Our research and researchers have a big effect on the Nation's highway system—whether it is improving materials, pavements, safety, or operations; finding new test methods; or developing innovations for the future."
For more information about these and other labs, offices, and ongoing research and activities at TFHRC, click on the Laboratories link on this site. To schedule a group tour of the facilities, contact TaMara McCrae at tamara.mccrae@fhwa.dot.gov or call 202-493-3382.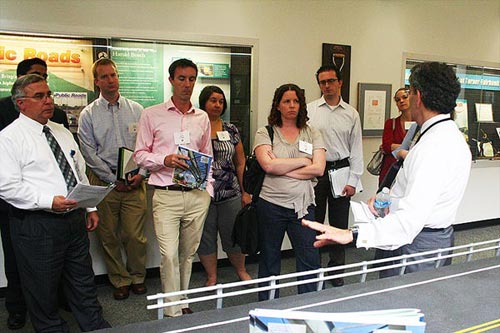 FHWA's Associate Administrator for RD&T Michael Trentacoste provides
the Congressional visitors an overview of the Safety EdgeSM technology
which helps save lives and provides longer pavement life. The technology
is one of many products from FHWA's Every Day Counts Initiative.