Meininger Helps Exhibit Rocks and Roads At Natural History Museum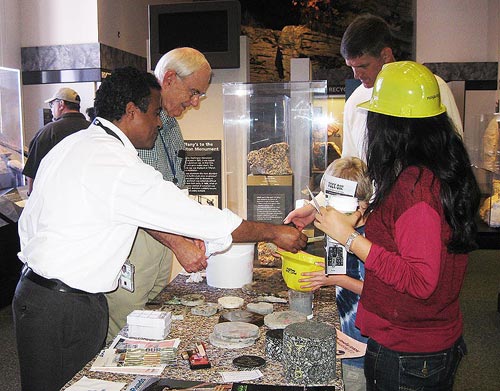 On September 29, Richard Meininger (rear), a civil engineer and member of FHWA's pavement materials research team, and Mengesha Beyene (front), a geologist and contractor at TFHRC, volunteered their time at an educational event on rocks and geology at the National Museum of Natural History.
On September 29, Richard Meininger, a civil engineer and member of the Federal Highway Administration's (FHWA) pavement materials research team, demonstrated how rocks are used to build roads at an educational event at the National Museum of Natural History.
The event, billed as Rock On! A Free Family Festival on Rocks and Geology, drew a variety of people, including kids, parents, tourists, and rock enthusiasts, who participated in talks and hands-on activities.
Meininger, who volunteered and represented FHWA and the U.S. Department of Transportation (USDOT), helped present a hands-on exhibit that displayed rock and mineral aggregates, such as crushed stone, sand, and gravel. Cores and slices from concrete and asphalt pavements were also on display for people—especially kids—to handle and see how rocks and sand as aggregates make up the bulk of a road's structure. Mengesha Beyene, a geologist and contractor at Turner-Fairbank Highway Research Center (TFHRC), also volunteered his time to showcase road material and help answer questions about rocks and minerals.
"The kids and adults learned that the basic materials for road-building come from rocks and sand and gravel deposits, the geologic sources of most of our aggregates," said Meininger. "We had two lightweight rock samples and a bucket of water, and we asked the kids to guess which rock would float in the water. About half guessed correctly, as they found out when they dunked the rocks in the bucket."
In the museum's rocks gallery there is a permanent exhibit that shows how rocks are used in asphalt and concrete roads as well as how granite, sandstone, and marble are used in buildings on the National Mall. "Many adults asked if we used recycled materials in roads," said Meininger. "Yes, we told them. We use Reclaimed Asphalt Pavement, crushed Recycled Concrete Aggregate, and slag aggregates from iron and steel production. But we still need to use natural geologic resources, available regionally, to build and maintain quality pavements."
The event also featured exhibits and discussions with scientists and specialists from the Smithsonian, the National Park Service, the National Stone, Sand and Gravel Association, Mobile Mining Experience and the State Geology Surveys of Virginia, Delaware, Maryland and Pennsylvania.
Kids were asked to visit each exhibit and get their pretend passport stamped. Once they had enough stamps, they could go downstairs near the museum store and break open a rock geode to see what minerals it contained.
For more information about the festival, contact Richard Meininger, 202-493-3191, richard.meininger@dot.gov.